No one explained properly about screen printers. Yes! You heard it right. We are not crowing that we are the first one.
We are talking about your experience. Imagine you clicked on "best printer for screen printing" articles among the first pages result, but the article is not serving the right purpose.
How do you feel? We put ourselves in consumers' shoes. Here is what our expression is like: "Pissed off."
So in this 7 best screen printers review, you will get what you did not get. Trust us! Only 10% of people know about this printer's screen printing. We have a special segment where we talk about the screen printing experience. Sit tight, and scroll slowly.
In case, You are in a Hurry. Here are the 7 best screen printing printers recommended by Printiepie
Which Printers Are Screen Printers?
Every photo inkjet printer can be used for screen printing. More clearly, you can use this for printing over the film positives, transfer paper, and more.
Screen printing process starts from printing over the films. Now the question is, how can you find the right film-positive printer for your screen printing?
Well, not all inkjet provides the best printing experience. As a result, the end outcome becomes frustrating. We picked 7 best screen printers that have a terrific results. Read the reviews.
What to check when buying a printer for screen printing?
Printing Speed
Your average printing speed will decide "how fast and accurately you can print?". For that, our recommendation is simple.
Calculate the average speed for regular photo printing first. Suppose your determined printer can print 4 by 6 within 53 seconds. Then film printing will be slightly higher than usual. Remember this rule.
Color Quality
Usually, thick black ink is used for film positives. Measuring the color quality is easier for screen printers here. You should look at the font, shapes, picture line, color saturation. Print a test paper in it. We recommend you print a picture and logo. This will help you to understand 360-degrees.
Type Of Ink
Pigment ink is the best fit for screen printing. You will get a dye ink suggestion, though. We are highly recommending you stick with the pigment ink. This ink lasts longer and avoids UV light.
Connectivity
It is wise to have all connectivity options from a printer. USB, Wi-Fi, Wi-Fi Direct, NFC, Ethernet, and Bluetooth connectivity should be the priority. We know you will not get all in one printer. Still, the more you get, the better it is.
Wide-Format Capability
Maximum inkjet photo printers can print in wide format. So, a maximum 13 by 19 inches capable printer is good enough.
Inkjet or LaserJet
People get confused about inkjet vs. laserjet. We recommend you pick an inkjet. The color saturation is better in inkjet. Your result will be amazing.
Compare the best screen printers. . .
Products
Main Features
Rating

1

All-In-One

Canon Pixma iX6820

Smooth printing.
Updated technology.

Price

2

Epson Expression Photo HD XP-15000 

Claria Photo HD ink
Wide-format: 13 by 19 inches.

Price

3

Canon Pixma Pro-100

Affordable price
The picture quality is good.

Price

4

Canon PIXMA PRO-200

Grayscale output is amazing
$5 less running cost

Price

5

Canon PIXMA TS9520

Perfect for border and tabloid printers
Compatible with smart homes.

Price

6

Workforce WF-7710 

ADF and Scanner are good
The Control panel is easy to use.

Price

7

Epson EcoTank ET-2750

Abundant ink supply
SD Card Reader

Price
What are the best printers for screen printing transparencies?
1. Canon Pixma iX6820 Wireless Business Printer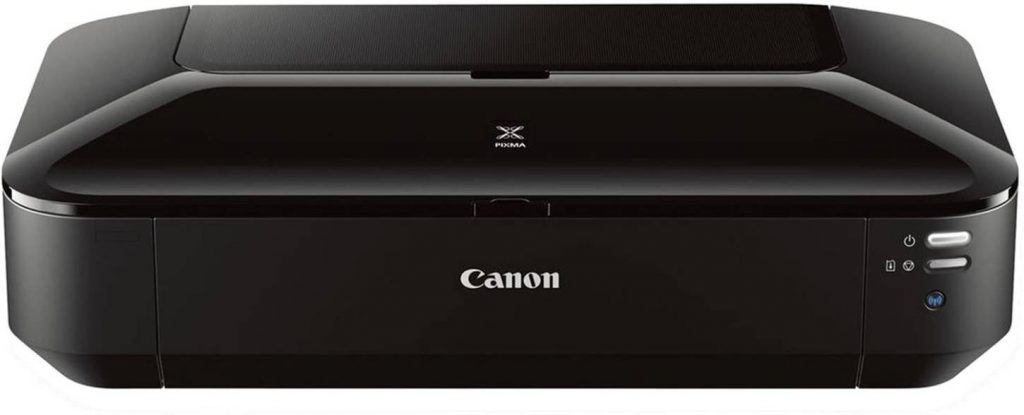 Canon takes screen printing to the next level. People even agree on it. The quality and printing execution are smooth. Check out the experience below.
Screen Printing Experience
iX6820 is a wide format printer. We tested transparent film and film positives on it. The printout looked clean and crispy.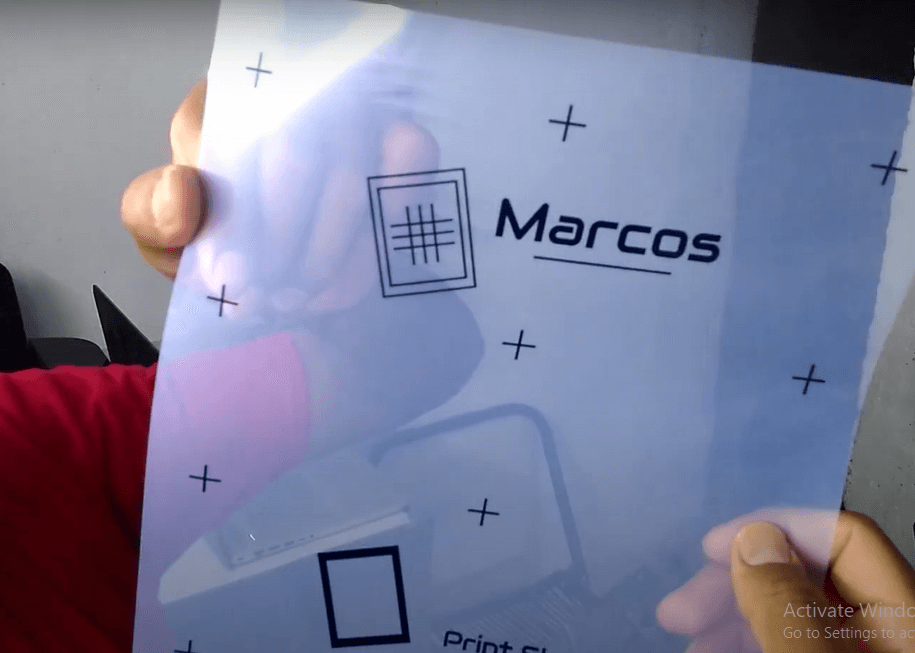 Black ink adjustment was clean enough for calligraphy. We selected grayscale printing from our software. This is the main reason to get a good output.
One more thing is the font and small objectives: these two things matter for T-shirt printing. Everything was legible in point 24.
Print Speed
It prints normal paper pretty fast. We recorded 2.9 ppm so far for our business purpose. The film prints were a little bit longer than usual photo printing. Pixma iX6820 takes 59s for a 4 by 6 photo print. Our film was slightly larger than this time.
Print Quality
So far, so good for business applications. Powerpoint handouts, graphs, charts, and marketing materials looked smooth.
There was no color shift. Dark and gradient fills were average, but not above. Overall quality is good.
Things To Know
The size is a little bigger than the usual wide-format printer. We could accommodate it within our usual desks. The drivers are easy to install; they are compatible with all updated OS. USB, WiFI is also included here.
Specs
Pros
Smooth printing.
Updated technology.
Wide-format printing.
2. Epson Expression Photo HD XP-15000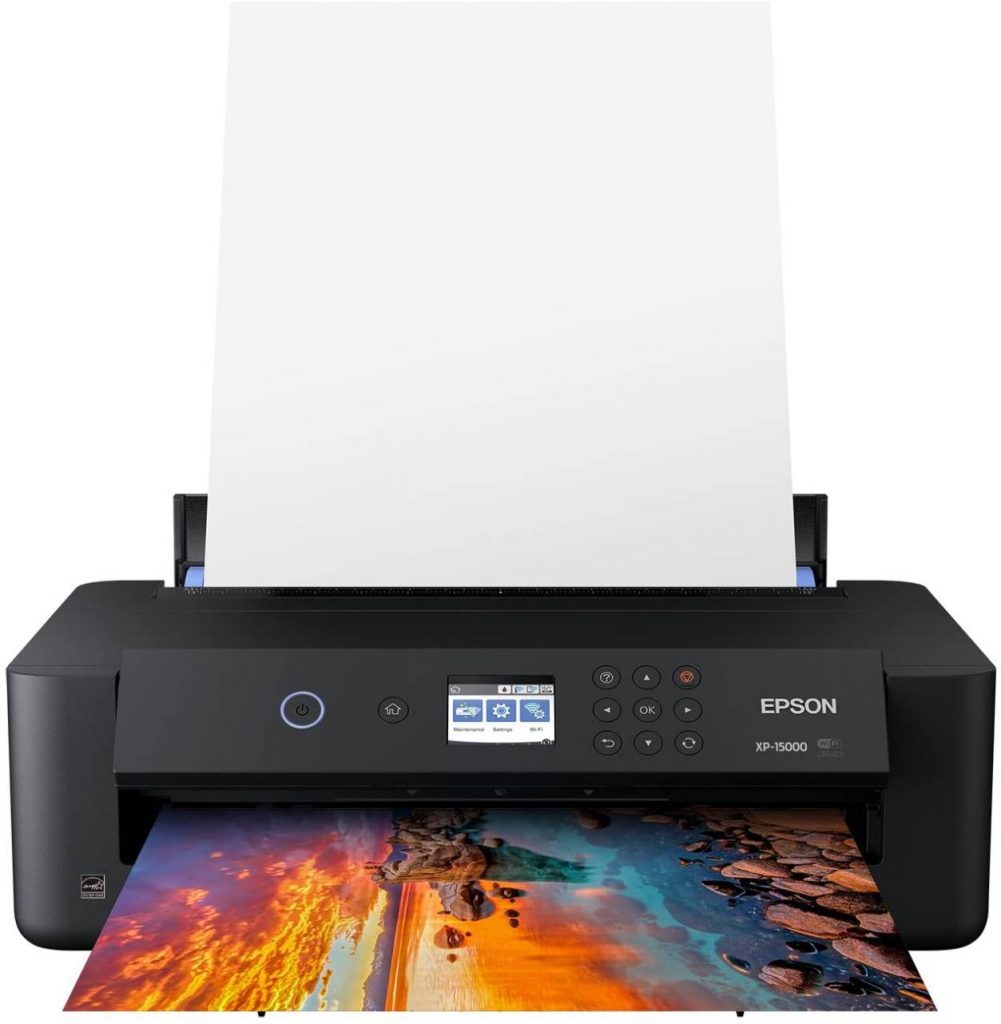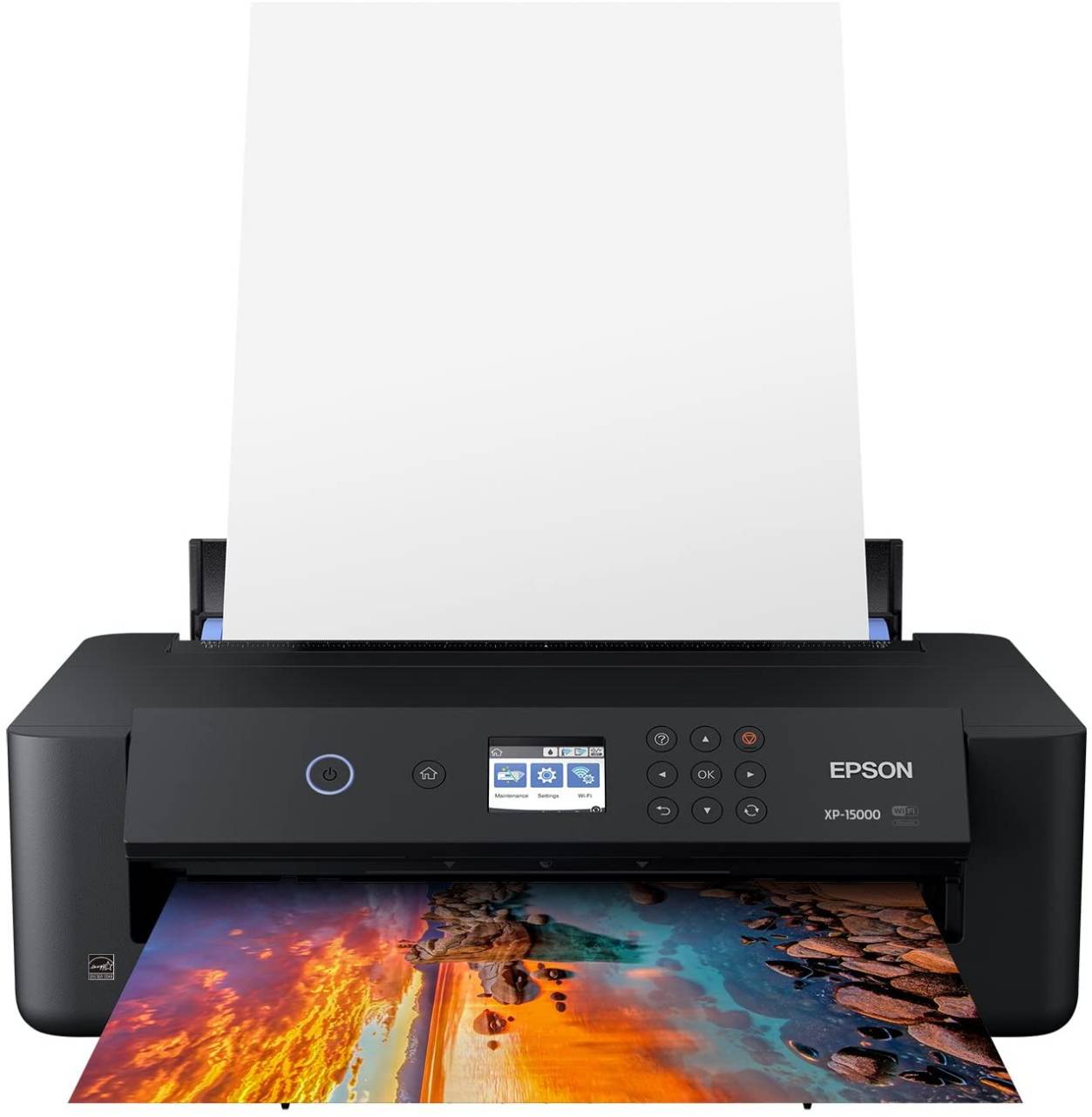 A perfect contender for the Canon Pixma iP8720. Epson 15000 has better paper handling and connectivity. The most important thing is the screen printing experience. Quiet good over the transparent paper.
Screen Printing Experience
To be honest, we had a moderate photo printing experience. Some of our members were confused about the film's positive printing experience.
Luckily, Epson performed better. We printed three different logos from small to large. Each of them showed a clear output.
But one thing is noticeable in the small logo. The blank ink ratio was slightly high. Other than that, the fonts and white spots looked sharp.
Print Speed
High-quality business printing took 7.9ppm. The monochrome record was 9ppm. Not a speed demon but a beauty queen in output.
That's the result of normal printing. Screen printing speed took 39 seconds more than usual photo printing. The printer vibrates in the middle of printing.
Print Quality
Regular printing looked perfect. We could use the PowerPoint and graph chart in our professional proposals. The quality we noticed is somehow better than HP 7720.
Yes! You heard it right! The color adjustment was simply balanced, even in the dark and gradient lines.
Things To Know
Upper cassette can handle 200 papers. The lower one can handle 50 pieces of paper. Like the paper handling, connectivity is amazing. USB, Ethernet, Wi-fi, and WI-fi direct are all available. Driver installation was good, even in Windows 10. MAC all versions worked lag-free.
Specs
Pros
Claria Photo HD ink
Wide-format: 13 by 19 inches.
Lightweight oversize printer.
Cons
The running costs are a bit high.
3. Canon Pixma Pro-100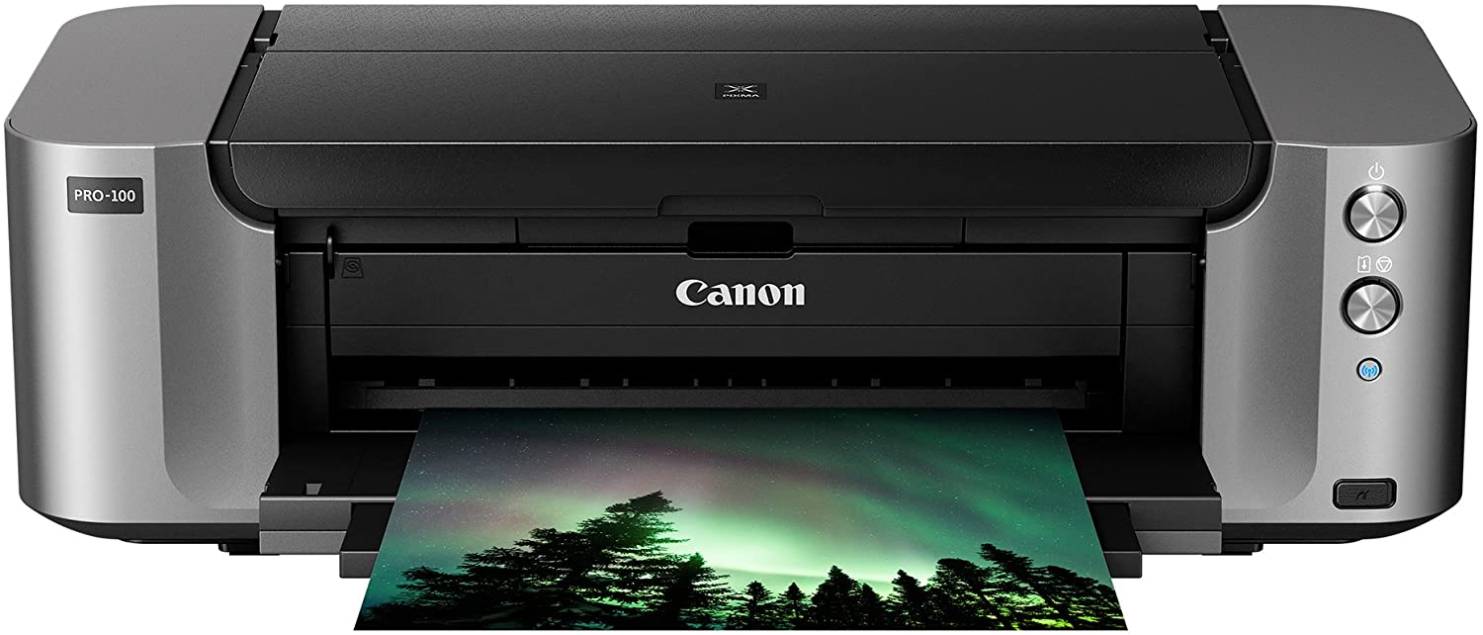 Extremely good photo printing experience!. That's what we said after testing it. Our team compared this model with the Epson Stylus Photo R2000. The connectivity, photo quality and screen printing experience is better in Pixma Pro-100.
Screen Printing Experience
Several reviewers praised the photo quality. It is above average. Film positives showed a moderate experience in two papers.
Our brand logo is the real proof. T-shirts in black and white variants looked sharp in front. The picture quality was good with black ink.
We checked "Grayscale Printing" for this output. This mood adjusted the color hue, which allows us to see the smallest art in the picture.
Print Speed
The 4 by 6 size photo took 1.17 minutes to print. The 8 by 10 recorded 2 minutes nearly. This is slightly slower than its siblings.
That's all for regular business printing. What about screen printing? It is supposed to be slow. But not as we expected. Two films were printed quite easily, but the third one generated vibration.
Print Quality
Business fonts and graphics were above average. No color shift or even tint. This is because of 12 color tanks. The black and gray combination leaves a soothing mark in the gradient background. That's the best part.
Things To Know
Two paper trays: one is for glossy photo paper, another is for thick media. The connectivity is also acceptable. There is no hassle even in installing the drivers.
Specs
Pros
Affordable price
The picture quality is good.
Fast screen printing.
Cons
The design could be better.
4. Canon PIXMA PRO-200
What is the reason behind placing it in 4 after 100? Budget, photo quality, and portability. Space matters for some users.
But they need an ultimate screen printing experience. Pixma 200 can make sure that. It has one drawback: banners and panoramas will not print here. Other than this is cool!
Screen Printing Experience
Not the same as 100. We noticed a few major changes in color saturation. Black and Gray ink combination looked better here. Our 100 point fonts showed the hairline clear. The dark fills were uncompromised. Thick ink adjusted properly in our white and black t-shirt.
Print Speed
We tested two types of sizes. Borderless(A3+) recorded . 3 minutes. On the other hand, the A4-sized photo took 50 seconds to print.
This business printing experience was consistent even in screen printing. Two transparent papers(A4) took around 1.5. Pretty satisfying.
Print Quality
Like the screen output, regular printing was satisfying. We closely inspect monochrome and photo prints. There were no notable color shifts. Some graphical handouts had blurry color changes. This is not noticeable if you look at naked eyes.
Things To Know
Canon used the best ink: Canon's ChromaLife100+ CLI-65 8 inks. This ink cost $5 less than competitors. This saving will not impact quality. Experts are mentioning Pixma Pro 200, "a boutique machine." Maybe the ink is the reason.
Specs
Pros
Grayscale output is amazing
$5 less running cost
The Control panel is improved.
Cons
There is no roll media support.
5. Canon PIXMA TS9520 Printer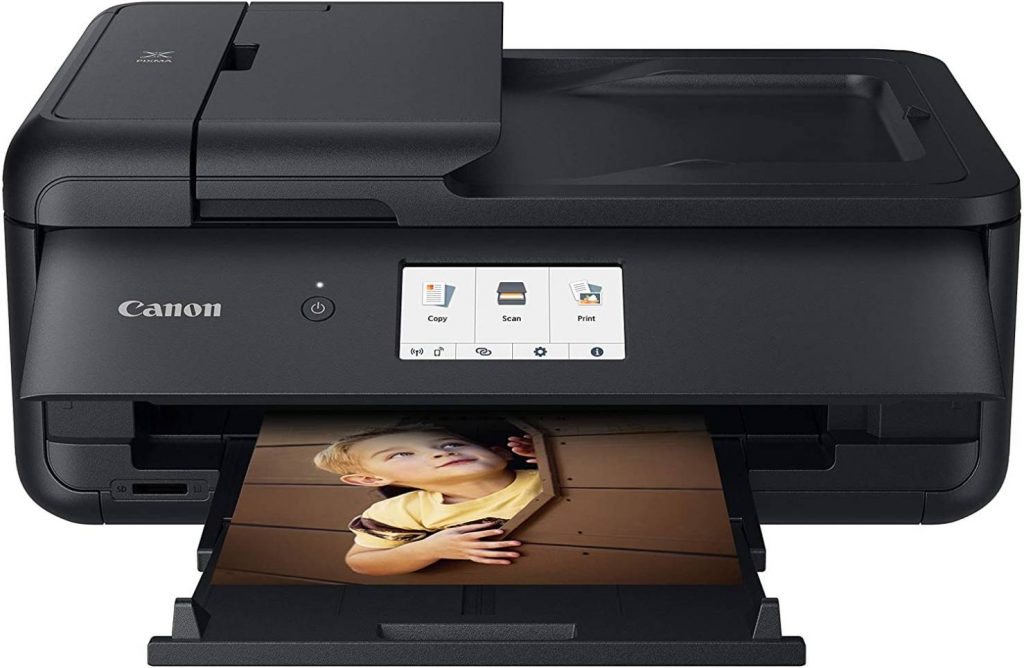 We have got a huge complaint about the black ink of this series. Experts said that it is limited to 600 x 600 dpi. The reason is because of the huge ink absorbance. Is it true or false? Well, that's what we tested while screen printing.
Screen Printing Experience
The claim is true for regular printing. But the impact on screen printing was less. Three films cost less ink than we expected.
Our T-shirts are the real truth. Each of the images had a balanced color hue. In fact, the color shift was not noticeable. Overall, the font and picture quality looked good.
Print Speed
PIXMA TS9520 has beaten two heavyweight competitors: Brother and HP. Color photo clocked 40 seconds for 4 by 6 size snapshot. This is 3 seconds faster than Brother MFC J6935DW.
Same speed was consistent for printing on film positives. We noticed 5 seconds of delay. That's not a dealbreaker.
Print Quality
Above average. We printed business, photography, and graphical objects in it. Each area showed a satisfying picture. Text for the regular size, like point 4 seems a bit blurry. Above 4 the text looked sharp.
Things To Know
Easy Photo Print editor is the official editor. The interface of this editor is handy for beginners. We could do the basic editing. The connectivity was also good.
Specs
Pros
Perfect for border and tabloid printers.
Compatible with smart homes.
The connectivity option is robust.
Cons
It does not have two-sided auto-scanning.
6. Epson Workforce WF-7710 Printer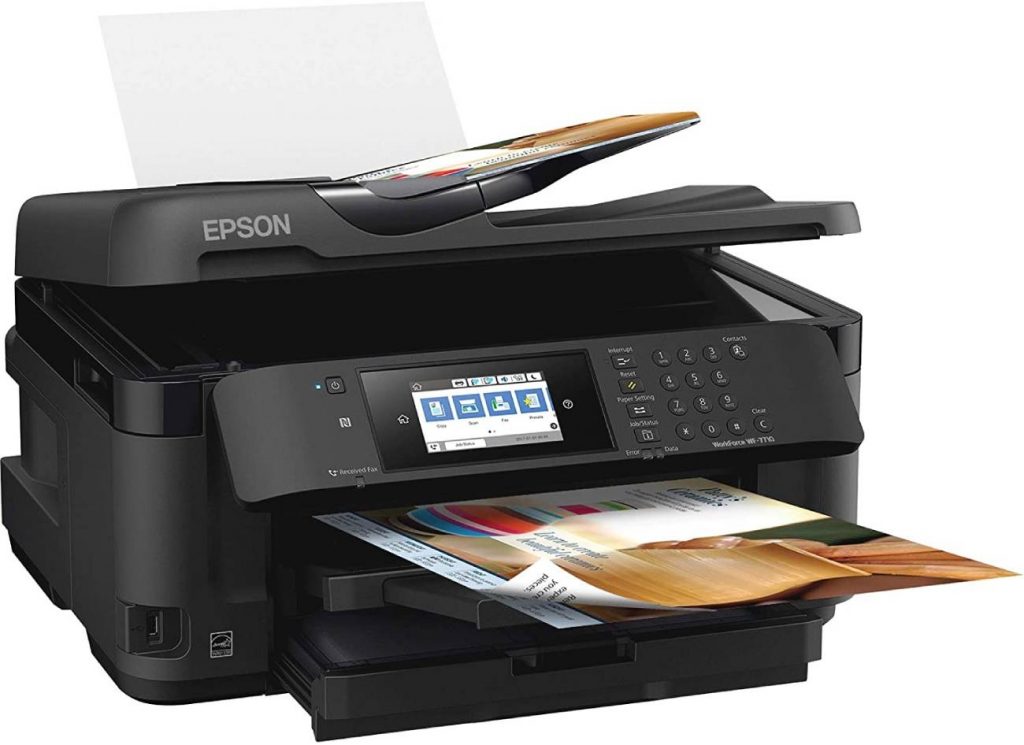 Expensive but worthy for screen printing. This Epson AIO offers the best experience for occasional users. Here is the total experience so far.
Screen Printing Experience
Cost is a major issue for any entrepreneur or single user. We think before explaining the experience, it is essential to talk about the reason for the cost.
Epson installed Pigment Ink in this printer. The major benefits of this ink are UV light protection, smudge and water-resistant, better color stability.
Our test t-shirts have already proved the benefits. The font and photo quality are also better but not above.
Print Speed
W-7720 performed slower than some competitors like Brother and HP. We recorded 29 seconds for a 4 by 6 sized photo printer.
Normal for regular printing. The film-positive printing was also slow. We don't think this will be a big reason to leave this, because the picture quality speaks a lot.
Print Quality
First of all, is the font. Sen-serif looked sharp from point 4. The photo quality for business printing is above average for its ink quality. We printed snapshots with it. The photo quality is just moderate. Some full and washed appearance was noticeable.
Things To Know
Superfast connectivity. It has all the essential connectivity options, including NFC (peer-to-peer network). We also liked the drivers: it installed fast. Windows10 Mac patched perfectly with the drivers.
Specs
Pros
ADF and Scanner are good.
The Control panel is easy to use.
Print quality is outstanding.
7. Epson EcoTank ET-2750 Printer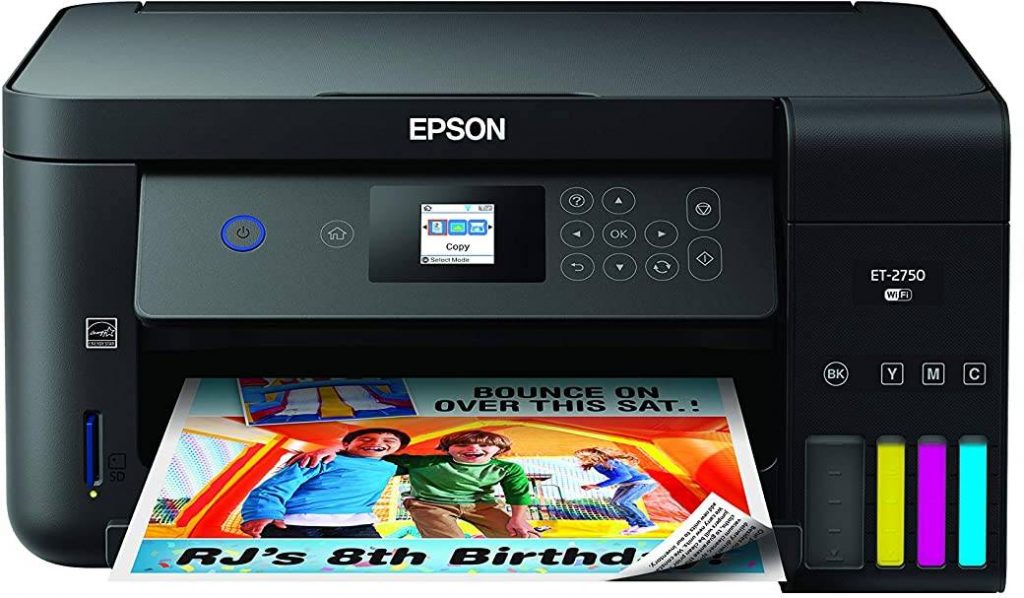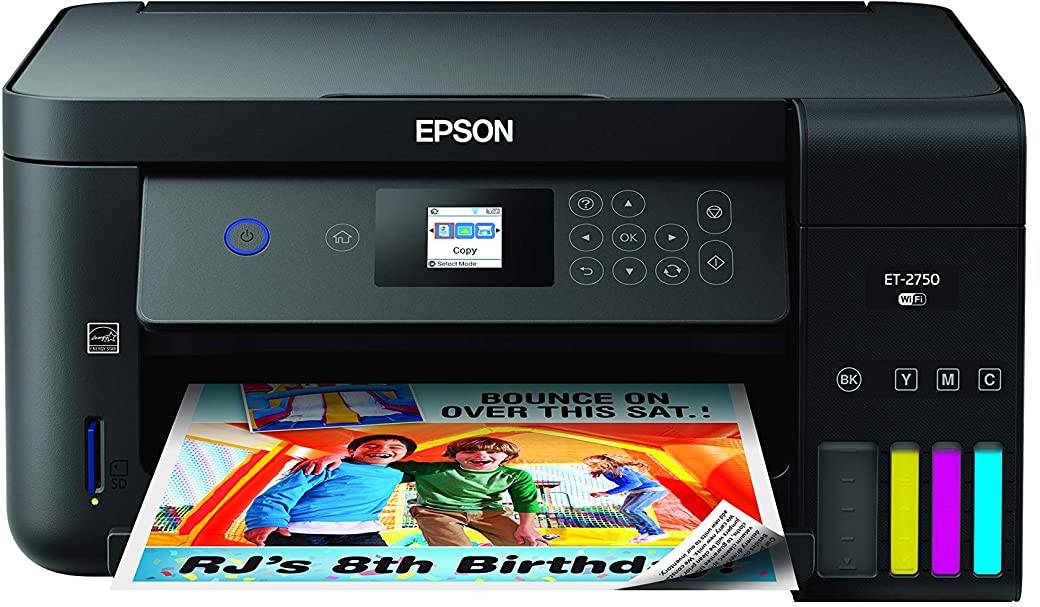 Supertank printers are great for cost-efficient printing. Epson ET 2750 is dedicated to working for home use. It is cost-efficient and has moderate printing quality.
Screen Printing Experience
We cannot say it is too good, but yeah, for a beginner. It's ok. The ink distribution for the font is average. No mark or ink was spilling up.
The same experience was for the picture. Black ink balanced the color for every area. Our main concern was the small areas of a picture. We wanted to see the color depth. Black and Gray adjusted smoothly.
Print Speed
Regular paper printing was good. It recorded 10 ppm. This speed is faster than the Canon Pixma G3200. Photo printing speed was also the same.
What about film printing? Well, satisfying. We cannot say too fast. It recorded 2.3 for printing a film for us.
Print Quality
Not extremely bad. Graphics for business use are fairly good. The same is for the text. Only some areas showed a slight band and dull. It is mostly seen in color shift areas.
Things To Know
The 5-inch touch screen allows easy control. We did not notice any technical difficulties while using it. One of the best experiences we have ever had is the USB speed. It is faster than most of its competitors.
Specs
Pros
Abundant ink supply
SD Card Reader.
Wi-fi Direct connectivity
FAQs about Screen Printing
What Supplies Do You Need for Screen Printing?
Pigment ink, and film positives are the major supplies for starting the screen printing. You will need more things, but for printing the object, you will need these first.
Do You Need a Special Printer for Screen Printing?
Any photo printer can be a starter. But all photo printers do not support screen printing. For example, most of the HP and Brother Series does not support screen printing. 
Is inkjet or laser better for screen printing?
Inkjet printers are better. The picture and text quality are far better in inkjet printers. Plus, your t-shirt will glow better for using an inkjet printer. You can also read our article about inkjet vs laser printer to explore more.
Final Words
We shared the screen printing experience that only 10% of people know. Pretty sure! You are no more pissed off.
We are providing some of the authentic sources below to know better about the printers. Our team strongly believes: you will get the best essence out of this article. So, don't be late. Some printers are offering amazing deals. Hurry up!
Was this article helpful?