Tired of cleaning printheads on and on yet you still get dull sublimation prints? If that's the case, either your sublimation ink isn't compatible with your printer or your ink really sucks!
You don't need to do trial and error to find the best sublimation ink for your printer. It's all about reading the manufacturer's label and checking the features you need.
If you want to learn how to do it, read the article below. We have also created a list of 9 exclusive sublimation inks that almost anyone can use.
So, read along and see if you can find your favorite ink!
In A Hurry? Here's 3 Best Sublimation Ink We've Found
1. Cosmos Ink
Cosmos ink is the best sublimation ink for Epson printers! Paired with heavy sublimation papers, this ink can create warm-bright colors on ceramic, fabrics, metal, and stainless steel items.
2. Hippo Ink
Hiipoo sublimation ink is a steal deal for achieving the best color consistency. It can create smooth vibrant prints for batches without even adjusting ICC color profiles!
3. Printers Jack Sublimation Ink
Printers Jack sublimation ink is all about hassle-free printing! It's the perfect ink for beginner crafters who don't want to use ICC profiles, want an easy refilling process, and get perfect ink transfer every time. 
Table of Contents
Comparison Table of Best Sublimation Ink
Here's a glimpse of the 9 best sublimation inks for sublimation printing.
| | | | |
| --- | --- | --- | --- |
| Name | Colors | Brand Name | Best For |
| Epson EcoTank Printer Sublimation Ink | Cyan, Magenta, Yellow, Black | Cosmos | Vibrant warm-tone Colors |
| Hiipoo Sublimation Ink for EcoTank Supertank | Cyan, Magenta, Yellow, Black | Hiipoo | Consistent color application |
| Printers Jack 400ML Sublimation Ink | Cyan, Magenta, Yellow, Black | Printers Jack | Novice sublimation enthusiasts |
| Sawgrass SG500 Sublimation Ink | Cyan, Magenta, Yellow, Black | Sawgrass | Printing efficiency |
| WOKOK Sublimation Ink Refill Ink Kit | Cyan, Magenta, Yellow, Black | WOKOK | Printer Compatibility |
| Tonha 400ML Sublimation Ink Refill | Cyan, Magenta, Yellow, Black | Tonha | Low-Budget Projects |
| TM Autofill Sublimation Ink 400ML | Cyan, Magenta, Yellow, Black | E-Z Link | Automatic Refill Process |
| HappyToner Free Syringe Sublimation Ink | Cyan, Magenta, Yellow, Black | HappyToner | Time Saver |
| HTVRONT Sublimation Ink Refill 400ml | Cyan, Magenta, Yellow, Black | HTVRONT | Uninterrupted Ink Transfer |
9 Best Sublimation Ink Brands
Now, we didn't just pick sublimation inks based on their features or popularity. You need to trust the manufacturer also.
In the next sections, you'll learn what's so special about these sublimation ink brands.
Cosmos
Cosmos is one of the fastest-growing sublimation ink brands. It all started when Angelo Bonaparte started a sublimation YouTube channel back in 2017.
After growing his channel to 500,000 views and over 18,000 subscribers within a year, he started Cosmos as a sublimation ink business.
Since then, the brand has become widely popular among Epson Ecotank and Sawgrass printer users. Cosmos also caught the attention of hobbyists with the launch of fluorescent inks.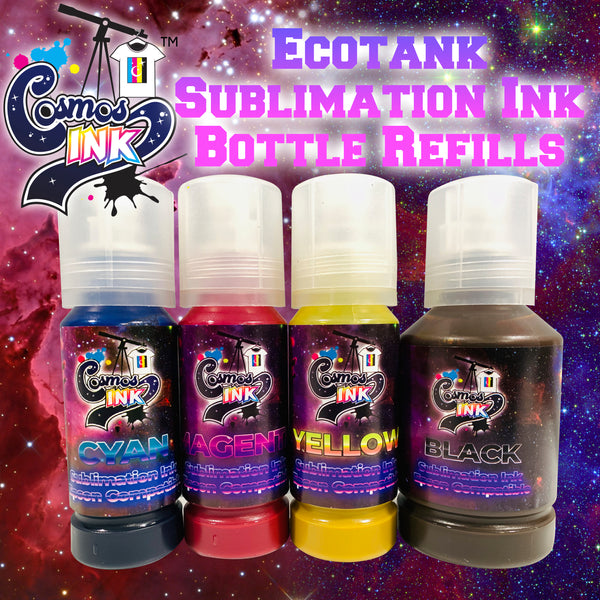 Hiippo
There are hardly any sublimation enthusiasts who haven't heard about Hiipoo. It's a haven for sublimating with Epson convertible printers.
The reason we chose this brand is its compatibility with multiple substrates. Hiipoo also comes in multiple color sets at an affordable price.
In fact, it has an 80% success rate considering user satisfaction. Overall, it's absolutely perfect for DIY crafters and small sublimation businesses.
Printers Jack
Printers Jack focuses more on the quality of the ink. They process every ink bottle in a 3-tier refinement procedure. All of the bottles get ready for the market only after ensuring less than 0.2 um mixture size.
Apart from controlling the quality of the ink, they also provide ICC profiles and customer support.
Moreover, having weekly and occasional deals makes the brand more affordable to DIY sublimation enthusiasts.
Sawgrass
Sawgrass is one of the pioneers in the sublimation industry. For 35 years, this brand has been supporting small and large sublimation business owners.
The specialty of Sawgrass is offering customized products according to different kinds of printing requirements.
Moreover, this brand not only produces high-quality sublimation inks but also won the SGIA Product of the Year Award for Digital Inks in 2019.
You can also join their training programs to learn advanced sublimation techniques. No wonder Sawgrass has so much popularity!
WOKOK
WOKOK is your go-to sublimation ink brand for inkjet printers. Having a wide range of products, this brand is particularly popular for affordable prices.
And these products aren't made of average quality. They are incredible for the low price you pay.
You can buy inks at a price as cheap as $8 from WOKOK. Moreover, they always have sales going on. Sometimes, it's on more than 18 products!
So, WOKOK is always on the priority list for anyone who's looking for budget-friendly sublimation supplies.
Tonha
As a sublimation brand, Tonha has won the hearts of environmentalists. The brand chose eco-friendly designs and materials for the betterment of humanity.
You can trust the quality of Tonha as it has MSDS and ISO-9001 certification. This means the products Tonha creates are safe to use.
Again, Tonha offers a wide range of applications considering the durability of the product. This is the reason why this brand earned respect and so many positive reviews.
E-Z Ink
E-Z Ink is another pioneer sublimation ink brand that's revolutionizing the ink and toner cartridge industry in the US. It started back in 2007 and still plays one of the lead roles in the sublimation printing industry.
The reason we chose this brand is its popularity and feasibility. They make different sublimation inks considering different printer models.
Moreover, if you ever face any trouble with your project, you can seek help from their exclusive community! In short, you can have the best user experience with this brand.
HappyToner
HappyToner is considerably a young sublimation ink brand trademarked in November 2019. It's a China-based manufacturing company that produces sublimation inks, especially for Epson inkjet printers.
This brand also has inks lined up for multiple substrate sublimations. However, they are famous for anti-spilling packaging and bright-tone prints. That's the reason why they have constant repeating customers even being a young brand.
HTVRONT
Now, HTVRONT has taken the sublimation printing business to another level. It has grown 200% of its revenue even amidst the pandemic.
In 2021, it hit $70 million in annual sales. The reason this brand is so successful is for the global acceptance. Currently, it's going fierce in the US, UK, Canada, and Australia.
They have the vision to become the leading sublimation company for DIY crafters and the handmade goods industry.
This is the reason this brand has been investing in advanced technologies so heavily. It's a brand that you cannot prevent yourself from relying on. 
9 Best Inks for Sublimation Printing (Specific Products)
Bright prints, user-friendly design, and multiple substrate compatibility – a combo you'll find in Epson EcoTank Sublimation inks. You can also find step-by-step tutorials on the website to properly set up the ink for the best results.
Moreover, these sublimation inks don't need to use a color profile necessarily. What's great is that it supports all models of the Epson EcoTank series.
The ink doesn't come with syringes but still doesn't clog Epson printers. That's one of the reasons why this sublimation ink is so special.
Color Accuracy/Print Quality
This sublimation ink is at the top of our priority list because of its rich color. Even with the default print settings, it creates more vivid images than some inks. However, the color accuracy can differ slightly from the manufacturer's profile.
The purple shades look closer to blue. You might see the yellow and green in light shades sometimes.
Moreover, the inks slightly change color when pressed with heat. But if you adjust the print settings with the ICC profile correctly, you'll be able to receive accurate prints.
So, if you're looking to sublimate bold colors, Epson EcoTank Sublimation ink is the best choice for you.
Compatibility
Now, the ink is only compatible with Epson Ecotanks. You won't receive the same color gamut by using it on any other printer brand.
As it's made for EcoTanks, they come in perfect packaging dedicated to Epson EcoTank printers. This means you'll hardly face any clogging issues with it.
Now, remember that the sublimation ink is a bit heavily formulated. It's okay to use light sublimation papers for only printing texts or fine lines. But you'll need a heavy sublimation paper (like A Sub 125g) for complex and block designs.
Versatility
The sublimation ink also allows versatile applications. You can sublimate fabric, metal, stainless steel, and ceramic with it.
It sublimates equally vibrant in cotton and polyester fabrics. However, we found that it looks more vibrant on metal and stainless steel items. Especially, the ink looks stunning on tumblers.
However, don't forget to place a butcher paper while pressing the ink on a heat press. Otherwise, the ink won't adhere to the item.
Best Use Cases
Epson EcoTank Printer Sublimation Ink is perfect when you want to sublimate in bright warm-tone colors. In particular, red and blue look the most vibrant with this ink.
In the case of substrates, you'll get the best results on cotton t-shirts and metal tumblers.
Specs
What We've Like
Rich color formula
Printing accuracy
Multiple substrate compatibility
Anti-clogging packaging without a syringe
Vibrant prints in default printer settings
Limitations
Smudges in light paper in case of heavy ink block patterns
Hiipoo Sublimation Ink is excellent for consistent color reproduction with EcoTank Supertank printers. The easy installation process and high pigmentation made us keep this ink in our favorite sublimation ink list.
You'll be stunned to see the results of using it in Epson convertible printers. It's a water-based dye sublimation ink with high permeability.
It fits Ecotank printers without any hassle. Moreover, you can sublimate multiple substrates like polyester fabric, ceramic, wood, and metal.
The fact that it's ISO-9001 and MSDS Certified, makes the ink more reliable and trustworthy.
Color Accuracy/Print Quality
You'll be amazed by the color accuracy of this sublimation ink. The colors are vibrant and have sharp definitions. You don't need ICC profiles to adjust the color palette. From bland blue to vivid neon images, you can rock them all!
What's great is that it doesn't fade with washes. You can also get the same color consistency even after opening the ink bottle after a year!
However, make sure you don't mix the colors with other sublimation inks. Otherwise, you'll not receive the same results.
Again, the inks don't smudge after pressing and come out clean. So, you can definitely count on the print quality Hiipoo provides.
Compatibility
Now, it's only compatible with Epson EcoTank models. You won't need any syringe to refill the tanks. The nozzles fit perfectly in Epson EcoTank printers. As a result, the printer can use the ink efficiently reducing overall operating cost.
Again, by pairing A-1 sublimation transfers and high-quality blanks, you'll be able to create professional prints with this sublimation ink.
Moreover, the ink particles are half the size of the ink outlet. So, the printhead doesn't clog easily. But the yellow ink can be a bit thick sometimes and you'll need to squeeze it out. Other than this small drawback, you can clean this Hiipoo sublimation ink easily.
Versatility
The Hiipoo Sublimation Ink is a blessing when it comes to sublimating different items. From t-shirts to license plates, you can sublimate almost anything! But you'll get the best output in polyester t-shirts, coasters, mugs, tiles, and license plates.
Note that you can't sublimate on fabric with 30% less polyester material with this sublimation ink. The 50/50 cotton-polyester fabric will create a flushed print. However, you'll receive the highest output on 100% polyester material.
Best Use Cases
It's absolutely perfect for small business owners who work with custom sublimated items. You should give this ink a shot especially if you work with sublimated t-shirts or jerseys. It's because the ink has top-notch water-resistant capacity.
But make sure you're only dealing with 100% polyester fabric. If you're sublimating on other substrates, ensure a layer of polymer coating for the ink to stick to it.
Specs
What We've Like
High color reproduction rate
Vibrant images without ICC profile
The print remains intact even after multiple washes
Clean formulation with no clogging issues
Perfect for sublimating on personalized gift items
Limitations
The black ink doesn't fill the tank fully.
Doesn't work on cotton fabrics.  
Here's another high-quality sublimation ink – the Printers Jack 400ML Sublimation Ink. It's renowned for smooth ink transfer and durability.
It's also extremely efficient in usage. The 400ml bottle means there are around 2 cups of ink. So, it will cover you for a long time. Thanks to its amazing shelf life!
You'll love how easily it glides in your printer tank. You won't face any printhead clogging issues. Moreover, this ink dries up fast and doesn't leave any unwanted stains. It doesn't fade with wash either.
Color Accuracy/Print Quality
Printer Jack's sublimation inks are highly pigmented and saturated. They look more vivid after pressing them on the substrate with heat. What's great is that they can produce high-definition images without using any ICC profile.
However, you can request an ICC profile from the manufacturer via email. With the profile, it creates even more stunning images.
You won't believe how smooth the prints run even after printing 500 images. It's like getting the maximum efficiency out of your sublimation inks!
Compatibility
Now, this printer is mostly compatible with inkjet printers. However, it can take time to install the ink in the printer depending on your printer model.
In most cases, the nozzle fits correctly into the printer. But if it doesn't you can squeeze a bit and it'll glide in smoothly.
The best part is that you don't need to empty your ink bottle before refilling the ink. It doesn't affect the quality much if mixed with other branded inks. You don't even require a syringe to pour the ink into the printer tank either!
Versatility
Again, this sublimation ink is outstanding when it comes to multiple substrate sublimation. It sublimates well on polyester fabric, metal plates, ceramic, and wooden boards.
Basically, you can sublimate anything with this ink. For example, you can sublimate on custom blankets, puzzles, napkins, tumblers, air freshener bottles, tiles, jerseys, t-shirts, tote bags, and many more.
However, make sure these sublimation blanks have a high-quality polymer coating on them. You should avoid more than 60% cotton fabric for sublimating with this ink.
Best Use Cases
So, the best case for this Printers Jack Sublimation ink is home-based sublimation businesses.
It's absolutely beginner-friendly and the ink has a long shelf life from 6 months to a year. This means you can use it efficiently without any interruptions. It's perfect for large orders coming up every month.
Specs
What We've Like
Long shelf life.
Excellent color saturation.
Perfect nozzle packaging.
Water-resistant inks.
No fading issues.
Limitations
Ink formulation doesn't contain anti-UV features. 
Sawgrass SG500 is a high-end sublimation ink specially made for sublimation businesses. This ink can produce vibrant prints without wasting too much. Moreover, you don't need to change it frequently.
It's a bit on the expensive side and not suitable for beginners. But for professionals, it's a gem and the high price pays off! Check out the following segments to know what we're talking about.
Color Accuracy/Print Quality
Starting off with its print quality. The Sawgrass SG500 Sublimation Ink can produce crisp and vibrant images. The ink is much more stable and dries off quickly. So, there are no issues like smudging or bleeding right after printing with this ink.
The color accuracy is so great that you'll actually have a match with the original image. You'll also be able to create clean sublimation designs using the Sawgrass SG500 Sublimation Ink.
Moreover, the prints are extremely durable and fade-resistant. They don't fade easily with wash or sunlight. So, you can store your designs for a long time.
Compatibility
Well, unlike Cosmos and Hiipoo, the Sawgrass SG500 Sublimation Ink is only compatible with SG500 and SG1000 Printers. Actually, Sawgrass made these ink cartridges especially Sawgrass to produce the best sublimation results.
This is actually a plus point considering that convertible printers aren't always great for professional prints. However, it's a drawback for those who don't own a Sawgrass printer.
Versatility
If you sublimate on different kinds of substrates regularly, this sublimation ink will be your favorite. It supports almost 10 kinds of materials! Glass, Slate, Fiberglass Plastic, Wood, Aluminum, Wood, Ceramics, Polyester fabric – you name it.
This wide range of applications allows the ink to sublimate smoothly on cups, mugs, shirts, tumblers, phone cases, tiles, and many other personalized items. If you have a custom gift shop or home decor sublimation business, this ink will be worth your penny.
Best Use Cases
If you're constantly running out of inks, the Sawgrass SG500 Sublimation Ink can be a great solution. It uses very minimal ink yet produces bright colors. So, it takes time to finish the whole cartridge box.
Note that the ink comes in 4 colors (Cyan, Magenta, Yellow, and Black) and each cartridge contains 31ml of ink. Having great printing efficiency doesn't let the printer run out of more than one color at a time.
Specs
What We've Like
No ink wastage.
Vivid prints with minimal ink.
Long shelf life.
No print bleeding or smudging.
Quick-drying ink.
Extremely durable in the long term. 
Limitations
Doesn't support any other printers than Sawgrass printers. 
Now, you'll get to learn about the WOKOK Sublimation Ink Refill Ink Kit which will save you bucks with cartridge refilling.
This sublimation ink refill kit comes with the whole package. You get 4 sublimation inks (C/M/Y/B), 4 syringes, and a pair of gloves.
Each bottle contains 100 ml ink. So, you can use the inks for months. Moreover, the package comes with clear instructions on cleaning printhead and refilling. This makes your sublimation project easier.
Other than refilling, this ink provides a decent output. It's also waterproof so you can wash your sublimated item as much as you want.
Color Accuracy/Print Quality
Well, as much as the ink provides uninterrupted printing, its pigmentation is average. For faded and flushed designs, this ink can bring 100% color accuracy. But it struggles to keep up with the darker shades like pink and blue.
However, the color tones remain the same throughout the whole print. You'll love how seamlessly the ink adheres to the substrate and creates a smooth finish.
WOKOK sublimation ink also contains UV-resistant properties. So, you can keep the sublimated in direct sunlight. It won't fade at all.
Compatibility
Mostly, WOKOK sublimation ink fits well with Epson sublimation printers. But it also supports other sublimation printers like Stylus, Stylus Photo, Artisan, Ricoh, and Sawgrass printers.
In case you're using HP or Canon, your printer should have a piezo print head to use this sublimation ink.
Well, there's a small drawback to this sublimation ink. Despite the compatibility, it requires frequent print head cleaning. Every time you use the printer, you need to clean the printheads first.
As a result, you'll receive uninterrupted prints and your printer will stay functional. This is especially applicable to Epson Workforce printer models.
Versatility
Like most of the sublimation inks, this ink also sublimates well on polyester fabrics, ceramic, metal, and stainless steel.
But ceramics bond better than any other substrates. That's why, if you sublimate ceramic mugs or cups with this ink, it'll produce the most vibrant print.
Best Use Cases
If you're having trouble finding the most compatible sublimation ink for your printer, this ink is a great option for you. Whether you have a sublimation printer or a convertible printer, it works fine in both cases.
Specs
What We've Like
Compatible with a wide range of printers
UV-resistant nature
Waterproof and heatproof prints
Large ink bottles for long-term projects
Limitations
Requires frequent printhead cleaning
Dark colors aren't as vibrant as the light colors
Tonha is a great beginner sublimation ink refill for achieving vibrant prints. You'll be stunned to see how amazing features it offers at a low price point!
For starters, it's fade-resistant and eco-friendly. It creates vibrant waterproof prints that sustain even after multiple washes. You'll also feel relieved with the ink refilling process. It won't make you cry while setting up the inks!
Color Accuracy/Print Quality
The color accuracy of this low-budget sublimation ink is top-notch. It produces highly pigmented colors with clean lines. Whether you're using light or dark colors, it looks vibrant in both ways. The images look natural and pop right off the prints.
Again, this sublimation ink is unique in preserving ink. It uses only the required amount of ink yet still looks highly pigmented. So, you won't need to buy frequent ink refill bottles like other sublimation inks.
Compatibility
Well, Tonha sublimation inks are compatible with all kinds of inkjet printers. It glides smoothly in Stylus, Epson EcoTank, and Epson Workforce printers. You can transfer the ink to these printers without any hassle.
In case you're worried about any spilling issues, wear gloves and use a syringe to make the transfer. But it's not necessary.
Versatility
Now, this sublimation ink only works on substrates with a thermal sublimation coating. For fabrics, it should be less than 30% cotton. Other than cotton fabric, you can use any other substrate you want.
This means you can sublimate ceramics, boxes, flags, quilts, mugs, tumblers, and many home decor items with this sublimation ink.
What's amazing is that you can wash these sublimated items as much as you want. There's no fear of any decaying of material. The print will still remain vibrant for years.
Best Use Cases
You can consider this sublimation ink as the best fit for low-budget sublimation projects. For less than $15, this sublimation ink is a steal! You get almost all of the best features of reputed brands within this price point. In short, it's a great budget-friendly sublimation ink.
Specs
What We've Like
Perfect ink saturation and pigmentation.
Waterproof properties.
Doesn't fade easily.
Seamless installation and in-refilling process. 
Limitations
Using syringes for refilling can lengthen your project time
The TM Autofill Sublimation Ink is a wonderful sublimation ink specially designed for Epson EcoTank and WorkForce printers.
These refill bottles are extremely secure. You can either use a syringe or pour the ink directly into the tanks. They'll fill your Ecotank printers without any mess.
These sublimation inks come in standard 4 colors in 100 ml bottles each. So, it'll last you about 1-2 years for a moderate level printing. However, the quantity can differ based on your usage.
Color Accuracy/Print Quality
This sublimation ink produces bright prints. It's formulated by 3 layers of filtration. So, it has a high ink penetration rate while heat transfer.
The inks hold onto the substrate and are highly durable. They don't wash off or peel very easily. Moreover, you can get even tones all over your sublimation print.
In case you have a thing for sublimation lettering designs, you can keep this ink on your list. It produces sharp, clean lines. You won't have ink bleeding issues as well. However, if you don't clean the printhead often, the colors can look faded in the prints.
Compatibility
Alright, now the TM Autofill Sublimation Ink is only compatible with Epson EcoTank printers. Using it on any other printer can clog the printheads. In fact, the nozzles won't fit well actually.
Here's a tip when you're filling this sublimation ink in an EcoTank printer. Keep the refill bottle upside down while filling the syringe. You have to release the pressure slowly and fill the ink. This technique will help you to reduce ink wastage.
Versatility
Again, the TM Autofill Sublimation Ink has boundless applications. It can sublimate T-shirts, cross-stitches, cloths, quilts, pillowcases, mug cups, shoes, caps, ceramics, boxes, trophy plates, and many other customizable items.
But for fabrics, it can only sublimate on 65% or more polyester fabrics. The ink saturation is excellent for every substrate. Especially, it looks great on decorative mugs.
Best Use Cases
This sublimation ink is best for beginner sublimation enthusiasts. It's because the refilling process is extremely easy. You don't have the risk of clogging your printhead. Moreover, you can print vivid images on multiple substrates.
Specs
What We've Like
High ink transfer rate.
Easy refilling process.
No printhead clogging issues.
Thin ink formula.
Long-lasting ink refills. 
Limitations
Can't sublimate cotton material.
Looking for an affordable auto-refill option? You can try out the HappyToner Free Syringe Sublimation Ink. This refill sublimation ink bottle can refill your printer's tank whenever you need it. You don't need to use a syringe to refill the bottle manually.
It's also equipped with smart auto-stop technology. So, the bottle knows exactly when to stop pouring ink into the tank.
You'll love the print quality and multiple applications of this sublimation ink. Moreover, it doesn't fade under sunlight.
Color Accuracy/Print Quality
HappyToner Free Syringe Sublimation Ink is pretty pigmented and has the correct amount of saturation. The sublimation looks much brighter. But it's not as vivid as the Cosmos sublimation ink.
However, the ink penetrates the substrates very well. That's why the ink bonds with the substrate polymers and lasts for a long time. You won't have peeling or fading issues because of heat or washing.
Compatibility
Now, you can use this sublimation ink only in Epson inkjet printers. It mostly works well with the EcoTank series.
You'll have fewer issues with the printhead if you use these models from Epson- ET-2720, ET-2750, ET-2760, ET-3700, ET-3710, ET-3750, ET-3760, ET-3830, ET-3850, ET-4750, ET-4760, ET-4699, ET-4700, ET-4750, ET-4800 ET-4850 ET-15000.
Versatility
You can use this ink on a wide range of products. From polyester fabric to glass, you can use it on almost all substrates.
Some of the popular things you can sublimate with this ink are mugs, cups, tumblers, t-shirts, jerseys, face masks, fanny packs, backpacks, beanies, boxers, etc.
Best Use Cases
You should use this ink if you want to work fast on your project. This sublimation ink dries significantly faster than the other inks we reviewed above.
Moreover, its easy installation and auto-refilling process will save you time as well. So, it reduces your operating time and allows you more time to be creative.
Specs
What We've Like
Fast-drying capacity.
Proper ink penetration.
Auto-refill and Auto-stop functions.
Long-lasting vibrant prints.
UV-resistant formula. 
Limitations
The ink formula is slightly thick
Finally, you should check out the HTVRONT Sublimation Ink Refill as it has the smoothest ink transfer process. Being a sublimation supply company, HTVRONT has been using advanced technologies to make their product easy to use.
With this ink, you can print consistent colors all over your substrate. It also comes with 4 syringes (with removable needle tips) so that you can have seamless ink refills.
Moreover, the ink comes with clear instructions. So, you don't have to worry while operating the ink.
Color Accuracy/Print Quality
Well, HTVRONT Sublimation Ink is average when it comes to producing vibrant prints. Especially, it sublimates white and light-colored substrates extremely well.
While most of the prints are vibrant, some colors slightly change. For example, pink, purple, and turquoise can look a bit off sometimes.
So, the print quality is not as good as the quality of Cosmos and Hiipoo sublimation ink. But, you can fix it by using an ICC profile. So, it's not a serious problem.
Again, the ink adheres very well to the transfer paper. It dries up pretty fast after print. So, you can get the maximum result from the heat press. There's no bleeding and the stains are extremely durable. So, the ink stays vibrant even after repeated washing.
Compatibility
This sublimation ink is perfect for Epson Inkjet printers. You can use it in the Epson Workforce and EcoTank series mostly.
It works perfectly fine in convertible Epson printers. Well, sometimes it can be tough to fit the nozzles with some Epson printers (like ET-2800). But the syringe will help to add ink to the printer in this case.
What's great is that the ink doesn't thicken. It's buttery smooth in the printhead. So, you won't have to face any clogging issues with this sublimation ink.
Versatility
Speaking of versatility, the HTVRONT Sublimation Ink works equally well in multiple substrates.
Whether it's a tumbler, glass, shirt, coaster, cup, mousepad, or any home decor item, it can fit in all. You can use it for special occasion sublimation or to make holiday gift items.
Best Use Cases
It's a perfect sublimation ink for those who have frequent printhead clogging issues. The sublimation ink doesn't have any impurities.
The formula is also thin and consistent. So, you can use it without any interruption – saving both time and money.
Specs
What We've Like
Smooth ink transfer.
Nozzle fitment.
Ink vibrancy on light substrates.
Multiple substrate compatibility.
No fading or bleeding of ink.
Limitations
Dark sublimated colors look a little flushed out
Considerations When Selecting A Sublimation Ink
Now, let's move on to the features you must check before purchasing a sublimation ink. By going through the discussions below, you can make your purchase worth your time.
Color Accuracy
Checking the color accuracy of the sublimation ink should be at the top of your priority list. You need to test whether the ink is actually capable of producing the exact color you want.
To identify the accuracy, check the formulation of the ink. Water-based and solvent-based inks can show a different range of colors in your final print.
Sometimes the type of nozzle also affects the color quality. If the nozzle is narrow, your sublimation prints will look faded.
Moreover, it's important to buy a sublimation ink that's compatible with your printer. Otherwise, you won't get the desired color output you want.
Printer Compatibility
To ensure printer compatibility, you must read the sublimation ink's label carefully. Check if the ink is a cartridge or a refill bottle. You can only use the one that your printer supports.
Moreover, some printers can have 4 to 8 tanks depending on their functionality. So, you have to buy enough sublimation inks that can fill the number of tanks your printer has.
Again, a sublimation ink can require ICC color profiles. If your printer settings don't allow ICC profile setup, you can't use that sublimation ink. This is an important aspect when you want to work with complex designs and gradient colors.
Also, you have to consider the printer's efficiency as well. If your sublimation printer uses more ink, you must choose a size that will keep up with your printing project.
Print Durability
Apart from producing vibrant prints, you should also check whether the print can last for a long time. You don't want your prints to fade away with a few washes, don't you?
So, you have to look at features like microwave-proof, machine wash-proof, and waterproof inks. In case your substrate gets exposed to sunlight a lot, you have to choose UV-resistant sublimation inks.
Again, sometimes you might not need to wash or heat your substrate. In this case, the sublimation prints will remain vibrant with mediocre sublimation inks. So, you must choose an ink depending on your usage.
Substrate Versatility
Now, the formulation of sublimation inks can differ depending on the type of substrate. Some inks only work on fabrics while others can work on metal, wood, and glass.
Sometimes, you'll need to apply polyester coating on top of the substrate to adhere to the ink. The ink vibrancy can differ from substrate to substrate. So, you need to choose an ink that fits your requirements.
Drying Time
Fast-drying sublimation ink is always the best option for you. Most people miss this factor but drying time really matters when it comes to producing professional prints.
If your sublimation ink dries slowly, it can leave smudges. You'll have less ink transfer on your substrate and the design can get ruined. So, it's important to buy a sublimation ink that can dry within seconds.
However, you must ensure that the formulation doesn't dry up inside the printer. Dried ink can clog the printhead and make it difficult to print.
Eco-Friendliness
You have to check whether the sublimation ink is eco-friendly. It's because eco-friendly inks have fewer toxic chemicals.
So, they don't produce any harmful fumes while sublimating. They are better than solvent-based inks actually. It's good for you and good for the environment!
Moreover, eco-friendly inks are usually more compatible with multiple substrates than other inks. So, you can be as creative as you want with this type of sublimation ink.
Cost-Effectiveness
When you're thinking about the effectiveness of sublimation ink, you must think about its cost-efficiency.
For this, you need to consider the ink cost, running costs, quantity of workload, and substrate applications.
Buying a budget-friendly ink is a good deal. But if it costs you more in the long term, it's not the best deal for you.
Sometimes your printer can use up more ink for sublimating on different substrates. In this case, the print per cost will feed your expense list.
So, it's best to choose an ink calculating the overall operations cost. You can also target sublimation inks that come with free ICC profiles. This will reduce your additional expenses.
However, you must ensure that you're not compromising the quality of the ink buying at a low price. The packaging should be sealed tight to prevent clogging your printer.
Ink Options (CMYK, etc.)
You must buy inks according to the color gamut you want to achieve and your printer's requirements. For example, if you want black designs mostly and your printer has 2 slots for black, you have to insert two black ink bottles.
Now, sublimation inks come in CMYK (Cyan, Magenta, Yellow, and Black) colors. But sublimation printers can use more than 4 ink bottles. It's more important when you're working in the RGB color mode and with ICC profiles.
So, make sure you're choosing the correct shades of colors that can meet your requirements fully.
Manufacturer Reputation
Apart from features and costs, checking the manufacturer is also essential when buying sublimation ink. Purchasing from a reputed brand means you can be assured about the quality and safety of the ink.
Moreover, reputable brands produce sublimation inks specifically for your printer model. So, you have less chance of messing up the printhead.
Some manufacturers also provide 24/7 customer support. This means you can get help for any kind of troubleshooting issues with your sublimation ink. It's something you won't get with cheap brands.
Batch Consistency
Finally, you have to ensure that the sublimation ink can stay consistent all over the print. You want the same vibrancy showing up on the full design without any part fading.
Moreover, the quality of the ink should be consistent across all the items you want to sublimate. This factor is especially important for sublimation business owners.
So, you need to ensure that you're using the same formulation of inks on all of the items. It's best to test a small batch first and determine if the ink is suitable for your project.
FAQs
Does it matter what sublimation ink to use?
Yes, it matters what sublimation ink to use. It's because sublimation inks can come in cartridges or refill bottles. If your printer doesn't support your sublimation type, you can't use the ink.
Is all sublimation ink the same?
No, all sublimation inks are not the same. Sublimation inks come in dye-based and water-based formulas. They also differ in packaging as well. You need to choose a sublimation ink depending on your requirements and printer type.
What is the best sublimation ink for SG500?
SubliJet is the best sublimation ink for SG500. It's specifically designed for Sawgrass printers.
Can I use regular Epson ink for sublimation?
No, you can't use regular Epson ink for sublimation. You need to buy specially formulated sublimation inks that can be either dye-based or water-based.
Does sublimation ink work on cotton?
No, usually sublimation ink doesn't work on cotton. You need less than 30% cotton material to sublimate a fabric. However, there are some sublimation inks with new technology that can sublimate on cotton too.
Final Words
Hopefully, this article was useful in finding the best ink for sublimation printing. Remember that you should choose an ink that fits your requirements specifically. No matter how good the ink is, you can mess up the print if you're not careful.
So, to avoid pizza wheels and ink spots, make sure to keep your substrate flat on the heat press. Clean the printhead of your printer once in a while. You'll receive perfect prints every time!
Was this article helpful?