You can use any inkjet printer for vinyl sticker printing. But all inkjet is not perfect. You have to admit it. Why?
The answer is pretty long. For now, we can say cartridge setup, speed, and ink quality matter. These technical kinds of stuff need an equal combination. Only the expert can detect the combination with their trained eyes.
Our team is trained to pick the right printer for a vinyl sticker. You can rely on our review. We picked the best printer for vinyl stickers for this article. Just read that, and you will know why we claim "technical kinds of stuff matter."
One more thing. Don't forget to check the bonus part. We have added two more reviews related to these products: laminating papers and cutting machines. They are all in the Bonus section.
Image
Product
Rating

1

No. 6

No. 6

HP OfficeJet 3830 All-in-One Wireless Printer

Affordable and needs low ink cost to run.

Check Price

2

No. 1

No. 1

Canon Pixma Pro-200

Check Price

3

No. 2

No. 2

Epson EcoTank ET-2750

100 sheets capacity with 8ppm speed

Check Price

4

No. 3

No. 3

HP ENVY 5055 Wireless AIO Photo Printer

Ink cost is comparatively low

Check Price

5

No. 4

No. 4

Brother MFC-J995DW

Check Price
7 Best Printer For Vinyl Stickers
1. Canon Pixma Pro-200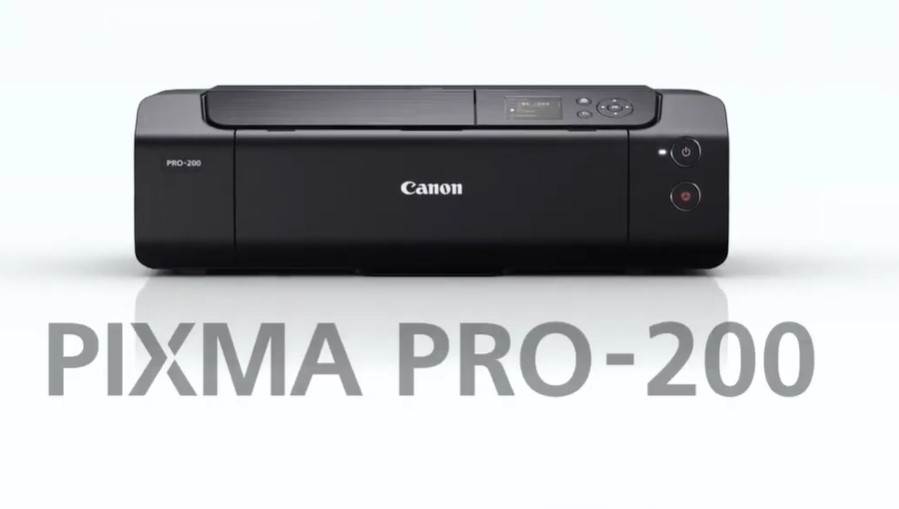 An updated legacy of Pixma Pro-100. Pixma Pro 200 offers glowing photo printing. We tested each picture with our expert. Each photo looked great.
Not only that, vinyl stickers showed an outstanding color combination. One thing it does not have. There are no media rolls. You cannot print banners and panorama pictures in it.
Print Quality
Photo printing is flawless: dark and gradient look vibrant. The color detail was also clean. We noticed an exceptional outcome while printing monochrome. Gray and black cartridges have an amazing combination. It results in highly-legible texts.
Vinyl Sticker Printing Experience
The previous version had some color-shift issues. Canon corrected that in this version. We printed several stickers on different cardstocks.
All the shapes were accurate. The outcome for the fabric was good for use. We are satisfied with the experience.
Others
Canon offers exciting software with the printer. They include Canon Professional Print and layout software.
This software has advanced photo editing features. We also liked the page layout feature apart from that. You can set the color profile, speed timing, and even the nozzle set up with it for your page settings.
Specs
Pros
Grayscale output is good
Ai-based nozzle clog detector.
Footprints are small
Cons
It has no role in media support
2. Epson EcoTank ET-2750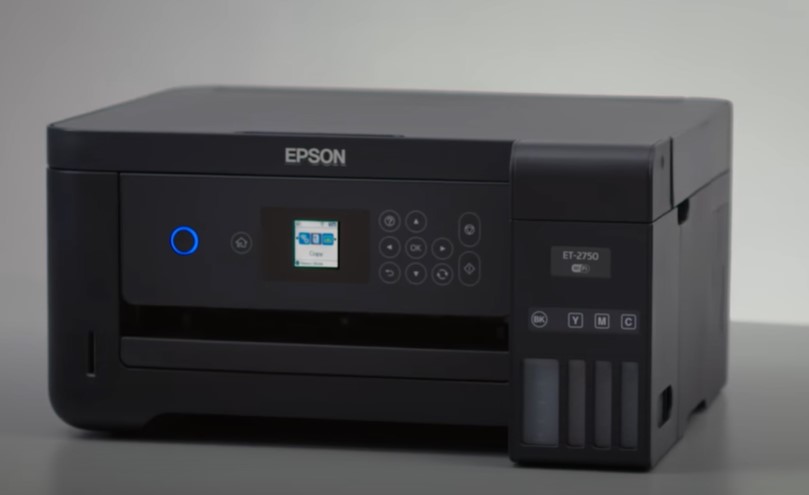 ET-2750 is fully equipped for home-based crafters. We tested this model in three different areas: speed, quality, and ink cost.
Overall areas showed a satisfactory result. The ink cost is similar to its contenders: Canon and Brother.
Sticker quality is also good. We noticed some rare streaks in bulk printing. Look further in our review section.
Print Quality
Our experience showed a solid quality. The text looked eye-catching -perfect for business use. We tested the legibility with characters, space, and hairlines.
Everything was good for us. Our team has also tested the PowerPoint handouts and excel sheets. The graph chart looked sharp with mild banding. Photo quality was also good. Some areas had a tint -especially in bright areas.
Speed
Winner! Why are we saying it? We compared the printer with the Canon Pixma TS9120. The speed of the Canon is 3 ppm slower than this one.
Epson recorded 8 ppm for monochrome and 10 ppm for color. But the Pixma TS 9120 clocked 13 ppm for color.
Vinyl Sticker Printing Experience
We cannot say it was a super outcome. But the result was exceptionally good for us. Our team printed 30 plus stickers.
Color stickers looked good. But the monochrome showed a loss of detail in some dark areas.
Others
Our expert liked the connectivity. Mobile connectivity worked fast. The same experience was for PCs and laptops.
But this experience extended when we put that test in Mac. The Mac worked faster than we thought.
Specs
Pros
Ink replacement cost is comparatively low 
SD card reader
Abundant Ink supply
3. HP ENVY 5055 Wireless AIO Photo Printer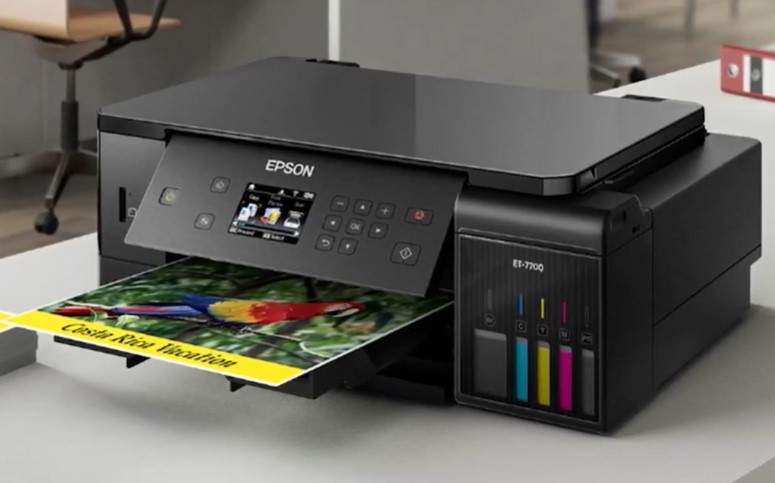 AIO series is always a handy choice for home office owners. We used Envy 5055 firsthand.
The overall feature seems shorter than average competitors. HP Envy 5055 has a lack of automatic document feeder. It also has less running cost. Here are more details of the printer.
Print Quality
What do you expect from an entry-level printer? Not average but balanced. We tested the text quality of this version.
It was quite legible at point 8. But from points 4 to 6, it looked blurry. The graphical outcome was also good.
PowerPoint, Excell, and Acrobat outcomes were smooth. However, a mild streak was seen.
Speed
You cannot expect super speed from an entry-level printer. We, in fact, had little expectation from this series. It clocked 10 ppm for monochrome and 7 ppm for the color.
Our team tested the speed in Mac and Windows. Windows 10 was a bit slower than Mac. However, the 4 by 6 sized photo printing experience is good for this price.
It recorded 42 seconds. Canon PIXMA with the same feature recorded 20 seconds for the same size. We cannot say it is slow because of the price difference.
Vinyl Sticker Printing Experience
Our vinyl printing experience is not bad for this printer. The 4 colors: cyan, yellow, magenta, and black serve as a satisfying color combination in regular vinyl papers.
We notice a slight color shift in pink cardstock paper while printing gradients. This experience cannot be detected with naked eyes.
Others
HP has always offered the best result in connectivity and everything. One of the greatest parts is their ink offers. Their ink investment policy saves around 50% of the yearly cost.
Specs
Pros
Solid printing outcome
Ink cost is comparatively low.
Perfect for vinyl
Cons
No flash drive and SD card options.
4. Brother MFC-J995DW
Small business owners are praising this MFC J995DW for its AIO feature. The two-sided printing options with multi-device printing connectivity have made it unique.
We know this exceptional feature can make your day-to-day life easy. But the running cost is competitively higher, especially for vinyl printing.
Read the full review for more.
Print Quality
Brother has a reputation for laser printers. But those days are gone. They have exceeded the limit.
Overall, text quality has improved in this device. We tested points 4 and 5. The space, character, and shapes were clean. The graphical outcome was also smooth. A slight streak was seen in some grayscale areas.
Speed
Good speed but not above average. Brother claimed 12 ppm for monochrome and 10 ppm for color.
We did not see that in real life. 12 pages of Microsoft text document recorded 10.5 ppm. The color print for the 4 by 6 snapshot was almost 32 seconds.
The mentioned speed is 2 ppm faster than Canon G4210. But it is 4.9ppm slower than Epson ET 3750.
Vinyl Sticker Printing Experience
Our test experience for vinyl was satisfying. 30 different stickers on cardstock showed an extreme color balance.
Some areas from black to dark-green gradients had slight bands. We don't think this is a dealbreaker.
Others
It offers all the essential connectivity features. The thing we are about to tell is the ink investment process.
Canon G4210 costs 1 cent per page, whereas Brother costs 2 cents for text. This might be a bit high, but your sticker printing will be worth the cost.
Specs
Pros
Flexible control panel.
Ethernet connectivity.
USB and SD card support thumb drive
Cons
The output and input capacity is not satisfying.
5. Canon TS9120 Wireless Printer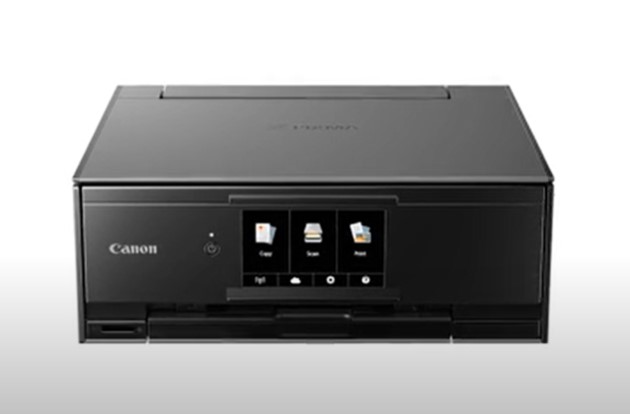 As we expected! Perfect photo quality with outstanding document feedback. TS9120 might be slow in bulk printing. But the overall features like ADF and Ethernet are worth $20 extra. Let's read the full review.
Print Quality
Satisfying! Our team tested texts and photos in this printer. Text quality was good even in points 6 and 4. The character, space, and shape looked smooth.
We also tried the decorative fonts. The outcome of color saturation was balanced -no complaint. One more thing: business documents looked great.
We printed PowerPoint handouts, excel graphics, and Adobe Acrobat. All of them came with a clear color balance. Only a slight band has been seen in some dark areas.
Speed
We can call it "not a speed demon" Canon claimed 15 ppm monochrome and 4.7 ppm for color. But it is not the same as it said.
Our team printed 20 pages of simple Microsoft text documents. The speed for this amount of pages was 13. ppm so far, we recorded. We compared the speed with HP Envy 7855. TS9120 is .5 ppm faster than HP.
Vinyl Sticker Printing Experience
Speed is slow, but the vinyl printing experience is worth the time. Why? You know Canon has a long reputation for accurate photo feedback.
They keep the promise in this device. We printed 40+ sticker shapes in different color tones. Every shape looked decent for us. Some color shifts are seen. It is detectable by trained eyes.
Others
Canon designed this printer for home-based offices. The instruction manual is the proof. It showed an easy guide to install the cartridges.
Moreover, the connectivity options are diversified. USB, NFC, and SD card speeds are fast compared to others.
Specs
Pros
Additional ink cartridges for quality printing.
Bluetooth 4.0 compatible
2 paper input trays.
6. HP OfficeJet 3830 All-in-One Wireless Printer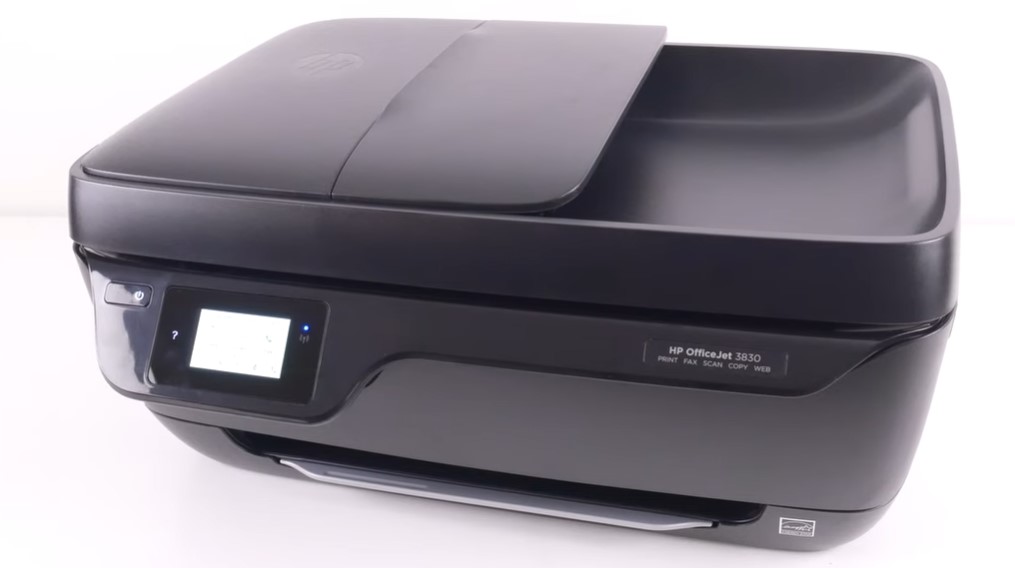 A perfect entry-level printer. We compared the running cost between Canon Pixma TR8520 and HP Officejet 3830. HP won the race of ink cost.
The quality and speed were competitive with this printer. You will learn a lot about it in the coming section.
Print Quality
Our team is satisfied with this price. Come on! You cannot expect above average from a low-priced printer.
The text quality showed exceptional feedback. Serif and sans-serif font was well-shaped and spaced.
Everything was highly legible. Perfect for business documents. The photo printing quality was also satisfying. We printed regular borderless photos in it. The result was just good.
Speed
We are satisfied with the speed for this price. The monochrome page recorded 8.5 ppm. On the other hand, the color paper recorded 6 ppm. Canon Pixma TR8520.
Our team retested the speed with bulk pages. The count was exceeded the claimed time. It was almost 9 ppm in monochrome. 2.7 ppm for color.
This is faster than the Canon Pixma G4200. Almost 2ppm fast. But not faster than the Canon Pixma TR8520. It is 1 ppm faster.
Vinyl Sticker Printing Experience
The vinyl printing experience was good. We doubted some areas because some gradient fills showed a faint band.
The vinyl sticker removed that doubt after 10 continuous printing. Each sticker had a smooth color shift, even in the gray areas.
Others
What we like is the Instant Ink plan. The plan saves 9 cents in monochrome and 21 cents in color printing. We compared the price with Canon, Brother, and Epson. It showed that HP Ink Policy saves 3 to 4 $ in each bundle.
Specs
Pros
Running cost is low
Outstanding print quality
Affordable price
Cons
There is no auto duplexing
7. Epson SureColor P600 Inkjet Printer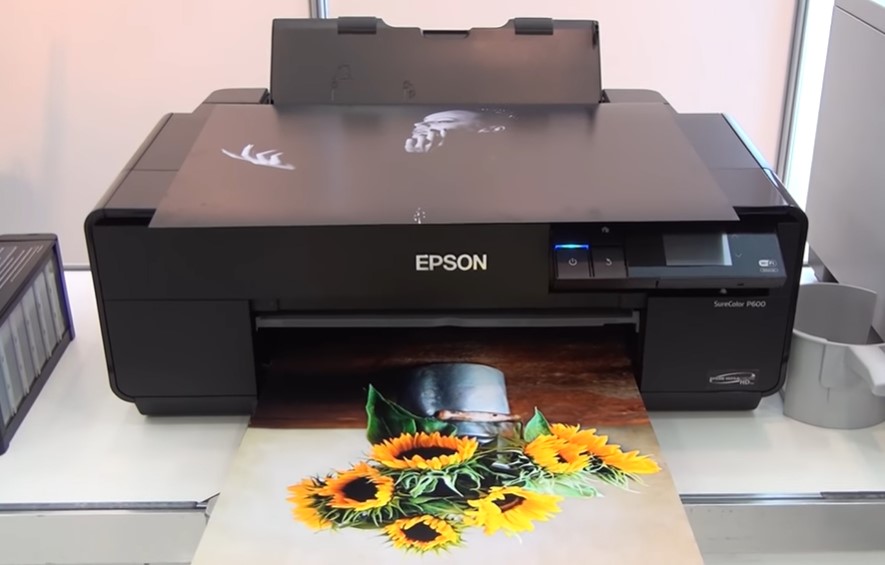 Perfectly built for creative artists. The panoramic photo quality proves that. We liked the paper handling and speed. Each area showed a satisfying outcome, but there is something to consider. What is that? Read the full review.
Print Quality
Epson offers a quality printing experience with this printer. We tested 4 by 6 color photos with it. The outcome looked sharp. There was no color band.
Our team did not even notice any streak. The same experience was sustained with black and white images.
The text quality was legible. We tested it from points 4 to 6 every time. The character gap was clear and sharp.
Speed
Compared with HP and Canon, Epson offers a decent speed. This P600 can print 4 by 6 photos within a minute.
It recorded 1.53 seconds for an 8 by 10 inches photo. The black and white printing experience was less than 1 minute.
Vinyl Sticker Printing Experience
We printed 10 shapes with this printer. The color saturation for each sticker was amazing. We call it slightly above average.
The gradient background was clean but not smooth. If your eyes are not trained enough, it is tough to detect. Overall, the color glowed even after lamination.
Others
The printer has nine color cartridges for an outstanding outcome. This feature keeps it ahead of the HP Tango series.
The Ethernet and USB connectivity works just fine. We tested on Mac and Windows. It worked fine with updated versions.
Windows 10 and 11 worked fast, but below this version, it did not. Wifi connectivity is also fine. The printing speed of wifi connectivity is fair enough for us.
Specs
Pros
13 by 29 inches roll paper can be printed.
The output quality is good.
You can print the fine-art paper on it.
Cons
We had to struggle to fit some fine-art paper in the feeder. 
Best Cutting Machines For Vinyl Stickers
1. Sizzix Big Shot Starter Kit 661500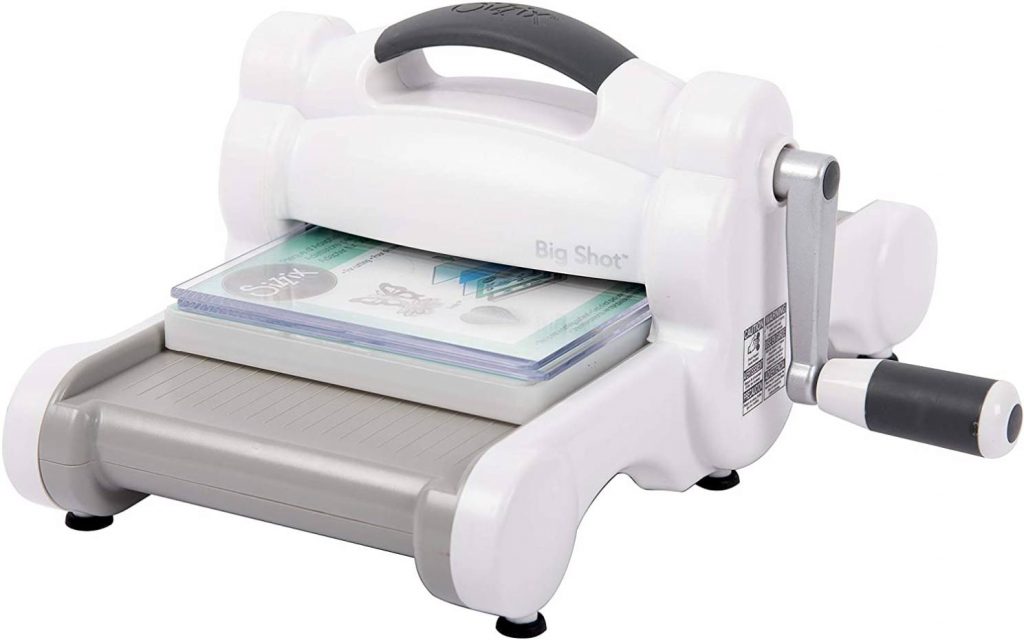 Sizzix has definitely won a million hearts of crafters with their tremendous quality. We revealed that. Kit 661500 is a real example. Here is the detailed review.
Inside the box
We found three things: a machine, an instruction manual, and essential accessories. The packaging quality looked good.
Assemble experience
It came assembled. We needed to attach the handle. The grip of the handle seems good. It has a sweat resistance feature. We liked this. The overall time for attaching the handle took less than 5 seconds. Easy!
Cutting experience
We cut cardstocks: legal size and A4 size with the given shapes. It was smooth. There was no sign of dropping the quality.
The same experience was consistent for fabrics. Our team has also tested the thiolate dye. All good.
One thing we noticed in comparison with Circuit Explore Air 2. That is: you cannot cut typography in it. Other than that, everything is good to go.
Pros
Variety of shapes.
Comprehensive instruction manual.
Easy to carry.
Best Vinyl Sticker Laminating Material
1. Royal Elements Waterproof Clear Vinyl Laminating Sheets for Stickers
We checked several laminating papers over time. Royal elements so far are good for us. The sheet quality looked sharp for all stickers. Here is the review.
Paper Quality
Overall, the paper quality is decent. The water resistance feature is accurate. We tried it over a mug to test. Royal passed the test. The most satisfying fact is there were no bubbles inside the paper.
Features That Will Blow Your Mind
The UV protection feature will save the sticker from spoiling. One of the great features that have made it unique is that we did not need any machine to attach it. Just read the instructions, and you can also laminate.
Pros
Easy to laminate.
Full protection.
Tested water resistance.
Cons
The paper quantity could be better
Buying Guide – Best Printer for Vinyl Stickers
Print Quality
Your vinyl stickers must reflect the design you choose. So, print quality matters. Epson and Canon offer the best printing experience, though the ink cost is a bit high.
Speed
Some printers are slow, some have a decent printing speed. We don't prefer the fast or the slow one. Our recommendation is to pick the right one. If the printer works slightly slow, but prints a quality sticker, go for that.
Ink Cost
Brother, HP, Epson, and other brands offer efficient ink investment plans. Pick one of them. Wait! Brother and HP offer the best plan. We noticed around $40 to $50 savings on each brand.
Technical Details
Connectivity, Software bundle, and installation should be your first priority. The updated connectivity feature is an extra advantage for hassle-free printing.
HP so far offers the best printing. If you consider the software bundle, we recommend you go for Canon. Their built-in software is wired to work with advanced work.
Cutting Machine Buying Guide
Assembly
We worked with two machines. Each one had a simple assembly guide: the handle grip. So, before buying the cutting machine, we recommend you check the assembly instructions. Too complicated assembly can ruin your experience.
Noise
Sticker cutting machines are not noise-free. We prefer you to check the noise level before buying. A minimum noise level should be your first consideration.
Laminating Sheets Buying Guide
Size
It is wise to buy a bit larger than your sticker size. This will result in tight protection. Your sticker will last longer. Ideal size for a sticker is 11.5″ x9″ to 12″ x8″
Type
Two types of paper exist: you need to use a machine for laminating. The second is easy laminating; no need to use machines.
We recommend you to use the second one, though there is a chance of bubbles growing. We recommend you check the instructions.
Thickness
2.7 thickness is proper for protecting your sticker. Less than this measure can cause the risk of spoiling. The thick paper actually enhances the lifespan of stickers.
FAQ
What Printer Can Print On Heat Transfer Vinyl?
You can use any inkjet printer. Just check the ink cartridge compatibility. We recommend you use HP or Canon for that.
Can You Print Vinyl Stickers With A Standard Printer?
Of course. Any standard printer with inkjet compatibility can print vinyl stickers. The quality might either drop or be balanced. It depends on the color quality.
Conclusion
We basically reviewed 9 products in our article. The cutting machine and laminating sheet are a bonus. Pretty sure! This will help you to pick the right product.
Our review is pretty straightforward. We are sorry if any of your egos are hurt by that because we don't want to drain your hard-earned $cash with a scam.
One more thing. Don't forget to share this best printer for vinyl stickers review. Trust us! These sorts of reviews are rare.
Was this article helpful?