Believe it or not, different types of sublimation paper can change the result of your sublimation print. So, you need to be careful about which type you're choosing.
Now, there are 2 types of sublimation papers depending on weight – heavy and light sublimation papers. Heavy sublimation papers are used for soft substrates. But if you want to sublimate hard substrates, you should choose light sublimation papers.
You'll get to learn about both types by reading the article till the end. I've also recommended different kinds of sublimation for light and dark t-shirts, cotton fabrics, mugs, tumblers, and heat transfers. But first, let's start with the basics.
A Quick Overview of the Sublimation Paper
Sublimation printing requires specialized paper to imprint designs on different types of substrates. This specialized paper is called a sublimation paper.
What's so special about it? Check out the following segments to learn what sublimation paper is made of and how it works.   
What is a Sublimation Paper?
A sublimation paper is a paper that helps in transferring sublimation ink to any substrate. Though it looks like regular paper, it has a special coating on one side.
The pores in the coating capture sublimation ink, hold it, and release it to a substrate through heat and pressure.  
The special coating is actually a micro-thin layer of polyester. It has 35% silica and 5% binder depending on the type of paper.
Manufacturers add polyester as a medium to transfer sublimation ink to different kinds of materials.
The process of ink transfer is actually quite interesting. You'll get to know about the process in a bit.
How Does a Sublimation Paper Work?
A sublimation paper does its job by only following 2 steps – holding the sublimation ink and releasing it to a substrate.
So, let's start with the first step. When you print on sublimation paper, the micropores of the polyester coating gets widens up. The sublimation ink gets stuck in those pores and creates an image on the sublimation paper.
In the second step, you apply pressure and temperature on the sublimation paper. This time the dye turns into gas. The gaseous form of the ink gets activated and transfers to the substrate underneath.
After you finish the sublimation process, you peel off the sublimation paper from the substrate. Cool down the substrate for a while. As a result, the ink becomes permanently embedded into the substrate.
This is how the sublimation paper works.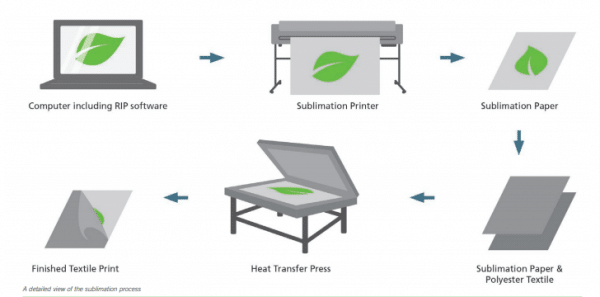 @edgecolours
2 Types of Sublimation Papers and Their Uses
Now, you'll see a variety of sublimation papers in the stores. But all of them fall under 2 major categories – heavy sublimation paper and light sublimation paper.
You'll get to know about both of these sublimation papers in the next segments.
Heavy Sublimation Paper
Heavy sublimation papers fall between 120 gsm and 140 gsm (grams per square meter). These papers have thick polyester coatings which are perfect for sublimating light substrates.
Here are 3 examples of heavy sublimation papers.
1. A-Sub Sublimation Paper
A-Sub is the most popular heavy sublimation paper. The thickest A-Sub paper is around 125 gsm. The 120gsm also creates excellent sublimation prints.
As the paper is thick, it's also more durable than light sublimation papers. You can try out any heat press you want. These papers can hold up any heat and pressure perfectly. The A-sub papers are also compatible with any inkjet printer.
You can print complex designs on these papers and they look exactly like the original image. You don't need to apply any layers.
Also, heavy sublimation papers receive high ink saturation and density. The A-Sub sublimation paper is no different. So, you get a high-quality sublimated image on your substrate every time. However, make sure you are sublimating on a soft substrate.
2. Hiippo Sublimation Paper
You'll find the Hiipoo sublimation paper almost similar in quality to the A-Sub sublimation paper. It also comes in 125gsm. It has a 98% ink transfer rate and is perfect for sublimating t-shirts.
You'll notice that heavy sublimation papers like Hiipoo work excellently in humidity above 70%. The stiffness of the paper can absorb moisture and keep the sublimation print intact. It's the opposite for light sublimation papers.
You can sublimate any gift items you want with this type of heavy sublimation paper. For example, Hippo brings out brilliant sublimation print on light-colored polyester fabrics, phone cases, mugs, tumblers, mouse pads, puzzles, ceramic plates, bags, and cups.
3. Koala Sublimation Paper
Well, Koala sublimation paper comes in both thick and thin papers. But for this segment, we'll talk about the heavy sublimation paper. For Koala, the 120 gsm paper is the heaviest one.
This paper can create vibrant sublimation prints on 70% polyester fabrics. Moreover, you can sublimate on mugs, tumblers, phone cases, and metal plates. The sublimation print seems smooth and flat on these substrates.
You won't get any pizza wheel marks with this sublimation paper. However, you may get wheel marks with heavy sublimation papers if they're of low quality. This mostly happens while using 120 gsm or 125 gsm sublimation paper.
In this case, using lighter paper like 105 gsm can solve your issue. So, let's hop on to learn what is a light sublimation paper after all.
Light Sublimation Paper
You probably guessed from the name, light sublimation papers are thin in nature. They are the sublimation papers that weigh less than 120 gsm. The lightest sublimation paper is only 45gsm which is mostly used for industrial purposes.
Let's review 3 examples of light sublimation papers for a better understanding.
1. FU-Z and FU-W Sublimation Paper
The FU-Z sublimation paper is a thin paper consisting of 100 gsm of weight. This paper is capable of increasing the speed of the printing process. It gets dried up right immediately after the sublimation printing is done.
Another related sublimation paper is FU-W. It is a 58 gsm paper which is thinner than the FU-Z. The lightest FU-W is the 45 gsm sublimation paper which is used for industrial purposes.
Now, unlike heavy sublimation paper, light sublimation paper has lower ink saturation levels. The designs or colors come out faded. It's the best option if you want flushed or seamless designs on your substrate.
2. FU-A Sublimation Paper
Moving on to another light sublimation paper – the FU-A sublimation paper. It has 100 gsm weight. This paper works best for polyester or coating ceramics, metal, and fiber materials.
These light sublimation papers also work excellently in low-humidity conditions. As they are softer than heavy sublimation papers, they don't hunch up and damage the print head.
Now, moving on to the usability of lightweight sublimation papers. Different brands offer a variety of sublimation printing options with light sublimation papers.
For example, you can sublimate on polyester-coated ceramics, metal, and fibers with 100gsm FU-A sublimation paper. On the contrary, 90 gsm 64 inches work best for large format garments.
So, what else can you sublimate with light sublimation paper? Pretty much anything! Polyester fabrics, flags, banners, sportswear, functional textile products; you name it.
What To Check Before Buying Sublimation Papers?
The weight of the paper isn't the only factor you need to check while buying sublimation papers. There are 5 more factors that can impact your sublimation process.
Here's what you need to check before buying sublimation papers.
Purpose of the Project
First, you have to identify the usage of the sublimation paper. Are you focusing on the saturation of the color?
Do you want the colors to dry fast? Whatever you're trying to achieve, you should ensure the sublimation paper is capable of doing so.
Compatibility with Sublimation Printer
Next, you need to think about printer compatibility. Not all sublimation papers are compatible with all kinds of printers.
For example, you can use TruePix paper better with Sawgrass sublimation printers. However, if you have an Epson printer, DyeMaster-R sublimation paper will be the better option for you.
Design Complexity and Vibrancy
Again, the complexity of the design also matters. Heavy sublimation papers work best for detailed designs. The designs also look more vibrant and colorful. But, if you want a flushed outlook, choosing light sublimation papers will be the best option.
Humidity
You should be aware of the percentage of humidity in the air while sublimating. For high-humid (70% or more) conditions, you should choose heavy sublimation paper. But if the humidity levels are below 45%, light sublimation papers are the best.
Production Speed
Depending on your orders, you need to choose a sublimation paper wisely. Some sublimation papers require less time to bake than other sublimation papers. So, you can save time in that case.
Again, some low gsm papers can have warping and curling issues. It will lengthen your sublimation time.
Keeping these factors in mind, you can trust the following 4 brands for choosing a sublimation paper.
Trending and Trusted Brands
Here are The 4 most reputable brands for sublimation papers described below.
A-Sub
A-Sub is renowned for thick sublimation papers. You'll get the best 125gsm, 120gsm, and 105gsm sublimation papers from A-Sub. Well, the 105gsm is actually much lighter than the other two papers.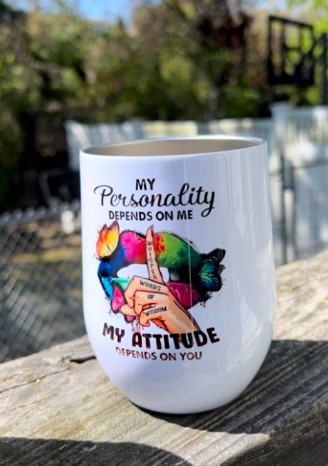 These papers produce the most vibrant colors and have a high-ink transfer rate. They are pretty much compatible with all inkjet printers. But combined with Epson printers, they produce the optimum results.
HTVront
HTVront is the best heat-transfer-vinyl known for its efficient usage. It only takes 40-45 seconds to complete the sublimation process with this paper. Unlike most sublimation papers, HTVront allows to sublimate on dark-colored fabrics.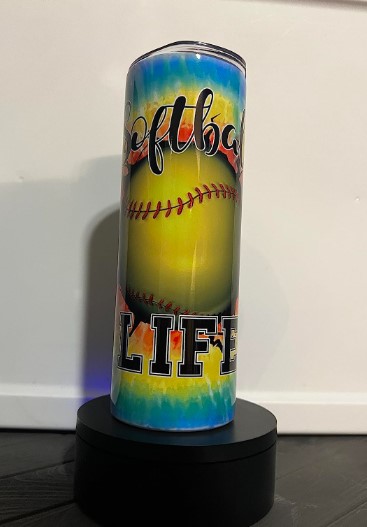 It also makes your fabric substrate soft and stretchable. So, you can wash the sublimation print without damaging it.
Crafting Besties
Crafting Besties is another trending sublimation paper. This paper has a 99% ink release which ensures highly concentrated ink on the substrate.
It also uses less temperature (380-385F) than the traditional setting (400F). This means you can protect your substrates from getting exposed to high heat during sublimation. 
Check how people have been loving it: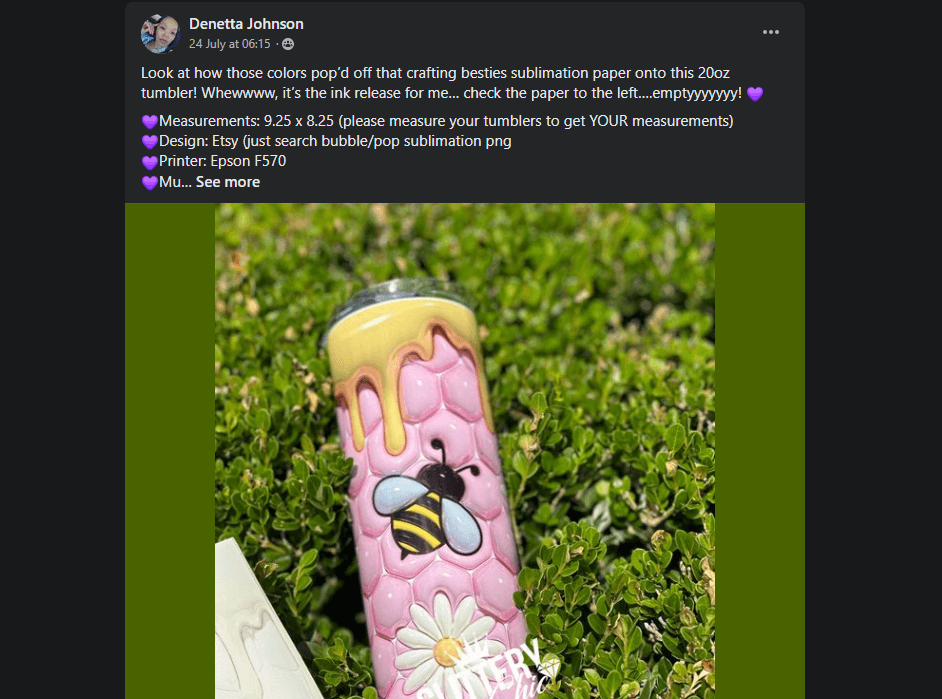 Source: Crafting Bestie Sublimation Paper FaceBook Group
Sawgrass
Sawgrass sublimation papers work well for light-colored fabrics. These papers provide a clean matte finish. You won't have to worry about any warps or curls in the corners. 
This is just a small overview of the popular sublimation papers. By reading the next segments, you'll discover these brands in detail with their best use case.
What are the Best Sublimation Papers for T-shirts, Mugs, and Tumblers?
The best sublimation paper brands for T-shirts, mugs, and tumblers are A-Sub, TextPrint, and Hiipoo. Check out the sublimation papers from these brands below.
You should keep A-Sub 125 gsm on top of your list for sublimation. It's because it has all the basic requirements you'll need to fulfill for creating a vibrant sublimation print.
You can make customized t-shirts, key rings, mugs, mousepads, tumblers, and even pillowcases with this sublimation paper.
A-sub 125 gsm supports all inkjet printers. No matter how complex the design is, this sublimation paper can print it as vibrant as the original one.
The ink transfer rate is 98%. You won't get any pizza wheels on your fabric. So, you can be assured about the quality of the print.
But you can only use this paper on light-colored polyester (less than 30% cotton) T-shirts. The ink doesn't appear on dark and cotton fabrics with this paper.
Now, don't worry if you see faded pictures after printing the design. The designs become vibrant and colorful once you finish the sublimation process.
The second best option for T-Shirt sublimation is the TexPrint DT Heavy Sublimation Paper. It's suitable for both soft and hard substrates.
You'll find this sublimation paper light and smooth in texture. Compared to the A-Sub 125 gsm, it creates darker, glossier, and more vibrant prints after sublimation printing.
However, it has a slightly low ink release rate than the A-sub 125 gsm. But that doesn't impact the quality much.
For polyester T-shirts, you need to set the temperature at 355-360F for 45-60 seconds on Medium pressure. This sublimation paper doesn't smudge, outgas, or offset after printing.
You have to set the same temperature, pressure, and time for other substrates like mugs and tumblers for this paper.
So, if you want to create permanent prints, you should choose the TextPrint DT Heavy sublimation paper.
Another smudge-proof sublimation paper is the Beaver TexPrint DT Heavy sublimation paper. This paper is widely known for its fast-drying tendency. You can touch it right after printing it out from the sublimation printer.
As it's 120 gsm in weight, you can use this sublimation paper on both soft and hard substrates. But you must avoid T-shirts with 100% cotton material.
Now, you can't use this sublimation paper on any sublimation printers. It only supports Ricoh and Virtuoso (Sawgrass) printers. The ink stays consistent while transferring from printer to paper and paper to substrate.
Speaking of ink compatibility, this sublimation paper only works with Sublijet-R inks and Sublijet UHD inks.
You will notice a similar output as the TexPrint DT sublimation paper. But the difference relies on the printing speed. Using the Beaver TexPrint DT Heavy sublimation paper, you can print faster than TexPrint DT.
In short, the Beaver TexPrint DT Heavy sublimation paper does the best job in speed printing for bulk orders.
Finally, we'll review the Hiipoo Sublimation paper which efficiently sublimates on T-shirts. It can create vibrant colors for both images and words.
The paper provides excellent stability during the sublimation process. Thanks to its thick design and flatness.
Again, it's compatible with Ricoh and Sawgrass sublimation printers. You can receive the best results by using the Hiipoo sublimation ink for this paper.
But if you compare Hiipoo and Texprint DT sublimation paper results, you'll notice that Hiipoo produces lighter colors than TexPrint DT. The color saturation is less and receives a slightly faded look.
One drawback you should be aware of is small text prints. It's a bit difficult to read texts in the case of Hiipoo sublimation paper if the font is too small.
But overall Hiipoo does an amazing job at producing top-quality sublimation prints. The designs are seamless and provide a fresh outlook to your T-shirts.
Sublimation Papers that You Can Use for Dark T-Shirts
The sublimation papers you read above are all compatible with light-colored T-shirts only. But if you want to sublimate dark T-shirts, here are the sublimation papers you can check out.
For dark-colored fabrics, HTVRONT heat transfer paper provides the best results. This transfer paper is extremely easy to use. You can weed out the sides of this paper without any hassle.
It's not only easy to weed out complicated designs but also to print them. The colors appear vibrant on dark-colored t-shirts. Unlike the sublimation papers we reviewed above, you don't have to mirror the design before printing.
Though the sublimation paper has excellent ink transfer, you need to peel the paper right after 45 seconds of pressing it. You can mess up the design if you peel it off beforehand.
But the best part of the paper is that the print becomes stretchable on the fabric. So, if you're someone who's worried about peel-off or cracks in the ink, the HTVRONT heat transfer paper should be your go-to sublimation paper.
If you're looking for a thin sublimation paper, Stratford Brands sublimation paper should be in your list. This sublimation paper comes in both 105gsm and 125gsm in 2 sizes – 8.5×11 inches and 11×17 inches.
The 125 gsm Stratford sublimation paper is useful for sublimating on t-shirts. It is perfectly compatible with Epson, Ricoh, and Sawgrass inkjet printers. But statistically, it shows the best results on Epson printers.
Now, unlike the HTVRONT Heat Transfer Paper, you don't have to mirror images on this paper. And it only works with T-Shirts with at least 50% or more poly counts.
So, whenever you print the image on the Stratford Brands paper, it'll look a bit pale at the beginning. But as soon as you print it, the colors pop out vividly. However, the image contains a blackish hue.
Finally, this sublimation paper rarely jams the sublimation ink. If you're facing ink-smothering issues, you can switch to this sublimation paper.
Sublimation Papers That are Compatible With Cotton
By now, you're probably thinking sublimation is only for polyester blends. But guess what, you can also sublimate on cotton. But you have to use special sublimation papers like the ones described below.
You can count Siser EasySubli Sublimation Paper as the boss of sublimation papers for fabrics.
It supports cotton, poly blends, and even fleece material. This warm peel vinyl also sublimates on both light and dark-colored fabrics.
The best part about this sublimation paper is that it takes less time to sublimate than a regular sublimation paper. Siser EasySubli only needs 15 seconds per shirt instead of 60 seconds. So, it's efficient if you have bulk orders.
It also takes only 310F to sublimate one shirt. This means it uses less heat to sublimate than regular sublimation (400F). So, your clothes can stay damage-free from excessive heat.
For the final product, it has a soft and matt sublimation finish. Using EasySubli inks, the Siser Easy Subli Sublimation Papers can enhance the quality of your print even more. But you must have a Sawgrass sublimation printer to carry on the sublimation process.
In short, Siser EasySubli Sublimation Paper is best for protecting your cotton fabrics from heat damage and bulk orders.
The Forever Transfer Paper Subli-Flex 202 can be called a glossy version of the Siser EasySubli Sublimation paper. It's also compatible with cotton fabrics.
Now, this sublimation paper creates more vibrant images than the Siser EasySubli Sublimation paper. The colors have a consistent hue and contrast in the whole design.
Though the colors create a layer on the fabric, the ink doesn't crack or peel. In fact, the design makes the material stretchable.
You can use any sublimation ink you want for this sublimation paper. But make sure to use the Sawgrass printer for printing the sublimation design.
Another great thing about this sublimation paper is the stability of the paper. You don't need to use any heat tape additionally to adhere the paper to the substrate. That's why it's also a transfer paper you can use ironing on vinyl.
So, if you love semi-matte or glossy finish in cotton sublimation, the Forever Transfer Paper Subli-flex 202 is the right option for you.
The Sawgrass Chromablast heat transfer paper is another excellent sublimation paper that works well with cotton t-shirts. This sublimation paper is biodegradable. It means you can throw the paper anywhere after use. It won't affect the environment.
The Chromablast comes in a 100-sheet pack in 8.5×11 inches dimensions. You can use it in both light and dark colors. But if we talk about the vibrancy of the colors, usually it produces more vivid colors in light cotton t-shirts. The designs look a bit flushed in grey or dark backgrounds.
The sublimation paper creates a soft, matte finish. Though the print can seem a bit textured, with 2 seconds of additional parchment paper press, it'll soften out. Even after multiple washes, the fabric will remain soft, and the designs vibrant as before.
So, if you're someone who's fed up with regular heat transfer papers, Sawgrass Chromablast can help you in this case.
What are the Best Sublimation Papers for Heat Transfer?
There are different types of heat transfer papers. You can check out the following sublimation papers below to get an idea about them.
The Texprint R Sublimation Paper is the perfect sublimation paper for heat transfer. It requires around 355-360F temperature to heat press a substrate.
You can easily sublimate polyester t-shirts, aluminum, wallet case, tumbler, MDF (hardwood), metal stainless steel, and linen/burlap with this paper.
So, why we're calling it the best for heat transfer? It's because of its seamless peel-off. If you maintain the correct time and temperature, you can easily peel off the paper from the substrate.
It doesn't get jammed and always creates smooth vivid images on the substrate. You can also recycle the paper. So, this means the paper is eco-friendly.
But this sublimation paper only works with RICOH and Virtuoso sublimation printers.
The Epson DS Transfer Multi-Use Paper is a water-based transfer paper. It works great for all kinds of substrates. This multi-use sublimation paper also has high-quality ink transferability.
This Epson sublimation paper is 24 inches by 100 inches in size. The white side is for sublimating and the yellow side will be on the top. But remember you can't use it multiple times on one substrate.
You have to set the heat press at 375F temperature for 60 seconds. This will help the sublimation paper to transfer the ink smoothly on the substrate.
You should use only light-colored substrates for this sublimation paper. On dark substrates, it creates designs like a Sharpie.
Overall, it's a great sublimation paper for a matte finish.
Now, Jetcol DHS Sublimation Transfer paper is specially made for hard substrates. It perfectly transfers heat in sublimation for mugs, tumblers, metal, wood, and glass.
Compared to regular sublimation transfer papers, the Jetcol DHS takes less time to sublimate. You only need 15 seconds to sublimate with Jetcol DHS. That's half the time of a regular sublimation transfer paper!
A special coating is behind the time reduction during ink transfer. But the coating can also minimize friction in some printers and create problems while printing.
The final image appears glossy and looks like a photocopy of the original one. You'll get more concentrated and bright colors than traditional sublimation papers.
The Jetcol DHS also holds most gas dye than most of the papers in the market. This helps in transferring almost all of the ink on the transfer paper.
Overall, Jetcol DHS Sublimation transfer paper will help you speed printing.
Another efficient ink release sublimation paper is the Printers Jack Sublimation paper. It produces the most vibrant images of all sublimation papers. The ink release quality is so good that it seems almost like white paper after the ink transfer is done.
It comes in 3 different large canvas sizes – 8.5″x11″, 11″x17″, and 13″x19″. The finish doesn't fade or crack. Moreover, it dries the ink almost immediately after peeling off the paper. You don't need to wait for several minutes. So, you can save time with Printers Jack Sublimation Paper.
Now, you need to be careful with the corners of this sublimation paper. The corner can curl up if you don't straighten it and use parchment paper over it.
You also don't need to spray adhesive on this paper. It can embed the design straight into your substrate with the help of a heat press.
The PPD Inkjet Premium Sublimation paper is a type of inkjet transfer paper for dark-colored substrates. It comes in a 20-sheet pack with 8.5×11 inch dimensions for each paper.
You'll notice that the print on the PPD Inkjet Premium Sublimation paper seems a little less pixelated than other sublimation papers we have discussed. But once it's pressed, it's not too different from the original image.
You can use a heat press to use this sublimation paper. The best part is it comes with a step-by-step instruction guide so that you know exactly what to do.
This sublimation paper also has adhesive built in it that will feel sticky while setting the heat press. After the press, you have to wait 30 seconds for the ink to dry completely. Once the sublimation print has dried, the paper peels off smoothly.
The texture of the final finish doesn't have any hard structures. However, you might find particles on the edges while pressing. But once the sublimation is done, the edges come out clean.
What Kind of Sublimation Paper Do I Need for My Epson Printer?
As you've seen not all sublimation papers are compatible with all kinds of sublimation printers. Each printer has different compatibility settings for different kinds of sublimation paper.
Now, Epson Sublimation Printers are widely popular in the sublimation industry. You probably have one too at your home. So, before reviewing what kind of sublimation papers you can use in your Epson Printer, I'll explain the sublimation paper type Epson requires.
Surface Type
The sublimation paper you're using for the Epson printer needs to have a matt texture. The paper should be completely flat without any folds. It'll help in printing excellent photographic pictures.
Paper Weight
The weight of the sublimation paper also matters for using Epson printers. You can use a sublimation paper that has a weight ranging from 105gsm to 125 gsm. The thicker the paper is, the more stable it will be in the printer.
Base Color
Again, you must choose a sublimation paper that has a white base color for sublimation. White or light colors can accentuate the prints in Epson printers.
Resolution Requirement
Finally, the sublimation paper should be able to print a maximum of 5760 x 1440 dpi photos for Epson printers. So, check the photo resolution requirement of the sublimation paper before you buy.
Here are two examples of sublimation papers that support Epson printers.
The Innosub Dye Sublimation Transfer paper is a heavyweight sublimation paper. It weighs around 120 gsm. This sublimation paper is not only compatible with Epson sublimation printers but all inkjet printers.
Speaking of the base color, the print side of this sublimation paper is white. You'll find the logo imprinted on a white background at the back of the paper. So, this means when you'll print the paper, the image will pop up on the white surface,
The surface is smooth in texture but it's also thick. That's why it doesn't slide through the printer. It's also a biodegradable eco-friendly paper. So, the cutouts don't harm the environment.
You can sublimate a variety of substrates with this sublimation paper. For example, Innosub Dye Sublimation Transfer paper works great on ceramic mugs, stainless steel tumblers, phone cases, burlaps, and aluminum.
Of course, we can't forget Epson's own product – the Epson Professional Media Enhanced Paper. It follows all of the requirements of an Epson sublimation printer. More specifically, it's compatible with Epson Stylus Pro 4000 printers. 
Like the Innosub Dye Sublimation Transfer paper, the Epson Professional also has a white base. So, any highlights in the design will boldly pop out on the sublimated picture.
You can also consider this paper for large sublimation printings. Each sheet is 11 x 1200 inches in dimension and doesn't contain any adhesive. Not containing any adhesives made it easy to handle in Epson printers.
However, this sublimation paper only works on light-colored substrates. But it holds the sublimation ink perfectly.
Frequently Asked Questions
What is the difference between A-Sub 120 and A-Sub 125?
The difference between A-sub 120 and A-sub125 is the weight and quality of the sublimation paper.
A-Sub 120 has a weight of 120 grams per square meter which offers a vibrant finish to the substrate.
On the contrary, A-Sub 125 consists of 125 grams per square meter. It provides a better finish than the A-Sub 120.
Can I use sublimation paper with regular ink?
No, you can't use sublimation paper with regular ink. Sublimation papers require sublimation inks to fully adhere to the paper. Regular ink doesn't have the capability to embed in sublimation papers without smudging.
Can I use pigment ink on sublimation paper?
Yes, you can use pigment ink on sublimation paper. But you shouldn't use it. The reason is that pigment ink can vapor as much as sublimation ink under a heat press.
So, your sublimation project will become a failure if you use pigment ink on sublimation paper.
What is the difference between light and heavy sublimation paper?
The difference between light and heavy sublimation paper is usability. Light sublimation papers work well for fabrics and textile materials. On the other hand, heavy sublimation papers offer a perfect finish to hard substrates.
Are there sublimation papers with anti-curl properties available?
Yes, there are sublimation papers with anti-curl properties available. You'll find anti-curl sublimation papers in brands like Octago, Yingcai, Zhejiang Longyou, and Suzhou.
Can sublimation paper be recycled or have eco-friendly options?
Yes, sublimation paper can be recycled or eco-friendly options. You can recycle TextPrint, Innosub, Epson Professional, EcoWhite, and CANAPA sublimation papers.