Have you ever noticed the color combination of Disney Membership cards? Yes, it's simple and accurate.
The most amazing part is that you will see the same color saturation in physical and digital copies.
Traditional ID card printers do not have that same feature. Some specific printers can provide the same intent.
You can not only print membership cards but also ID cards, loyalty cards, and pass cards with these printers.
Do you want to know what those are? Check out our freshly picked printers. These are so far the best ID card printers in the market. They are literally trending – never knew that!
Product Comparison Table [Top 5]
Image
Product Name
Best For
Major Features
Prices
1. Magicard Pronto ID Card Printer
Small and Large Business
• 300 PVC card
• Secure data
Check Price
2. Fargo HDP5000
Dual Side Lamination
• Dual Side
• Vivid Color
Check Price
3. Fargo DTC1250e
Good speed
• Fast printing
• Clear text and image
Check Price
4. AlphaCard Pilot ID Printer
Low-volume ID card printing
• Software has pre-edit
• Multiple security options
Check Price
5. Evolis Primacy
Small business
• Portable
• 220 print in an hour
Check Price
9 Best ID Card Printers Review
1. Magicard Pronto ID Card Printer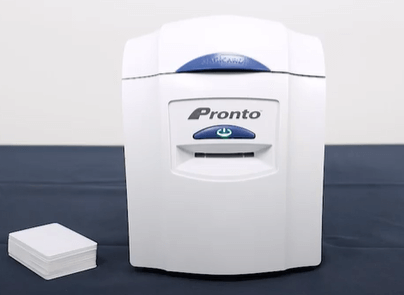 Overview:
Good products always smell beautiful. Pronto is not beyond that. It is portable and easy to accommodate.
The printer offered 300 PVC cards with it. But the card quality is not premium. Still, it's perfect for small or large businesses. Why?
Print Quality:
Print quality is a reason. Photo accuracy is great. The barcode and QR code printing was also fabulous.
We tested it with 4 cards. The 300 cut ribbon balanced the color grade equally in our cards. Satisfying color but not eye-catching. You can still use it for day-to-day work.
Speed:
Officially it is claimed that: it can print monochrome pictures within 6 seconds. The photo print takes 35 seconds.
We don't think so. The photo print took 30 seconds for us. But the monochrome speed was around 6.5 seconds.
It depends on the device's speed. Magicard worked fine with the Core I7 processor, which had Windows 10. The reason for the explanation is the USB and Ethernet speed.
Both have a clear speed transition. This was not consistent for the MAC.
Their software seems laggy to us. However, this is not a dealbreaker. You can perform the light job perfectly.
Security:
Pronto used the HoloKote security system ( a visual watermark to avoid duplication). The security is good within the price range. But not too premium.
Small business owners can afford it. We found a reliable area for PVC cards. Because this card tends to duplicate. Magic cards will avoid that.
Specs
Highlighted Features:
2. Fargo DTC1250e Single-Sided ID Card Printer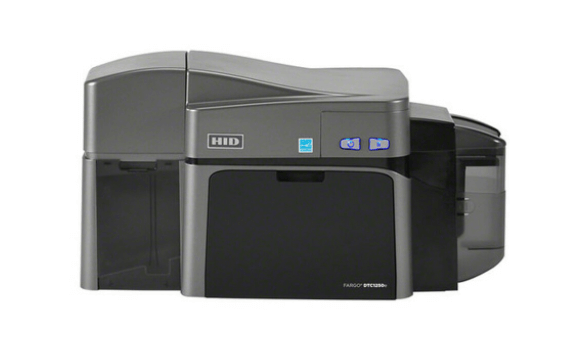 Overview:
DTC printers tend to produce a quality outcome. Fargo is just one step away. The weight and interface are considerable. We prefer this for PVC cards. Let's know more about it.
Print Quality:
Most people said it has a hazy print. We did not experience that. The resolution with 400 dpi was good enough for explaining the ribbon.
Dark color ribbon was a bit faded. Other than that, everything was normal for us. We found a slightly high color combination with its siblings.
However, a premium ID card experience is possible with it. It depends on the editing. Some of our ID cards result good after applying Cyan and Magenta adjustment.
Speed:
We compared the speed with the previous brand. It's fast: 24 seconds for a photo ID card. Our team could print 230 PVC cards within an hour.
That's great! The speed was consistent with Windows and MAC platforms. There was no considerable lag.
One more thing about the speed: the wifi firmware is updated. As a result, the speed got a little boost up.
Security:
Better than ever. Yes! Fargo used an iCLASS SE® encoder. This is the updated security option so far.
We did not notice that in many similar siblings. The best part of this technology is End-to-end encryption. Good
Specs:
Highlighted Features:
3. Fargo DTC4500e Dual-Sided ID Card Printer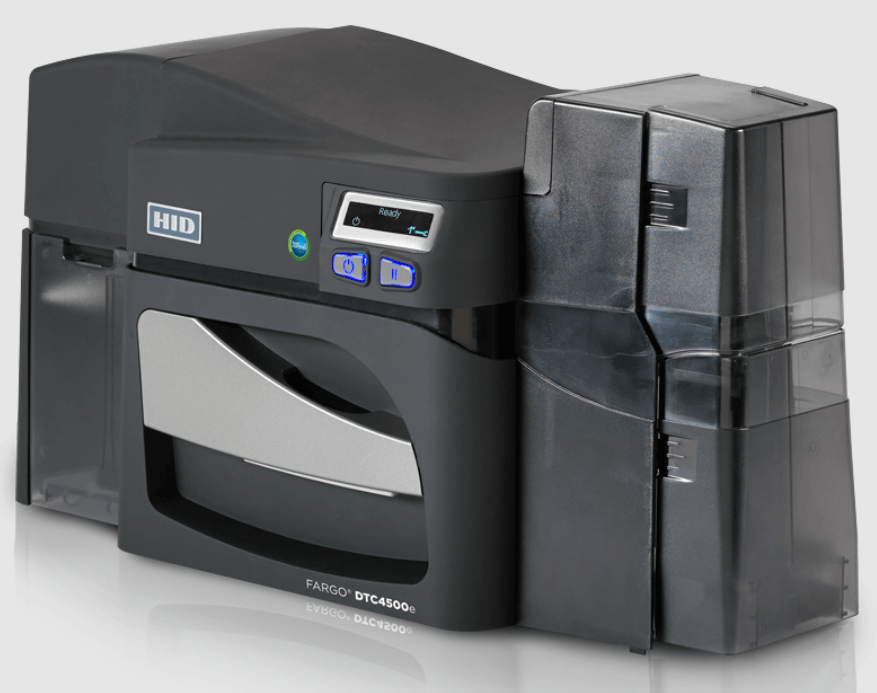 Overview:
Fargo made it better from 1250e. The security and printing quality seems good. But the running cost seems slightly high. We don't think this will be a considerable factor for large companies. It will ultimately save 40% extra cost.
Print Quality:
Color hues sound good for us. Especially dark blue and other gradient variants that looked glowing.
Same experience was consistent with the background watermark. Our logo was clear enough. This clarity existed even in photos.
Employees' dress colors were pretty accurate. Only some printed dresses had color drop. It's not a dealbreaker.
Speed:
The manufacturer claimed 6 seconds for monochrome and 24 for color photo printing. Our clock recorded something different.
We noticed around 7 seconds for PVC card printing in a monochrome mood. The color output was also satisfying. It was around 25 seconds.
This speed was tested in MAC (snow leopard and lion). Windows 10 has also recorded the same speed. But the previous version performed slowly.
You cannot blame the driver or software for that. Fargo's software experience was good for us. Our team dedicatedly checked each component. It was satisfying, not premium.
Security:
6 types of encoding are available. We tried 4 of them. Each of them was unbreakable for our hacking team. Here are the 6 types: Contact Card, DESFire,HID Pro iCLASS, Magnetic Stripe, MiFare
Specs
Highlighted Features:
4. Magicard Enduro 3e Dual Sided ID Card Printer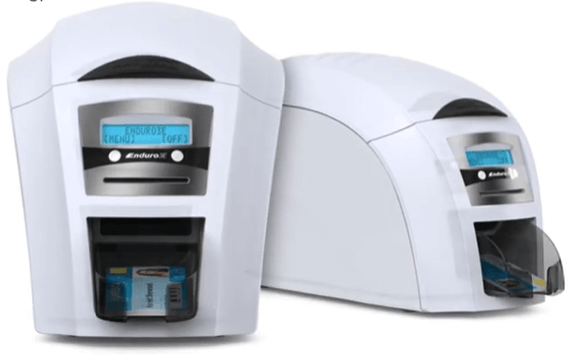 Overview:
The enduro series is a perfect id card printer for corporate, education, physical, and healthcare access. The quality of printing is good but not premium. Many small business owners are using this.
Print Quality:
Enduro 3e offers 300 dpi id card printing. This resolution is accurate, with no fluff. Text was sharp and legible. The font points were clear even in 5 to 6 points.
We liked the line shades; it was clear enough for naked eyes. This is unusual for many popular same-budget printers. Barcode, Qr codes were also crispy and detectable.
Speed:
The speed is considerable for a mid-level solopreneur company. It can print 100 cards. The color print took 30 seconds, and the monochrome took 8 seconds.
We noticed the speed fluctuation in two OS: Mac and Windows. MAC performed well. But Windows was a bit slow.
Security:
HoloKote security is used in this device. We tested 5 cards to know the strength. Our test consisted of scanning and copying.
Yes! It was a successful test. The laser-etched hologram was unbreakable for scanner and similar encoder breakers.
We know this is not super strong. Still, the price and performance are worth the strength.
Specs
Highlighted Features:
5. Badgy100 ID Card Printer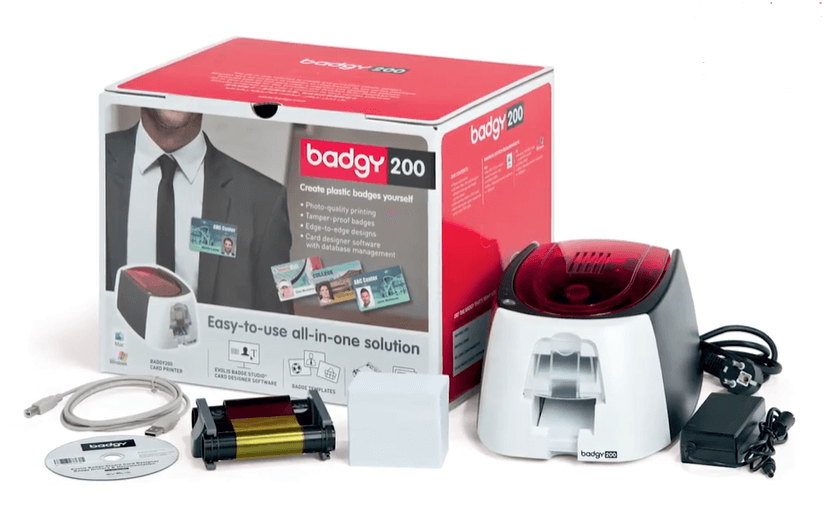 Overview:
We witnessed a radical change for Badgy 100. This printer's shape has changed from the previous. A round shape with a traditional tri-color feature has made it better. Let's know more about it.
Print Quality:
The 15 minutes test is still memorable for us. Here is what we have got: the color resolution was 300 dpi.
No streak. Every layer is clear enough. One thing we did not like: was the photo color. Your photo with white background sounds good.
But the color background had some notable marks. We recommend you avoid this background.
Speed:
35-11. This means the color photo print takes 35 seconds. Monochrome took 7 seconds. We got what it is claimed here.
Speed quality is also the same for Mac and Windows. The software, in fact, patched correctly with the OS. No speed drops were seen.
The best part we have found while speed testing is the software experience. It is light and has pre-made templates. This feature has reduced our time.
Security:
The software offers a complete data encoding system. Data is safe and not easy to copy. We are not highly satisfied. But Yeah, it's good to go. We tested by using magnetic stripe cards. Quite good encoding.
Specs
Highlighted Features:
6. AlphaCard Pilot ID Printer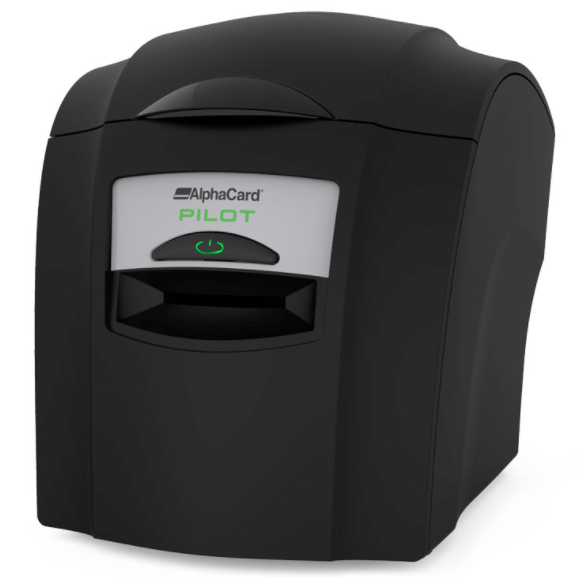 Overview:
Perfect for low-volume id card printing. We first met this in our local gym. The size is palm-sized. You can easily carry and hold it. So, what is in the printer?
Print Quality:
Alpha ribbons are compatible better than Magicards. The color saturation is clear. We cannot say it well. The dark fills are not bright enough.
However, the lamination sheds this flaw. We recommend you use it for rewards, membership, and loyalty cards.
You can even use it for employees. But we recommend you to look for a better one if you have enough options.
Speed:
Comparatively slow. Our previous printers worked fast. But this is slow. The monochrome printing took 9 seconds. Color print was around 38 seconds.
The company claimed the speed 35 for color and 7 for monochrome. We did not find that. Above all this slow stuff, there is something to consider. USB and software speed. Fantastic!
Security:
Alpha used their authentic AlphaGuard encoding. This security was tough to counterfeit and tempering for us. Overall it's good for small businesses.
Specs
Highlighted Features:
7. Fargo HDP5000 Dual Side High Definition ID Card Printer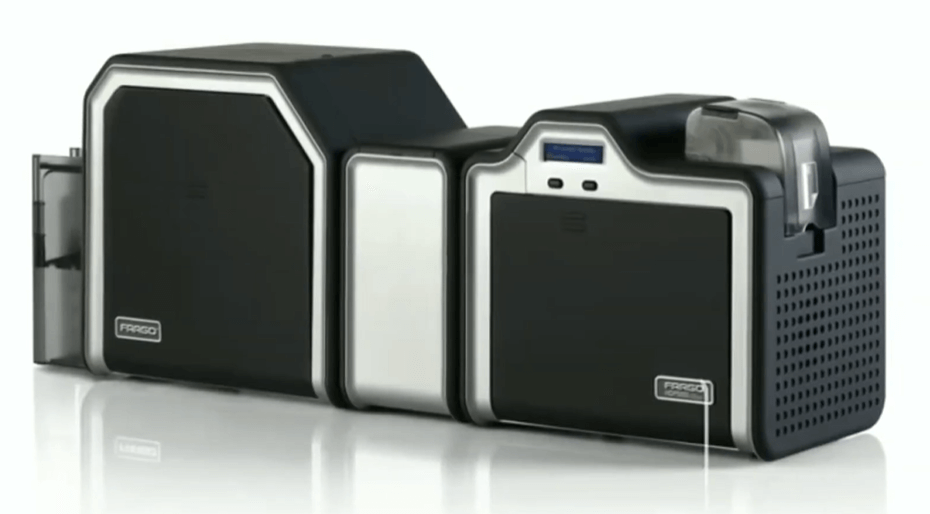 Overview:
For a certain amount of time, the US highly confidential department used this printer. The reason for its security.
It's literally impossible to temper the card. This is possible for the sandwich layer. What is that? Let's explain step by step.
Print Quality:
The front part of the card is essentially important. Fargo realized it. Their ribbon quality is good. It can spread the vivid color even on the border.
This is unusual for similar DTC printers. Same printers from other brands leave a white mark on the border. HDP5000 is not like that.
Gradient fills looked decent in our test. A slight white spot was seen in the light variant. It is not detectable in naked eyes.
The laser signatures, barcode, and text were sharp enough. We checked it by magnifying the back parts.
Speed:
It can produce 135 cards in an hour. The average color print takes 27 seconds. We got the proof in our test.
Our first batch took 27.5 seconds. We did not notice any performance drop during the time. The performance was consistent even in a monochrome mood.
Device speed is also a matter to consider. Our team experienced it first-hand. Windows performed better. But MAC performed slowly.
The software version seems not optimized properly for the mac. Still, the USB and Ethernet Driver worked pretty well in both OS.
Security:
Fargo used their regular security with dual-sided lamination. This single thing stops tampering and counterfeiting.
Specs
Highlighted Features:
8. Evolis Primacy Dual-Sided ID Card Printer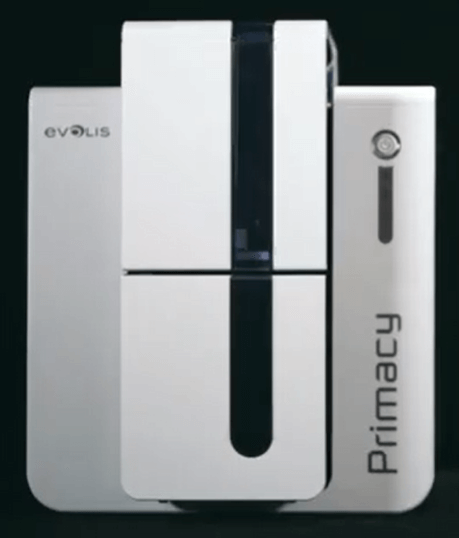 Overview:
Evolis Primacy is an amazing series for small business owners. This palm-sized id card printer offers 3x better PVC printing; the full and half-panel ribbons work just fine. Here is the print quality result.
Print Quality:
We printed two cards: one is in full panel mood, another is in the half-panel mood. Full panel showed a vivid color variant on both sides.
The text looked crispy and legible. There was no streak. The picture quality was also satisfying. If we rate the accuracy on 10, it will get 8.5.
Some dark variants had a slight color adjustment issue. We don't think this will be a breaker. Half panel mood is better than full.
It printed a color photo in front. The background was monochrome. Barcodes, signatures, and text were fine enough.
Speed:
They claimed it could print 226 cards (color) in an hour. Well, this is partially true. We recorded the speed of 220 in an hour.
It was based on the color variant. But the monochrome speed was accurate. It took 3 seconds for 800 cards.
Let's talk about the software speed. The driver installation was easy for us. It worked well both in MAC and Windows. Data transfer speed was satisfying.
Security:
The security system is interesting. Evolis provided a dongle with the printer. You have to connect it while you are working on it. This dongle secures the ultimate data. Without this, data encryption is impossible.
Specs
Highlighted Features:
9. Zebra ZC100 LT ID Card Printer
Overview:
Before choosing this printer, the first question from our side was: will it be helpful for small business owners?
The result told us the truth. Yes! Zebra Zc100 is a perfect alternative to ZC300. We are recommending this for entry-level workloads.
Print Quality:
The first reason for the recommendation is the print quality. Not premium, but decent. The text and font looked clear.
We did not find any shades on points 4 to 6. Italic signatures were clean enough: It prints what you write physically.
Like the text, ribbons were responsive. Our team printed three variants: Single dark, light, and gradient color.
The gradient was not sharp but clear. Other than this, every variant was satisfying.
Speed:
Zc100 recorded 2 cards per minute. We did not find any drop during the one-hour card printing. The monochrome speed was 6 seconds per card: pretty satisfied for the text quality. Clean and crispy.
The device speed was also noticeable good. Windows and Mac responded fast with the software.
Security:
It supports all the security options for the users. Your encoded data will be secured. The password and locking system are very satisfying.
Specs
Highlighted Features:
Buying Guide For The Best ID Card Printers
Design
Single-sided:
Single-sided printers are cost-efficient. One drawback is you have to print both sides manually. If your organization workload is not high, we prefer to go for single-sided
Double-sided
An advanced technology. This will automatically print two sides. We prefer this option. The reason is time. You can save at least 30% printing time with it.
Software and technology
DTC
direct-to-card printing is also known as DTC. This technology directly prints over the surface by heat and pressure. There is a risk for the printer. It can damage the PVC card. Professionals can handle this.
Retransfer:
On the other hand, Retransfer is the safest form of printing. It does not touch directly to the card. The process takes three direct steps to print over the card surface. So the security is rigid, and the durability is long.
Ribbon:
Id card printer comes with several ribbon varieties. We tested YMC, YMCK, YMCKO, and YMCKOK. The last one seems the best ribbon choice for us. Our team is highly satisfied with this combination. The color adjustment was pretty good.
Speed:
Printing speed matters. So what speed range should you choose? The range should be 120+ per hour speed for color. Monochrome should be 7 seconds per card.
This is just printing speed. Software speed also matters. Try to check your OS compatibility before choosing the printer.
Benefits of Using ID Card Printers
Time-saving:
Small to large companies need to recruit and update their employee information. This is normal. They do it frequently. Plus, the design takes time.
Having an ID card printer can solve all the problems. You can print from the templates. The update is also available in the current printers. Overall, time will be saved. Means more productivity.
Cost-Effective:
Updating, designing, and printing have different costs. You can save this by having an id card printer. We estimated that; an organization could save up to 40% yearly budget by having an ID card printer.
Secured:
One of the biggest benefits of having an ID card is security. You can encode your data. No one can interfere here. If you are printing your company ID card from a store, there is a chance of data leakage.
On-Demand Printing:
Imagine you just recruited a sales executive. He/she doesn't have an ID card: what will be the consequence if they approach with a sales pitch to a new consumer?
You can secure those potential consumers just by providing them with an on-demand ID card. This is possible if you have an ID card printer.
How to use an ID Card Printer Properly
Proper usage of an ID card printer depends on 4 Major things. Here are some of them
Reading the instructional manual is the first thing. It will help you to understand the anatomy of the printer.
Homework is important. We recommend you gather some prior knowledge of your selected printer model.
Driver information is the third consideration. No matter what your Os. it is wise to know the proper information of the driver.
Software Handling is the last thing. Why are we mentioning this? Present software has so many options. This is for saving time and hassle. Learning the proper handling can help you to bring out the outcome.
FAQs:
1. What is A PVC Card Used For?
Polyvinyl chloride=PVC cards are used for ID cards, Membership cards, Access cards, Credit/debit cards, and more.
2. How To Find The Right ID Card Printer For You?
We have three simple rules. One is the design if your design is based on gradient and complex combinations, print quality matters.
The second is the amount of printing. How many cards do you need? The third and final step is security. Keep these three things in your mind. You are all set to get the right id card printer.
3. Should I Buy A Single-Sided Or A Dual-Sided ID Printer?
We prefer to go for the dual-sided sided printer. This type of printer has good print quality with sharp text.
4. What Other Accessories Do I Need To Print An ID?
You will get every essential with the product. Some extra accessories you might need are badge reels, lanyards, and badge holders.
Final Words
You are just a step away from saving your cash and data. The choice is yours. We showed you the best deal. Some deals might have discounts. So don't miss the chance. Don't forget to share this best ID card printer idea with your colleague.