Scrolling down YouTube, you've probably seen dozens of crafters using Epson printers for sublimation these days.  
Wait, you remember, you have an Epson printer at home too! Can you use it? Can all Epson printers be used for sublimation?
Well, we'll answer that in a minute and tell you all about Epson printers converted for sublimation. So, stay tuned till the end!
Can All Epson Printers Be Used For Sublimation?
No, all Epson printers can not be used for sublimation. You can only use Epson printers with inkjet technology and Piezo print heads. The Epson SureColor F-Series printers are specially built for dye sublimation printing. However, you can convert the Epson Eco Tank and Work Force series for sublimation.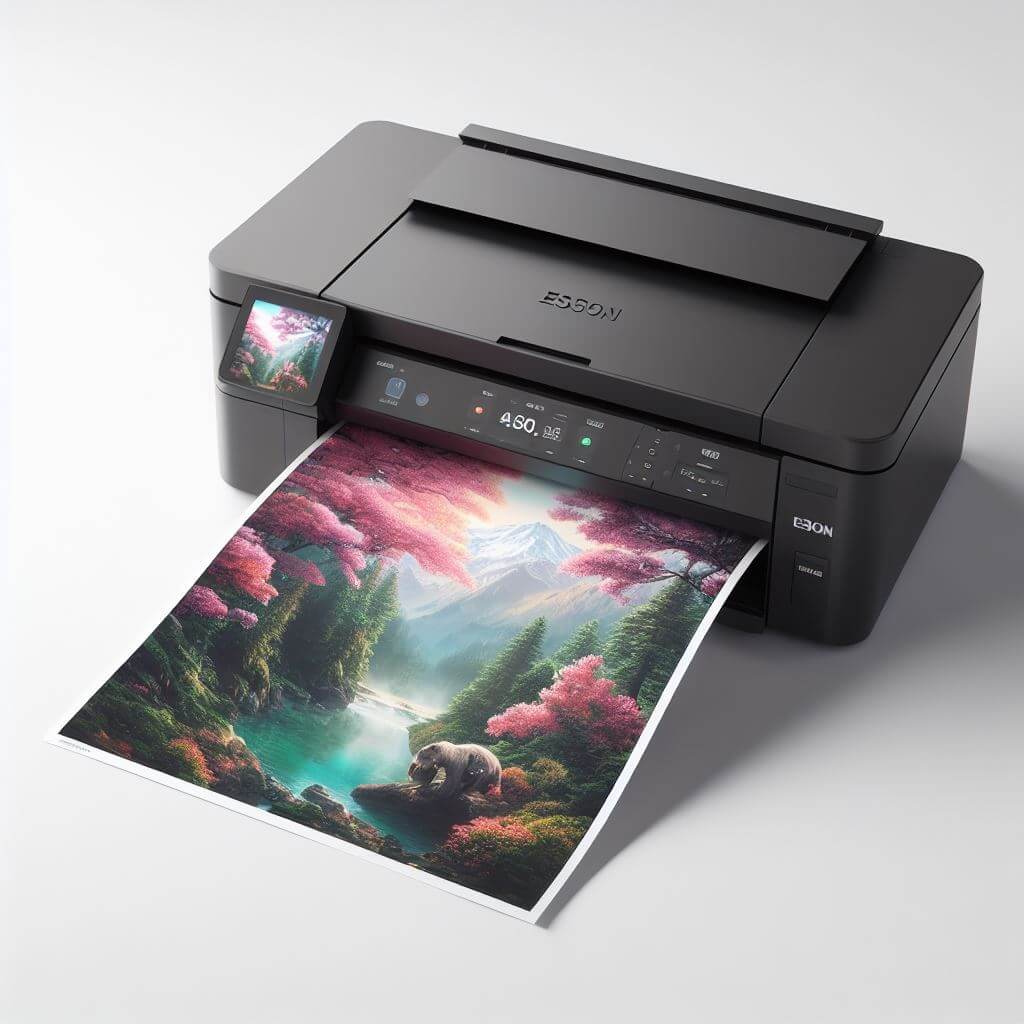 Epson Printers and Sublimation Printing Compatibility
You must check some essential factors in an Epson printer to check whether it's convertible or not. Sublimation printing requires special technology that won't smudge or permanently embed the ink into the paper.
Here's a brief discussion on Epson printers and the features that indicate sublimation printing compatibility.
Printing Technology
Your Epson printer must have Inkjet technology for sublimation printing. Inkjet technology allows even printing by spraying droplets on the paper. It helps to keep the colors consistent and intact that's easily transferable while sublimation.
However, solvent-based inkjet printers are not suitable for sublimation. They can cause damage to the print head using solvent-based inks.
Print Head
Moving on to print head technology, you should rely on Piezo print heads for sublimation. This print head uses vibration and flexion to pressurize the nozzle into printing evenly and fast.
So, the print head has more control over water-based, oil-based, eco-solvent, and gel-based inks.
On the contrary, if your printer has thermal print heads, you can't use it for sublimation. Thermal print heads heat up the ink and embed it into the paper. So, you can't transfer the ink further to the sublimation substrate.
Sublimation Paper
Well, you should also check if your Epson printer can support sublimation papers. It's because sublimation papers have a different material than regular papers. They have a polymer coating on one side and are thicker than regular papers.
Apart from printing capacity, your printer should also have the capability to hold the sublimation paper. Usually, sublimation papers require a wide tray size for printing.
Sublimation Ink
Now, sublimation ink compatibility is also a crucial factor for converting Epson printers. Your printer should have a continuous ink supply system (CISS) to get a consistent flow of sublimation inks.
The printer must have a tank system instead of cartridge holders for refill bottles. Most importantly, the printer should be capable of working with the ink consistency of sublimation inks.
Convert An Epson Printer For Sublimation
To convert an Epson printer for sublimation, you must flush out all the existing inks first. Then, you have to insert compatible sublimation ink and paper. By running a trial sublimation print, you can confirm if your printer has finally converted into a sublimation printer.
If you want to learn the process in detail, head to the next segments. You'll be able to learn how to convert an Epson printer for sublimation.
Essential Equipment
Epson printer (Compatible with sublimation printing)
Continuous ink supply system (CISS)
Sublimation Ink
Sublimation paper
Green nozzle adapter
Syringe
Screwdriver
Preparing Your Epson Printer for Sublimation Printing (Step By Step)
Before you start the conversion process, you must buy sublimation inks and papers compatible with your printer. Also, the printer must have auto-fill capabilities. Otherwise, it will be difficult to use the sublimation ink bottles.
If you're using an old Epson printer, you have to ensure the printer hasn't used any traditional ink before. In this case, you must perform a flush to clean all the existing inks from the printer. Check out the following segment to learn how to clean an Epson printer.
Cleaning and Maintenance
First, you have to turn off the power supply to your printer.
Then, open the top cover, paper tray, and ink tank cover of your Epson Printer. You can use a screwdriver for it.
Opening the cover, you'll notice the print heads and nozzles connected to the ink tanks. Simply, pull out one print head from the connection and disconnect the ink tube.
Now, attach a green nozzle adapter to a syringe. Draw out all the ink from the tube using the syringe. Repeat the process for all the 4 colors.
After cleaning manually, reattach all the components in their original place and screw back the cover.
Finally, change the settings of the printer and run a Power Cleaning. Your Epson printer should now be free of all the previous ink.
Pro Tip: It's hard to get rid of all the ink from the Epson printer. So, it's best to use a new sublimation printer that hasn't used any ink before.
Note: Epson Workforce printers usually require a syringe to fill the ink cartridges. If you have an Epson EcoTank printer, you don't need to use a syringe. You can simply place the bottle upside down on the ink tank and let the ink flow into the tank.
Installation of Sublimation Inks
Once you've cleaned the printer, install a CISS to increase the capacity of ink. It also allows sublimation inks to flow smoothly without any interruption.
After that, open the ink tanks and fill them with high-quality sublimation inks. You can use a syringe to prevent ink spills.
Fill ink in the ink tube as well for proper flow.
Pro Tip: Stick to one sublimation ink brand for sublimation printing with your printer. It will help to prevent ink contamination and keep the printing process smooth.
Also, it's necessary to use high-quality sublimation inks for convertible printers. Some of the best Epson-compatible sublimation inks you can check out are Hiipoo Sublimation Ink, Cosmos Ink, and Printer's Jack sublimation inks.
Adjusting Printer Settings
As you've refilled the ink tanks, it's time to change the printer settings. Simply, go to the settings and select your Epson printer.
Then, click on "Printer Preferences".
Change the color settings as needed.
Make sure you're selecting the correct paper type and quality.
Finally, print on a sublimation paper as a test trial.
If the sublimation print comes out fine, congratulations! You've successfully converted your Epson printer!
Entire List Of Epson Printers That Can Be Covert For Sublimation
Epson Artisan Series
Epson EcoTank Series
Epson EcoTank ET-2700
Epson EcoTank ET-2720
Epson EcoTank ET-2750
Epson EcoTank ET-2760
Epson EcoTank ET-3710
Epson EcoTank ET-3760
Epson EcoTank ET-4700
Epson EcoTank ET-4760
Epson EcoTank ET-7700
Epson EcoTank ET-7750
Epson EcoTank ET-15000
Epson WorkForce Series
Epson WorkForce WF-3620
Epson WorkForce WF-3640
Epson WorkForce WF-7110
Epson WorkForce WF-7210
Epson WorkForce WF-7710
Epson WorkForce WF-7720
Epson WorkForce WF-7610
3 Best Epson Printer To Convert For Sublimation
Despite having a wide range of sublimation-compatible printers, Epson offers the best deals in 3 of them. The Epson EcoTank ET-15000, EcoTank ET-2720, and WorkForce WF-7710 will blow your mind when it comes to converting into sublimation printers. 
They aren't only budget-friendly but also possess many advanced features that produce professional prints. You can also use them for sublimating on versatile substrates and items.
To get an in-depth overview of the three printers, check out the following sections below. Hopefully, you'll find the perfect printer under your budget.
The best Epson printer to convert for sublimation is the Epson EcoTank ET-15000 Printer. This Epson printer is easy to convert and smoothly operates with sublimation papers and inks.
You can print as large as 13″ x 19″ sublimation papers without any paper jamming issues. Moreover, you don't need a syringe to fill in the tanks with sublimation inks.
Not to mention the high-quality prints it can produce. You can produce professional prints with a high resolution of 4800 x 1200 dpi. Thanks to the printer settings – you can change the color of your design to achieve the correct vibrancy.
Well, the Epson ET-15000 also comes with a bonus! It has wireless connectivity features. So, you can print from wherever you want with just a few clicks on your mobile. And you're getting all of this available at a 50% less cost than a traditional sublimation printer!
Pros
No paper jam or ink clogging issues.
Perfect for large sublimation item printing.
Comes with wireless connectivity.
Supports both Windows and Mac OS.
Doesn't require any additional steps to set up for sublimation. 
250-sheet tray capacity.
Cons
Small touchscreen (2.7").
Another excellent sublimation convertible Epson printer is the Epson EcoTank ET-2720. It costs approximately $300 less than the previous EcoTank printer reviewed above. But contains all the seamless characteristics for sublimation.
First of all, this printer supports all the high-end sublimation inks (e.g., Hiippo) and sublimation papers (e.g., A-Sub).
You can print 7500 colored pages at a go with one bottle of ink. That's how efficient the printer is! As a result, you can also keep the operating costs as low as $0.2 per page.
Again, you can print vibrant (5760 x 1440 dpi) designs for sublimation over WiFi. However, the paper size limits up to 8.5″ x 14″ which is decent for a mug or tumbler sublimation.
As the price is lower than the Epson EcoTank ET-15000 Printer, you only get 100-sheet capacity with this printer. But it won't be an issue if you have ongoing small sublimation projects. Overall, it's a steal deal as a convertible sublimation printer.
Pros
Has a 10ppm monochrome and 5ppm color page printing speed.
Allows wireless and voice-activated printing.
Perfect mug and tumbler sublimations.
Charges fully within 10 minutes.
Produces 95% color accuracy vibrant prints.
Low operating costs. 
Cons
Small touchscreen (1.44" color display).
Has only a 100-sheet paper capacity. 
If you're looking for a large-format printer for sublimation, the Epson WorkForce WF-7710 Printer will be the best option for you. It's equipped with advanced technology and features that'll make your sublimation process seamless.
Starting off with the print quality, this printer can produce up to 4800 DPI. Moreover, it's easy to navigate the printer settings and adjust the colors through its 4.3" wide color touchscreen.
You can print 250 sheets of high-quality sublimation papers at a stretch with this printer. What's even more outstanding is that it supports a maximum paper size of 13″ x 19″ size. This means you can use this printer for sublimating on t-shirts, home decor items, mugs, tumblers, etc.
However, the WorkForce WF-7710 uses cartridges. So, you have to use a syringe to fill in the sublimation ink. But you can use almost all kinds of sublimation ink in it.
Again, this printer uses 80% less power than other inkjet printers. Having an 18.7 ppm monochrome and 10.2 ppm color printing rate makes the printer more efficient!
Pros
High-quality professional prints.
250-sheet paper tray capacity.
WiFi, USB, and Ethernet connections are available.
Perfect for speeding up the sublimation process.
Effective for bulk orders. 
4.3" touchscreen for easy navigation.
Cons
Requires syringe to refill ink tanks. 
Printing with Epson for Sublimation
Now, let us show you how to print with a brand-new converted Epson printer effortlessly-
First, unpack the protective covers from the new printer.
Then, fill the printer's ink tanks with sublimation ink. If your Epson printer has cartridges, you must use a syringe to fill the ink.
Now, connect the power cord to the printer and power it on. You'll notice the LCD monitor lit up as soon as you turn on the printer.
Your printer may ask you to fill the ink tank to the top of the tank if it's not full. After you fill the inks, the printer will start initializing for 10 minutes. Don't turn off the power in this phase. The printer is drawing the ink and getting ready to print.
After the initializing process is completed, you have to adjust the printer settings. Align the printer to get the best print quality.
Now, place the sublimation paper in the paper tray. You must keep the polymer-coated part facing down. The logo side should be up. If you have a rear-load printer, the polymer-coated part has to be on the upside.
After the first print, check where the designs and colors need improvement. Depending on the gaps, you have to adjust the printer settings again.
For better results, you can connect the printer to your computer through USB. Adjust the color profiles better using creative software and ICC profile.
Finally, print the sublimation design, and this time it'll be just as you wanted!
Epson Printers vs. Dedicated Sublimation Printers
Epson printers aren't primarily built for sublimation. But they do a decent job at sublimation printing. Does this make Epson printers better than sublimation printers? Check out the following sections to find out!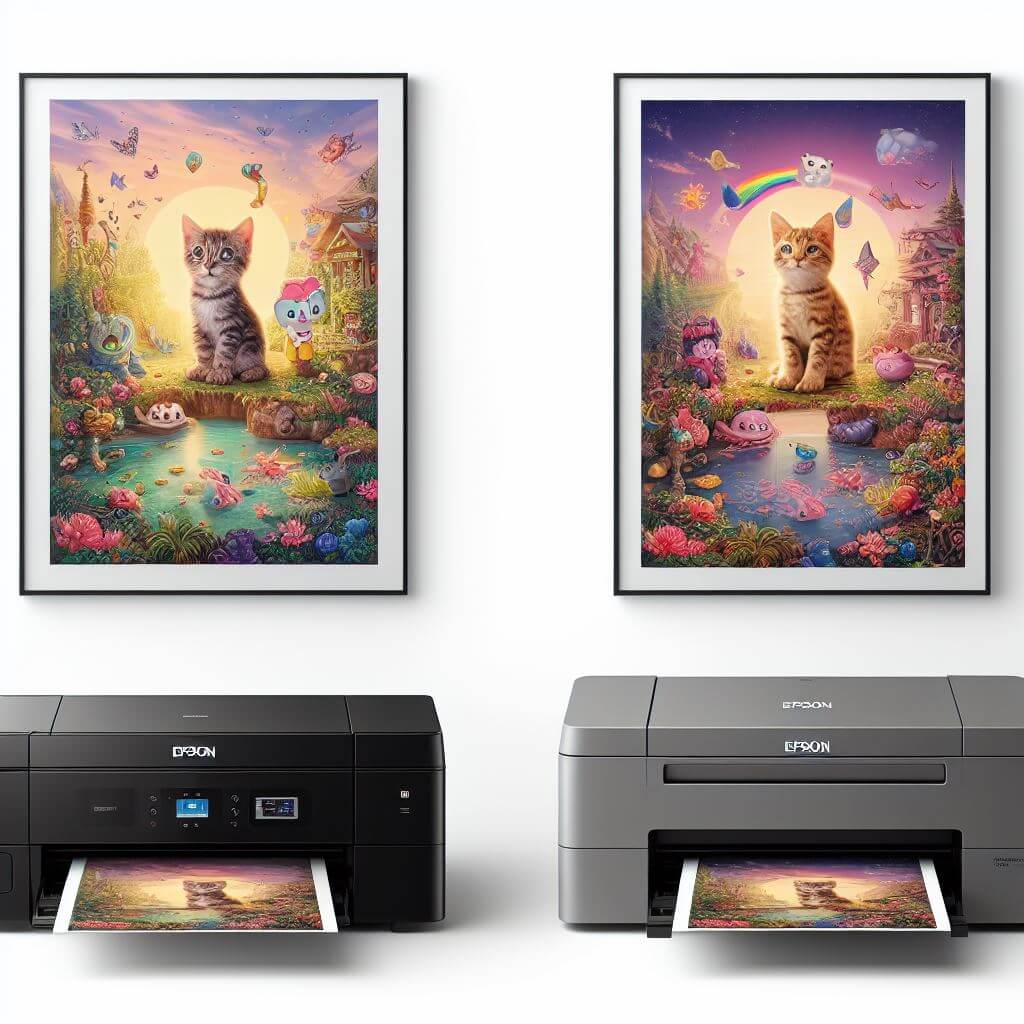 Pros and Cons
Starting with the pros of Epson printers, they can be used for both sublimation and regular printing. But you can't use sublimation printers as a regular printer.
However, you shouldn't frequently change the ink type in Epson printers. Otherwise, you won't get the desired sublimation print quality.
Now speaking of color accuracy, you can produce professional prints with Epson prints. But it's not guaranteed that all the converted Epson printers will be able to print as bright as a sublimation printer.
On the other hand, dedicated sublimation printers are built for sublimation purposes. So, the color vibrancy and accuracy are 100% in this case.
However, dedicated sublimation printers aren't as widely available as the Epson printers. So, when you don't have access to sublimation printers, convertible Epson printers can save you.
Cost Analysis
Moving on to the cost analysis, Epson printers are 50-60% more affordable than dedicated sublimation printers. Where dedicated sublimation printers (such as Sawgrass SG1000) will cost you several thousand dollars, Epson printers can come as low as $200. 
However, the Epson printers require more maintenance than sublimation printers. So, the maintenance costs slightly exceed that of a dedicated sublimation printer.
Still, considering printing efficiency, operational costs, and budget, Epson printers are more on the affordable side. On the other hand, it'll require a hefty investment for dedicated sublimation printers.
Choosing the Right Option
Finally, if you're new to sublimation or have a small business, using converted Epson printers will be the correct option for you. It should also be a choice if you're on a tight budget.
But if you have a huge business where quality matters, buying a dedicated sublimation printer would be the best decision.
FAQs
Can Epson WF 3820 Be Used For Sublimation?
Yes, Epson WF 3820 can be used for sublimation. But you can't use the ink cartridges that come with the printer. You must buy sublimation inks separately to use the Epson WF 3820 for sublimation. 
Can Epson WF 2950 Be Used For Sublimation?
Yes, Epson WF 2950 can be used for sublimation. However, you must have technical knowledge to convert the printer. 
Can I Convert My Existing Epson Printer for Sublimation?
Yes, you can convert your existing Epson printer for sublimation if it uses inkjet technology. Moreover, the printer must be compatible with sublimation papers and sublimation inks. Otherwise, you won't be able to convert the printer for sublimation.  
What Is The Easiest Printer To Convert To Sublimation?
The Epson EcoTank series printers are the easiest to convert to sublimation. You can also seamlessly convert the Epson WorkForce series printers. However, the WorkForce series printers take more time to convert than the Eco Tank printers. 
Conclusion
Hopefully, you're now clear about "Can all Epson printers be used for sublimation?". Remember that converting Epson printers requires technical knowledge and expertise.
Don't attempt to perform any operation unless you have basic printer adjustment knowledge.
Otherwise, you can ruin your Epson printer and Epson doesn't cover the warranty for sublimation conversions. So, be careful while attempting to convert your Epson printer for sublimation.
Was this article helpful?