Do you know the sublimation printing market has increased 22.76% in the last 3 years? And it's expected to grow more in the upcoming decade.
Well, apart from estimations, the statistics will scare you! The sublimation printing statistics indicate that it's already a profitable market with high competition coming ahead.
We have compiled all the data and forecasts in this article to see the whole picture of the industry.
So, if you're a sublimation enthusiast or a business owner, give the article a good read. It'll definitely help you to plan better for the future.
Historical Evolution of Sublimation Printing
Dating back to the 700s, Jabir ibn Hayyan (Gerber), the Father of Chemistry explained the sublimation process for the first time.
He was the one who discovered that a solid substance can turn into gas at a particular temperature, pressure, and time.
However, the process was named "Sublimation" for the first time in the late 1550s. It is derived from Latin sublimates, which means 'to lift up'.
Being fascinated by the sublimation process, Noël de Plasse and Filatures Prouvost Masurel of Lainière de Roubaix (France) invented dye sublimation in 1957. This was the base of modern sublimation printing.
Later on, Sublistatis SA commercialized Noël de Plasse's sublimation printing from the late 1960s to the mid-1970s.
At this time, the sublimation dyes were made from ribbons. With a commercial surge, the transfer paper production rose by around 350 million meters during this time.
Notably, Wes Hoekstra invented computer image sublimation which NASA's Jet Propulsion Lab developed as dye sublimation computer printers later on.
As a result, sublimation printing became public to the masses by selling billions of transfer sheets.
Over the years, different sublimation brands started commercializing modern sublimation printers, inks, transfer sheets, and supplies.
So, sublimation printing began modernizing using new technologies like inkjet and piezoelectricity.
Sublimation Printing Statistics
Market Size Statistics
Analyzing the market size statistics, we discovered that the sublimation printing market is rising globally. Within a span of 5 years, the industry will reach the billion-dollar height.
It's consistently rising onwards and is speculated to grow into a 2-digit billion dollar industry at the end of this era.
Our findings says it's not a single-entity business growth. It's closely related to other industries like textile, ceramics, printers, service-based businesses, inks, and blanks. The textile industry alone has entered into a billion-dollar industry within one year.
So, you can consider this sector not only as a profitable market but also as a growing one. You can expand your business to multiple arenas and crunch 6 to 8-digit numbers.
Particularly, if you go along with the fashion industry, there's a scope of huge profit jump regardless of region.
To support our prediction, here are some sublimation printing market statistics you should know about-
Dye Sublimation Printing Market Trends
Now, the sublimation printing market has been showing a minimum of 10% annual growth for the past 10 years. In the upcoming years, the annual CAGR is expected to grow by more than 10%.
This means this industry's growth rate is increasing at a compounding rate. So, you'll have more opportunities widening up in the near future.
What's more interesting is that most of the revenue in this area is derived from direct sales.
And the more direct sales you have, the more profit you can take home.
It indicates a huge opportunity to grow your sublimation printing business during this decade.
Moreover, with the rise of online media, there's no need for an intermediary now. Conversely, delivery companies are also befitting by providing logistics support. Overall, it's a win-win situation no matter which party you are.
So, small sublimation printing businesses are expanding at a generous pace. Even if you've started a part-time sublimation side hustle, it has the capacity to earn you a full-time income.
It's applicable for all kinds of sublimation businesses – whether you provide printing services or sell sublimation ink/ printers.
Here are some interesting sublimation printing market statistics you won't believe-
Considering the past market trends, the global dye sublimation printing market seems to have a growth trend of more than 10% year-on-year annual growth.
The sublimation printing market is growing at a rate of 11.69% CAGR for polyester blends. It generated approx. USD 181.42 million in revenue in 2021. Straits Research forecasts the number will grow to an estimated USD 490.69 million in 2030.
Dye Sublimation Inks generated USD 442.67 million in 2021. A research conducted by Straits Research, it is estimated that the sublimation ink market will grow globally to USD 1132.36 million in 2030 at a CAGR of 11.5%. Note that the majority of this revenue comes from direct sales.
Growth of the Sublimation Printing Industry
With the advent of newly invented sublimation inks, applications, and opportunities, the sublimation industry is expected to have a boom in the upcoming years. Considering a CAGR of 10.8%, we have forecasted the revenue for 2021-2030 below.
So, here's how the sublimation printing industry is expected to grow over the years.
| | |
| --- | --- |
| Year | Forecasted Revenue (in Millions) |
| 2021 | 716.61 |
| 2022 | 794.00 |
| 2023 | 879.80 |
| 2024 | 974.80 |
| 2025 | 1,080.00 |
| 2026 | 1,196.70 |
| 2027 | 1,325.90 |
| 2028 | 1,469.10 |
| 2029 | 1,627.80 |
| 2030 | 1,803.60 |
Here's how the graph looks like for the growth of the sublimation printing industry.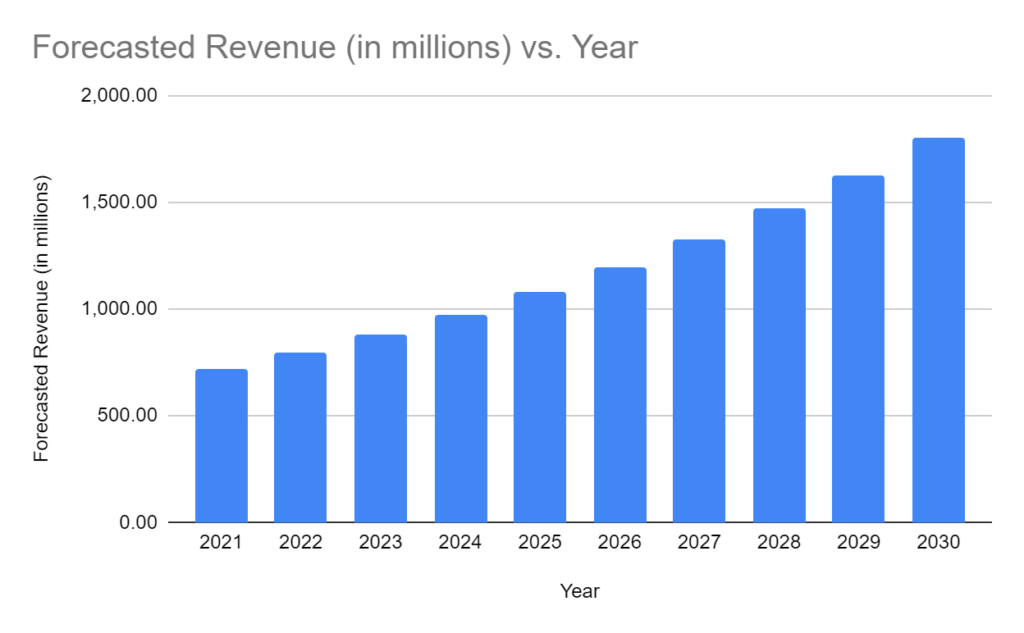 Note that this forecast is entirely based on secondary research. There can be other factors involved that may diverge the estimated value.
Application Areas
Sublimation printing is prevalent in apparel, household items, technical textiles, visual communication, and rigid substrates. Here are the application areas described below.
Apparel: Globally, the most popular sublimated item is t-shirts. More garment items like hoodies, jackets, and sportswear are gaining popularity in the case of sublimation printing. According to a study conducted by Smithers Pira in 2021, the apparel industry is leading almost 77.8% of the end-user market share for sublimation printing.
Household: Sublimation printing holds a major space in household items. We can see a CAGR of 4.2% in the household sector between 2017 and 2022. This is due to the rise of custom regular household items like mugs, blankets, laptop sleeves, pillow and cushion covers, wall art, etc.
Visual Communication: For marketing and advertising purposes, sublimation printing is used in visual communication. Over the years, sublimation printing businesses have contributed to making banners, posters, signs, and flags. Nearly around 9.3% of the sublimation printing industry works for building visual communication aids.
Rigid Substrates: Since the diversity of rigid substrate sublimation printing, the demand for sublimation printing has been trending upward. The global sublimation market is projected to increase by 50% by 2030. As most of the rigid include home decor and household items, they are a huge scope for sublimation businesses.
Regional Analysis of Sublimation Printing
Sublimation printing is more dominant in North America, Asia Pacific, Europe, South America, the Middle East, and Africa. The detailed regional analysis is shown below.
North America: Sublimation printing businesses are thriving in the North American region (US, Mexico, and Canada) for is the largest market globally. It's because the USA has the biggest automobile industry which spends millions of dollars every year for sublimated automobile parts. Moreover, North America dominates the sublimation ink supply which generated around USD 260.82 million in 2021. Following a trend of 10.91% CAGR, the industry is expected to reach USD 667.18 million within 2025.
Asia Pacific: Now, the fast-growing market for the sublimation printing industry is the Asia Pacific region. Countries like India, Japan, China, Indonesia, Thailand, and Bangladesh are mainly responsible for the rapid growth. This region generated a revenue of USD 132.85 million in 2021. With a high CAGR of 12.41%, it's expected to generate around USD 380.72 million in 2030. Mainly, textile-based economies like China, India, and Bangladesh are boosting the sublimation industry in the Asia Pacific region. 60% of this apparel is exported to the European Union and other regions of America.
Europe: Sublimation printing expanded in Europe with the rise of different kinds of dye sublimation inks. Companies like Seiko Epson Corporation, HP Inc., and DuPont are bringing revolutionary changes in the textile industry. The metal and plastic application is also booming in this region. It's mostly seen in the UK, Germany, Italy, France, and Spain.
Entrepreneurship Trends in Sublimation Printing
Having endless opportunities, sublimation printing businesses are becoming a livelihood for young entrepreneurs and women. Basically, anyone with a minimal investment of $1500 can start a sublimation business.
It's a lucrative business idea for mostly creative people. Using sublimation printing, you can sell custom t-shirts, mugs, tumblers, hats, coasters, and many other personalized products. Apart from dye sublimation, you can invest in sublimation supplies as well.
There is a huge growing market for sublimation printers, water-based and dye-based inks. Moreover, skilled young entrepreneurs are now monetizing their sublimation businesses through social media marketing as well. 
Speaking of social media, the industry is also growing with sublimation enthusiasts selling courses online. This is a great passive income for stay-at-home moms and people who want to get rid of the 9-5 cycle.
5 Factors Driving the Demand for Sublimation Printing
So, the sublimation printing industry is basically running by 5 major drivers. These are the growing apparel industry, the boom of the e-commerce industry, rapid urbanization, increased content marketing budget, and eco-friendly business adaptations.
These drivers are described below in detail.
Growing Apparel Industry
Dye sublimation printing has now become prominent in the apparel industry. People are now focusing more on custom designs for apparel like jackets, hoodies, and t-shirts.
Moreover, sublimation printing is gaining popularity in different kinds of fabrics for curtains, coverings, carpets, and upholstery.
As a result, the apparel industry alone is expected to drive the demand for sublimation printing in the upcoming years. It's evident in not only the USA but all around the world.
Penetration of E-Commerce
E-commerce platforms is gaining popularity at a compounding rate in the 21st century. This makes sublimation printing a large market for many sublimation-supply companies.
As much as the rising demand of consumers, e-commerce businesses are expanding their portfolios.
These E-commerce businesses revolve around sublimation printers, sublimation inks, heat transfer papers, heat-resistant taps, heat presses, vinyl adhesives, and whatnot.
Moreover, these companies help their customers to stay up-to-date with the current trends via online media. So, it's also one of the largest sublimation printing drivers that's expanding the market.
Rapid Urbanization
Another growth factor is increased disposable income and a rapid rise in urbanization. People started looking for more varieties to keep up with modernization.
This is increasing sublimation printing demand in several industries like garment, ceramics, wood, metal, stainless steel, luxury goods, and so on.
Studying the statistics of MasterCard, the United States encompassed about 47.3% of apparel sales from November 2020 to 2021. This makes the household segment more dominant in the case of sublimation printing demand.
Increased Marketing and Ad Spending
The sublimation printing market is also expanding due to an increase in marketing and ad spending. In 2023, global digital advertising reached USD 601.8 billion. It's calculated as 67.1% of overall expenditure on spent media ads.
According to Oberlo, by 2027 digital ad expenditure will see a growth of 29.8% every year ahead. So, more investments will be made for businesses revolving around sublimation.
A rise in sublimation blogs, social media, and email marketing campaigns will influence the market heavily. This will boost the overall sublimation printing business further in the next decade.
Eco-Friendly Method Adaptations
Being an eco-friendly printing technique, sublimation has a growing demand. It's using energy efficiently and wasting minimal ink or dye. The water-based inks are also reducing the amount of toxic chemicals released to the environment.
Moreover, recycled polyester is gaining popularity among environmentally-conscious consumers. They are becoming a part of the sustainable fashion industry as well.
So, as the world is trying to solve the 21st-century climate challenges, sublimation businesses are a viable solution. This is also driving the apparel industry predominantly to move towards sustainable sublimation printing.
FAQs
What is the market size of sublimation printing?
The market size of sublimation printing is valued at more than 716.61 million globally. The estimated market size of sublimation printing is USD 1803.60 million by 2030 considering a 10.8% CAGR during 2022-2030. 
What is the future of sublimation printing?
The future of sublimation printing is forecasted to be 10% year-on-year annual growth. Household sublimation printing will be on the rise. The largest sublimation market will grow in the Asia-Pacific area. 
Is sublimation printing cost-effective for businesses?
Yes, sublimation printing is cost-effective for businesses. In fact, you can start sublimation printing businesses at as low as $465 and keep at least a 40% profit margin.  
Is sublimation printing eco-friendly?
Yes, sublimation printing is eco-friendly. But you'll have to ensure that you use recycled polyester materials instead of polyester. Water-based sublimation inks don't leave any traces of chemical substances in the environment.  
Final Words
Well, that's the end of our insights on sublimation printing statistics. Hopefully, this article will help you to predict the sublimation printing industry. So, you'll be able to plan better for growing your sublimation business.
That's all for now. Hope you'll thrive in your sublimation printing journey. Best of luck!
Was this article helpful?