Being a Sawgrass fan, it's hard to decide which printer to choose among Sawgrass's 4 sublimation printers. Sawgrass has been dominating the sublimation printing industry and it's hard to say no to any of the models.
The best Sawgrass sublimation printer is the Sawgrass SG1000. It can feel like a bit over your budget. But once you get to know about its features, you'll understand why we're calling it the best.
It's not just an intuition. By reading this article thoroughly, you'll learn every feature, pros, and cons of the Sawgrass SG1000.
You'll also get to learn about the other Sawgrass models for comparison. So, keep reading to find out your best pick!
The Best Sawgrass Sublimation Printer Is SG1000, Here's Why
The Sawgrass SG1000 has a combination of most of the requirements you'll have in a modern sublimation business. It's not the only reason you should choose the SG1000.
To dig deep, here's a detailed explanation of why SG1000 excels as a sublimation printer and why you should keep it as your top priority.
Print Quality
Sawgrass SG1000 is undefeatable in the case of producing sublimation prints. This printer combines ink density with designs so professionally that you'll want one despite the high price!
Every geometric line it prints is sharp, crisp, and defined. You'll barely notice any haziness. Moreover, it can print all the fine details with precision.
The images look more professional as the printer can maintain the alignment of the designs properly. It enhances the focus of the print making the printer stand out from other printers in the market.
Resolution and Color Accuracy
Moving into the details, this sublimation printer can produce high-quality prints up to 4880×1200 dpi resolution. Thanks to Modulated Dot Technology which helps the printer to create uniform dots accurately in every print.
On top of that, Sawgrass SG1000 prints have amazing shadow details, less print mottling, and low levels of graininess. As a result, the prints look more vibrant with rich tonality. The perfect amount of contrast and brightness strengthens the beauty of different color shades even more!
The printer can also produce images with optical density between 3.8 and 4. This is the reason why the prints look 95%-100% similar to the original image.
In fact, it's capable of maintaining color accuracy for around 124 different combinations of papers, substrates, and sublimation inks.
Versatility
Again, the Sawgrass SG1000 sublimation printer supports different kinds of sublimation printing. Whether you want to sublimate on metal, wood, glass, or fabric, you can use it for all.
Thanks to its capability for printing up to 11" x 17" paper sizes. It's perfect for sublimating on apparel, soft goods, and small to medium-sized photo panels.
With the help of an optional bypass tray, you can even print even larger items having 13" x 19" sheet sizes!
The printer also supports different kinds of high-quality sublimation papers like Chromablast paper, Beaver TexPrint DT, A-Sub, and HTVRONT sublimation paper. 
For sublimation ink, you can only use SubliJet-UHD, Siser EasySubli, and ChromaBlast-UHD in the Sawgrass SG1000.
Ease of Use
The Sawgrass SG1000 printer is easy to install and doesn't take up much time either. You just plug in the printer cord into the electrical outlet and it's ready to use!
It's easy to navigate using the backlit LCD screen. You don't need to worry about cleaning the printhead also.
The printer can automatically take care of itself with an automatic maintenance feature. So, the ink comes out uninterruptedly and prints perfectly without any hazy lines.
Durability
You can blindly rely on the strength of the printer. It's made with durable hardware parts that can withstand years of heavy printing projects.
Moreover, the printer can produce strong sublimation prints that don't come off easily. Using EasySubli ink makes the prints more durable and doesn't crack a bit even in the 50th wash.
However, you must remember that the Sawgrass SG1000 printer is only compatible with Sawgrass inks and software. So, using inks from other brands can reduce the lifetime of this printer.
But if you use Sawgrass inks, it's almost guaranteed that you'll be able to use the printer for at least 2 years. If everything goes well, the Sawgrass SG1000 printer can have an approx. life span of 3-4 years.
Quick Printing
If you want a combination of laser and inkjet printing, Sawgrass SG1000 will be the best fit for you. It can print high-quality images within seconds! The resolution is outstanding and so this printer is the perfect investment for any sublimation business.
Here are the printing speeds depending on the quality of the photo-
High Speed (600 x 600 dpi): 15 seconds
High Quality (600 x 600 dpi): 29 seconds
Adv. Photo (1200 x 600 dpi): 48 seconds
Ultra Fine Photo (4800 x 1200 dpi): 6min 40 seconds
What's great is that along with lightning speed, the printer also uses inks efficiently. So, with average printing, you can print professional images for up to 2 years with one pack of cartridges.
Wireless Connectivity
The Sawgrass SG1000 does a fantastic job in terms of seamless usage. You can connect this printer with a 2.4 GHz Wi-Fi connection and print online.
With the help of Sawgrass Print Manager software, you can create endless creative designs using the internet in the printer.
You'll be glad that it's extremely easy to set up this printer on any Wi-Fi network. It doesn't get interrupted much while printing online.
For sharing printing tasks with multiple devices, you can also use the Ethernet network. It also allows printing offline by connecting with the computer or any other device via a USB cable.
Support and Resources
One of the reasons Sawgrass SG1000 will look like a proud purchase is the support system they have.
You can access thousands of templates through Creative Studio and use Sawgrass Print Manager to improve the colors of your print. What's great is that the software can process both CMYK and RGB files for free!
Apart from enhancing print quality, you can contact Sawgrass customer support for any kind of trouble. The printer comes with a 2-year warranty and unlimited tech support.
Even if you're unable to set up the printer, customer support will walk you through the steps via a Zoom meeting. You can also access their online community or blog for printer troubleshooting purposes.
Eco-Friendly
Well, the Sawgrass SG1000 printer is also an eco-friendly printer that keeps you and the environment safe. Here are the aspects that confirm the SG1000 printer is helpful for the environment-
The Sawgrass SG1000 printer is exquisitely made for sublimation purposes. So, you'll have minimal waste produced as sublimation printing doesn't release any harmful ingredients.
The printer only consumes 53 watts in power mode. This means it's an energy-efficient printer.
It has a self-cleaning function which reduces maintenance and produces less waste than normal printers.
The sublimation inks that it comes with have all eco-friendly certifications like Okeo-Tex, RoHS, and Reach Compliant.
You'll notice a G7 certification label on the printer as well that indicates the printer is safe to use for colorful prints.
Reliability
Now, whether you are a beginner or an expert, you can rely on this printer without worrying much. Its unparalleled color vibrancy and easy navigation make the printer perfect for large projects.
The printer also comes with G7 certification which confirms the consistency of print quality. Moreover, the default inks are also OEKO-TEX, RoHS, ASTM, CPSIA, Prop 65, and REACH-compliant certified.
Expandability
Speaking of expandability, the Sawgrass SG1000 printer comes with adjustable trays for working with different kinds of substrates.
You can also control the print sizes with this printer. For large sizes like 13″ x 51″, you can use a bypass tray and widen up your options.
So, whether you're looking to sublimate in small or large orders, you can rely on Sawgrass SG1000 with ease.
System Requirements
If you want the printer to perform well, you'll need to ensure a number of system requirements. Check out the hardware and software requirements below and see whether your system can match with the SG1000.
Hardware Requirements
Memory (RAM): 4GB Required, 8GB or greater recommended.
Processor (CPU): 64-bit; Intel or AMD; Apple ARM; Dual Core CPU, Quad Core or greater recommended.
Available Hard Drive Space: 10GB or greater.
Screen Resolution: More than 1024×768 pixels at 100% zoom.
Minimum Free HDD Space: 10% Free
Internet Connection: Required
Supported Operating Systems
Windows 8.1 (Pro or Enterprise)
Windows 10 (Pro or Enterprise)
MacOS 10.13
MacOS 10.14
MacOS 10.15
MacOS 11.x
Others
There are some other small yet impactful features of the Sawgrass SG1000 printer that will enhance your printing experience even more.
For example, the printer has a size of 14.25″ x 21″ x 8.5″ which is perfect for home and office jobs. It's only 37 pounds for a high-quality printer. So, you won't feel much stress shifting it from one place to another.
Again, you don't need to buy additional accessories if you already have Sawgrass SG800. The Sawgrass SG1000 printer is perfectly compatible with its predecessor's equipment. It's also pretty easy to install the drivers in this sublimation printer.
SG1000 Specs
Best Parts (Pros)
The printer has built-in Aluminum encoder strips. It helps to reduce dust accumulation in the printer and keep it running for a long term. 
It uses a single roll bar to avoid paper jam issues.
It's perfect for printing bigger fonts and prints.
The printer works flawlessly while feeding oversized papers in the rear feeder.
It doesn't require frequent maintenance. So, you can reduce the overall running costs in future. 
What We Don't Like (Cons)
The SG1000 printer is only compatible with Sawgrass inks. So, you can't use any other leftover ink in this printer. 
The printer doesn't have a quiet mode option. So, it gets a bit noisy while printing. 
Where to Buy
Apart from Sawgrass's website, you can find Sawgrass SG1000 Sublimation Printer in multiple online and offline stores. The most common places to buy this printer are Amazon, Swing Design, Walmart, and Coastal Business Supplies.
These stores offer discounts and bundle kits from time to time. So, you should keep an eye on their websites to save extra bucks!
Other Sawgrass Sublimation Printers to Consider
While the Sawgrass SG1000 Sublimation Printer is an all-rounder Sawgrass printer, you can get amazing features in other Sawgrass printers as well.
Here are the most efficient Sawgrass printers you can consider on a lower budget than the Sawgrass SG1000.
Sawgrass SG500
Sawgrass SG500 is a small, lightweight sublimation printer only weighing around 10.23 pounds. It has a desk-friendly design compatible with both home and office jobs.
The installation process is also seamless and doesn't require any complex instructions.
You can have decent print quality with this printer. The images look enough vibrant. However, the tones should be readjusted using the Creative Studio software.
You'll get excellent printing speed with this printer. You can print approximately 97 pages per minute with the SG500 printer.
However, the print size is only limited to 8.5″ x 14″ size. So, you have to choose small items to print in this case.
Overall, the Sawgrass SG500 Sublimation Printer is excellent for small sublimation business owners.
Sawgrass SG800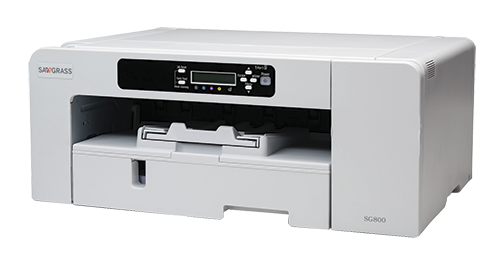 The Sawgrass SG800 is another great printer with outstanding printing qualities. It can produce prints with 1200 x 1200 dpi that have perfect details and tonality. It's more suited for printing on glossy papers for sublimation tasks.
Now, you can only use this printer offline by connecting it to your device with a USB cable. It's actually a predecessor model of the Sawgrass SG1000. The good thing is you can connect this printer to both Windows and Mac-operated devices.
However, the printer is capable of printing for multiple substrates. You can print as large as 13" x 19" with this printer. Moreover, it has a decent printing speed with printing over 37 colored pages per minute.
Make sure you're using Sawgrass sublimation inks (CMYK) for printing in this printer. The only drawback is that it uses high levels of ink while printing. So, the operating costs get a bit high over the years.
But given its large print capability, excellent print quality, and efficient scanning options, it's a worthy investment for small sublimation businesses.
Sawgrass VJ628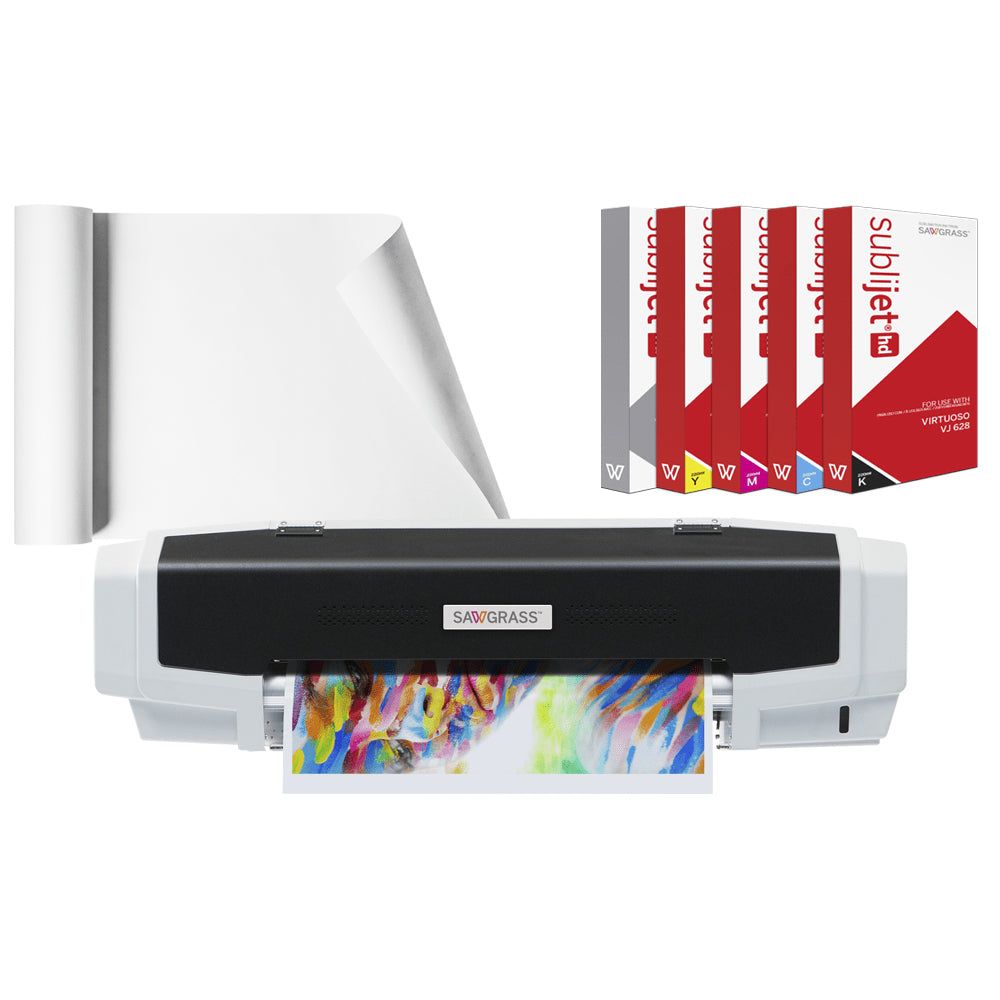 The Sawgrass VJ628 tops all of the Sawgrass sublimation printers in case of color accuracy. It uses 8 color ink tanks which helps to get the perfect gradients.
Certainly, it's an upgrade from all the predecessor models, especially the Sawgrass SG400. Moreover, the VJ628 doesn't dither at all, so the prints come out perfect every time.
It's an absolute choice for sublimation enthusiasts who are also photographers. You can achieve the correct shadow, hue, saturation, contrast, and brightness with this printer.
Apart from the image quality, this printer is perfect for printing bigger panels. It supports a maximum of 24.8" media size ensuring 1440 x 1440 resolution.
The printer also uses i2 print technology so that there are fewer ink banding issues.
However, the Sawgrass VJ628 only works with Windows-compatible programs. So, if you have Mac OS, you can't use this printer.
Finally, considering its high price (over $4000) and advanced functionality, this printer is more suitable for large sublimation businesses or enterprises.
Sawgrass SG500 vs SG1000
Now, the Sawgrass SG500 and SG1000 are actually both advanced and more efficient than other Sawgrass sublimation printers. We'll drop an honest comparison between these 2 printers so that you can make the correct buying decision. 
Print Size
In the case of print size, the SG1000 is more capable of printing large sizes than the SG500.
You can print up to 13″ x 19″ with SG1000 whereas the print size is only limited up to 11″ x 17″ for the Sawgrass SG500 printer., This means the SG1000 is more suitable for running a variety of sublimation businesses.
Ink Versatility
While both Sawgrass SG500 and SG1000 are capable of producing Ultra-Fine high-resolution images, they don't have the same ink compatibility.
The Sawgrass SG500 can only work with Sawgrass SubliJet-UHD ink. But you can work with Siser EasySubli and ChromaBlast-UHD too in the case of Sawgrass SG1000.
So, there's more opportunity to sublimate on different kinds of substrate with the SG1000.
Connectivity
You can use both of the Sawgrass models online and offline using Wi-Fi and USB cable. However, the SG500 doesn't support an Ethernet connectivity option. So, it's not possible to connect with multiple users with SG500, unlike SG1000.
Cost
Well, the Sawgrass SG1000 is much pricier than the Sawgrass SG500. The ink running costs are higher as well. However, as the SG1000 has more advanced features than the SG500, the high price is justified.
So, in the battle between SG500 and SG1000, the Sawgrass SG1000 seems the most worthy investment if you're serious about sublimation printing.
FAQs
What Is The Difference Between Sawgrass SG800 And SG1000?
The difference between Sawgrass SG800 and SG1000 is that the SG800 uses all old features whereas the SG1000 has advanced features catered specially towards modern sublimation printing. The SG1000 outranks the SG800 in terms of paper size, substrate compatibility, ink formulation, power efficiency, and connectivity.
How Many Prints Can You Get From Sawgrass SG500?
You can get approximately 97 prints from Sawgrass SG500. The 31 ml cartridges can yield around 29 prints. Each print will cost you approximately $10.62.
Is The Sawgrass SG800 Discontinued?
Yes, the Sawgrass SG800 is discontinued. It's because Sawgrass introduced two new sublimation printers (SG500 and SG1000) which provide better print quality, device compatibility, Wi-Fi connectivity, and high printing speed than the SG800.
Conclusion
There you go! So, the best Sawgrass sublimation printer is the Sawgrass SG1000 Sublimation Printer. It has all the functionality to run your sublimation business smoothly. As it's the upgraded version of Sawgrass SG400, SG800, and SG500, we recommend you buying this printer for a worthy investment.
Was this article helpful?