If you're active in different printing forums and communities, you've probably heard about ink toxicity. As a sublimation printing enthusiast, it's definitely a concern.
No doubt, sublimation inks are made from different chemicals and you wonder how it can affect your health.
So, is sublimation ink toxic? Will it cause you any health risks? Can you use sublimated items as dinnerware? The concerns are endless!
Relax, we got you covered. This article will help you to unfold the truth about using sublimation inks. You'll get to learn about the ink components one by one.
So, stay tuned till the end to learn about sublimation ink toxicity thoroughly.
Is Sublimation Ink Toxic?
No, sublimation ink isn't usually toxic. Most of the chemicals don't harm the human body. But if you use non-branded, cheap sublimation inks, they can be toxic. These inks produce harmful fumes that can affect the respiratory system through inhalation.
So, it's important to use high-grade sublimation inks.
Is Sublimation Ink Food Safe?
Yes, sublimation ink is food-safe. When you press the ink in a heat press, the ink gets embedded into the substrate's polymer coating. So, it doesn't react with food ingredients.
However, you must ensure that you are using high-quality food sublimation blanks (e.g., plates, cups, mugs, bowls, etc.).
Is Sublimation Ink Safe For Babies?
Yes, sublimation ink is safe for babies. It's mostly certified by FDA and RoHS directives. So, your baby won't have any reactions using sublimated items like clothes, plates, mugs, or toys.
However, it's dangerous for your child if your baby swallows or inhales sublimation ink.
Is Sublimation Printing Eco-Friendly?
Yes, sublimation printing is eco-friendly. Most of the inks are water-based solutions that don't harm the environment. Moreover, there's almost zero waste produced in this printing process.
You don't have to use much water either. Overall, sublimation printing doesn't disrupt the ecological balance at all.  
Is Hiipoo Sublimation Ink Good?
Yes, Hippo sublimation ink is good. Apart from producing vivid prints, it's free from harmful chemicals. It doesn't produce any fumes in the heat press. Moreover, it's a water-based sublimation ink that doesn't impose any threat to the environment.
Sublimation Ink Components and Safety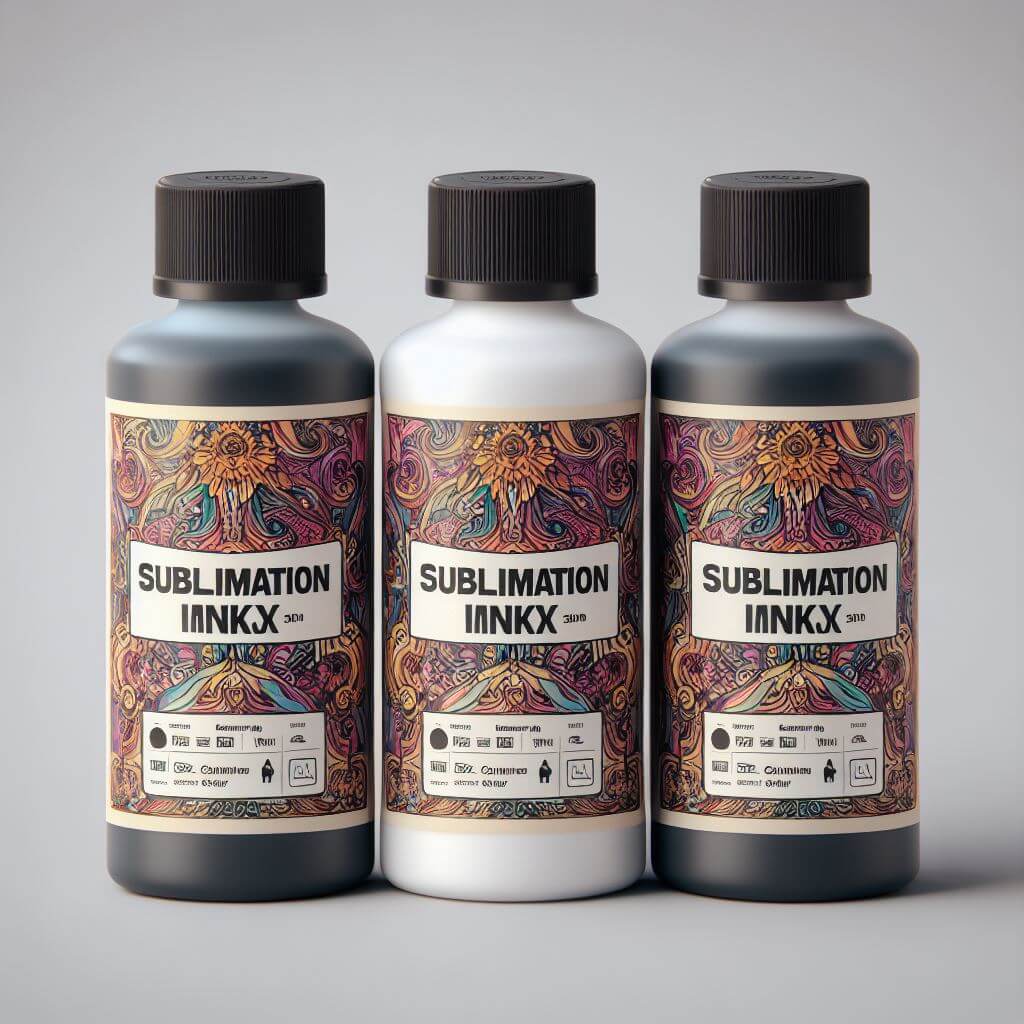 Now, let's get to our main focus, the full breakdown of sublimation ink components and their safety levels.
Usually, you'll find sublimation inks in 2 forms – Aqueous Dye Sublimation Ink and Solvent Dye Sublimation Ink.
The Aqueous Dye Sublimation Ink is a water-based sublimation ink whereas Solvent Dye Sublimation Ink has an oil base.
Both of the sublimation inks contain different components. Here's a list of these components with their amount for the 2 types of sublimation inks and safety concerns.
A Breakdown of Aqueous Dye Sublimation Ink Components
Components
Amount
Health Risk
Water
30-95%
None
Dye particles
1-10%
None
Co-solvent(Glycerol, Propylene Glycol, and Dipropylene Glycol)
5-40%
None
Surfactant
0.01-5%
None
Biocide (Procel GXL)
0.01-5%
Yes (If ingested)
A Breakdown of Solvent Dye Sublimation Ink
Components
Amount
Health Risk
Chloride-vinyl acetate Copolymer
2-6%
Yes (If inhaled or ingested)
Polymeric Amide
0-4%
None
Ethyl Acetate
0-4%
Yes (If inhaled or ingested)
2-methoxy-1-methyl ethyl
0-1.25%
Yes (If inhaled or ingested)
N-butyl acetate
0-2.5%
Yes (If inhaled or ingested)
Butan-2-OL
0-0.5%
Yes (If inhaled or ingested)
Distillate
0-3%
Yes (If inhaled or ingested)
Subliminal disperse dye
0.25-9%
None
Propylene glycol
0-2%
None
Additional Acetate
78-95%
Yes (If inhaled or ingested)
Now that you've checked out the overview, here are the components described in detail below:
Dye Particles
Sublimation ink manufacturers use dye particles to maintain the color and consistency of the ink. Depending on the base, the amount of dye particles differs. That's why you see different tension and viscosity in oil-based and water-based sublimation inks.
So, dye particles don't actually contain any harmful ingredients. They are only used to maintain the stability of the ink.
Co-Solvents
You'll find co-solvents like Glycerol, Propylene Glycol, and Dipropylene Glycol in water-based sublimation inks.
These components help to dissolve the dye particles in the sublimation ink. Moreover, these co-solvents prevent inks from drying and keep the printheads clog-free.
They are actually aprotic in nature which means they don't participate in hydrogen bonding. As a result, they can't produce toxic fumes or become vicious for human contact.
So, as the sublimation ink contains almost 5% to 40% of the ink's weight, the ink becomes safe to use.
Surfactants
Surfactants act as emulsifiers in a sublimation ink. They reduce the surface tension of the sublimation ink and disperse droplets easily. Like dye particles and co-solvents, they also improve the stability of sublimation inks.
So, the surfactants used in sublimation inks don't contain any harmful ingredients for humans or the environment.
Biocide
Biocides are used in sublimation inks to prevent the growth of microorganisms in the ink. In most cases, Procel GXL is used as a biocide in sublimation inks. It's a non-oxidizing biocide which helps to prevent clogging issues in the printhead.
Though it's not entirely toxic, it can be detrimental to your health if you accidentally ingest it. So, you must be careful while refilling inks in the ink tanks of a sublimation printer. 
Acetates
Well, as you can see sublimation inks contain a tiny percentage of acetates. They are low-boiling, colorless, and have flammable properties. Most of them act as a solvent in the sublimation ink.
While most of the acetates are harmless, some of them can cause irritations. For example, ethyl acetate can cause conjunctival irritation and corneal clouding if exposed for a long time.
The fumes mostly affect the central nervous system. Above all, you can have congestion of the liver and kidneys by ingesting high concentrations of ethyl acetate.
So, it's important to work in a ventilated area with safety gears on while working with sublimation inks.
Myths vs. Facts about Sublimation Ink
Now, there are a lot of misconceptions about sublimation inks. These myths have become so prominent these days that sublimation enthusiasts get discouraged sometimes.
To solve any of your confusion and misconceptions, we have debunked 5 common myths about sublimation inks below.
Myth 01: Sublimation ink is toxic.
Fact: Sublimation inks are not toxic to use. You can eat out of sublimated plates safely. However, you can't directly swallow ink or get exposed to fumes which is harmful to your health. Again, if you use high-quality sublimation inks, the inks won't produce any fumes. 
Myth 02: You can only use sublimation ink on polyester fabric.
Fact: There are sublimation inks that work equally well on cotton fabrics as they do on polyesters. Moreover, you can use sublimation ink on plastics, ceramics, metal, glass, wood, and any other substrate with a high-quality polymer coating.
Myth 03: Sublimation inks are expensive.
Fact: The cost of sublimation inks depends on the brand and quality of the ink. You'll find many budget-friendly sublimation inks with top-notch properties specifically made for hobbyists and small business owners.
Myth 04: Sublimation ink fades with machine wash.
Fact: Sublimation ink actually gets permanently embedded into the substrate with the help of a heat press. So, it doesn't matter how much you wash in a machine, the ink won't fade. The ink can only fade if you use non-branded, cheap sublimation inks.
Myth 05: You can't produce accurate colors with sublimation inks.
Fact: Though sublimation inks come within 4-8 color shades, it's possible to create the exact color palette you want. For this, you need to use an ICC profile and adjust the colors with software in your sublimation printer.
Cleared all your doubts? Now let's hop on to expert studies and findings that confirm the non-toxic nature of sublimation inks.
Expert Opinions and Studies
A research done by Bo Ram Kim indicates that sublimation ink and printing technique makes the substrate free of toxic chemicals. The study was done on patient-specific ocular prostheses made by sublimation printing and 3D printing.
After 4 weeks of constant observations, the researchers concluded that the ocular prostheses didn't cause any irritations or eye sensitivity issues in the patients. Most of the patients didn't experience any eye dryness, swelling, or pain over the weeks.
So, this study confirms that sublimation ink becomes safe after embedding into the substrate.
Another experiment done by BLUESIGN confirms the creation of eco-friendly sublimation inks.
According to a BLUESIGN textile engineer, Reinhard Umber, reducing methanol in sublimation inks has brought positive impacts on the environment.
As Reinhard Umber quotes,
"Our program for transfer printing is a good example of how progress in different technologies can be effectively combined to reduce environmental impact. Depending on the needs of the market, various options can be used to minimize impact. No matter which technology is chosen, phasing out methanol will improve the safety situation in the workplace."
So, brands are working towards making sublimation inks safe for human health and the environment.
As an individual, you can also dictate whether an ink is safe for you or not. Move to the next segment to learn about it in detail.
How To Measure the Toxicity Of A Sublimation Ink?
You can measure the toxicity of a sublimation ink by simply the manufacturer's instructions. High-quality sublimation inks have EN71-3 Ink Safety Certification which indicates safe for usage.
Again, ECO PASSPORT Certification confirms that the ink is safe to use in textiles. It doesn't have any impact on the human body or environment.
Apart from certifications, you can also perform some tests at your home to identify whether your sublimation ink is toxic or not. Here are the ways to do it.
Acute Toxicity Testing
In this testing method, you have to identify the LD50 (Lethal Dose Value) in animals to check the toxicity level. If 50% of the animals die, it means the substance is toxic.
A study conducted on rats showed that sublimation inks caused the LD50 value to be greater than 5000mg/kg and 2000mg/kg. So, this means the inks don't have acute toxicity levels.
Well, if the testing method is inconvenient for you, you can always look at the manufacturer's safety data sheet and ensure the acute toxicity testing.
Skin Irritation and Corrosivity
Now, do you sense skin irritation or corrosion in the eyes while working with sublimation inks?
If you do, this means the sublimation ink has harmful elements for your body. But it's a rare occasion and only found in cheap sublimation inks.
Allergic Reactions
By reviewing sensitization testing, you can check whether the ink is causing you any problems. Simply, check whether you're having any allergic reactions by inhaling sublimation ink fumes.
In some cases, simply coming in contact with the ink can stir allergic reactions in your body. If it does, you should refrain from using that ink and label it as toxic.
Ecotoxicity Testing
You should check the manufacturer's label and confirm if the sublimation ink has passed the ecotoxicity testing. If the ink doesn't pass, it will be a threat to the environment.
Safety Data Sheet
Finally, you can check the Safety Data Sheet (SDS) provided by the manufacturer to measure the toxicity of the sublimation ink. SDS contains all kinds of information on ink toxicity, flammability, and reactivity.
You can also be aware of toxic fumes and vapors while pressing the ink in the heat press. So, you'll understand how to protect your eyes and skin from any kind of irritation.
Potential Health Risks Of Using Sublimation Ink
Moving on to the health risks that you can have using sublimation inks.
Here's a list of diseases you can get-
Firstly, sublimation ink can directly cause eye and skin irritation. Some of the components in the ink (acetates and biocides) are responsible for this issue.
You can have respiratory issues by inhaling sublimation ink fumes. These toxic fumes can attack your lungs and create breathing problems.
If you have allergy issues, sublimation ink can provoke your nervous system. You can have allergic reactions from the components of the sublimation ink.
Sometimes chemicals mixed in sublimation ink can affect your body's immune system in the long term.
You can also suffer from gastrointestinal irritation and nausea because of sublimation ink smoke.
Exploring Alternatives: Non-Toxic and Eco-Friendly Ink Options
Are you having trouble using sublimation inks lately? Are the health risks bothering you? Well, if that's the case, you can try out more eco-friendly ink options.
In the following segments, you'll learn about the non-toxic, eco-friendly ink alternatives for regular sublimation inks.
Water-Based Inks
The most revered eco-friendly option is water-based inks. They are also considered the oldest eco-friendly ink option.
They are perfect alternatives for non-toxic sublimation inks as they don't contain any harmful chemical compounds. You can also use them as a substitute for messy oil-based inks.
The reason water-based inks are so effective is the simplicity it carries. It embeds nicely in the substrate without clogging the printhead.
Even if you spill water-based ink accidentally, it's easy to clean. Moreover, you don't need to worry much about the storage process either.
If you're up for water-based inks, you can try Hippoo sublimation inks. These inks are widely popular for their ease of use and excellent gradients.
You can use them on different kinds of substrates like fabrics, wood, metal, and stainless steel.
Soy-Based Inks
Another great alternative is soy-based inks or vegetable-based inks. They are made from organic compounds (e.g., corn oil or soybeans) with less volatility. They are mostly popular for their recycling ability.
As soy-based inks use natural compounds, these inks can break down faster than conventional inks. So, soy-based inks are more sustainable than plastic inks.
They also have extraordinary features to make sublimation prints more vivid and clear. You can significantly lessen the carbon footprint with soy-based inks as well. Additionally, you can reduce the drying time with this ink alternative.
UV-Curable Inks
Apart from water-based and soy-based inks, UV-curable inks can also act as a good eco-friendly ink option.
These inks are curated under ultraviolet lights. So, you can dry them faster than water-based and soy-based inks using an electronic beam.
Moreover, these inks have low levels of volatile organic compounds. You don't need to use any additional coatings or protectants to use this ink. It makes sublimation printing more effective.
You can check out Printers Jack sublimation inks that have excellent UV resistance capabilities. These inks don't require any ICC profiles to adjust the color shades.
FAQs
Is Sublimation Ink Safe To Breathe?
No, sublimation ink is not safe to breathe. Components like Ethyl Acetate, N-butyl acetate, butan-2-OL, and other acetates can attack your respiratory if inhaled. So, you should avoid breathing sublimation ink gas, vapors, and mists. 
Can Sublimation Ink Fumes Be Harmful?
Yes, sublimation ink fumes can be harmful. They contain volatile organic compounds which can cause many health issues if ingested or inhaled. So, you must wear protective face masks to avoid any kind of fume inhalation. 
Is Sublimation Printing Safe For Children's Clothing?
Yes, sublimation printing is safe for children's clothing. They don't contain any toxic elements that can affect baby skin after sublimation. However, you should check sublimation ink labels for OEKO-TEX and En71-3 certifications to be sure about their safety. 
Are All Components Of Sublimation Ink Potentially Toxic?
No, all components of sublimation inks are not potentially toxic. Only some acetates and biocides can be harmful to the human body if ingested or inhaled. The risk is much lower in high-quality sublimation inks.
Can Sublimation Ink Be Safely Used At Home For Diy Projects?
Yes, sublimation ink can be safely used at home for DIY projects. But you should ensure that you're using top-grade sublimation inks from trusted brands. This will minimize the levels of toxic fumes and make your sublimation printing process stress-free. 
Final Words
So, what do you think? Is sublimation ink toxic? After reading the whole article, you know the answer now. Hopefully, this article helped you to clear all your doubts about sublimation ink's toxicity.
Remember, always check out the sublimation ink labels before buying. If the ink undergoes many toxicity tests and has authentic certifications, only then you can trust the ink.
That's all for today! Best of luck on your sublimation printing journey!
Was this article helpful?