Do you have a knack for creative sublimation projects but are stuck with a toaster oven only? You know sublimation requires a certain amount of heat. 
So, logically a toaster oven should work in this case, right? But it's not a conventional method and it is a concern whether you'll ruin your toaster oven in the process.
Calm down. You don't have to worry about destroying your oven with a trial. This article will help you learn the ins and outs of using a toaster oven for sublimation projects.
You'll get to learn whether it's possible to sublimate in a toaster oven. Additionally, you'll get to know about the drawbacks and challenges you'll face in the process.
So, enough blabbering, and let's get straight to the point.
Can I Use A Toaster Oven For Sublimation?
Yes, you can use a toaster oven for sublimation. This is because a toaster oven can produce the required amount of sublimation temperature (325℉-400℉).
Moreover, the oven also supports polymer-coated items. But you have to ensure that the item size is proportionate to the size of the toaster oven.
How To Use A Toaster Oven For Sublimation?
Well, before moving on to the usage, we'd like to explain the science behind the toaster oven.
You should know how each functionality of the oven relates to the sublimation process. So, check out the following segment to learn how a toaster oven works for sublimation.
How Does Toaster Oven Work For Sublimation?
The main reason a toaster oven works so well for sublimation is the environment it can create. In the sublimation process, sublimation inks can only penetrate the substrate with appropriate heat. 
Usually, it takes around 325℉-400℉ temperature to embed sublimation inks permanently into a substrate.
Toaster ovens can produce anywhere from 150°F to 450°F. Some ovens can even reach up to 500°F temperature!
So, it becomes easier for the sublimation ink to bond with the polymer coating and embed into the material. All you have to do is set the toaster oven to the desired temperature and time you want.
Again, toaster ovens have convection cooking, baking, and broiling features. These features help to heat the oven within minutes which is essential for sublimation printing.
Moreover, the heat gets evenly distributed all over the item placed inside. And for sublimation printing, if you don't apply consistent heat, the designs will not press evenly. So, in a way, a toaster oven helps to create long-lasting, vibrant sublimation prints.
The racks and trays also play a significant role here. By placing the substrate in a tray and a rack, you can heat the item in multiple positions. As a result, you can evenly distribute the heat whenever needed.
How to Use
So, now let's head over to the process of using a toaster oven for sublimation. First, check out the equipment you need for this process.
Equipment Needed
Heat-resistant Teflon tape
Sublimation blanks
Kitchen gloves
A shrinkwrap
Toaster oven
Heat gun
Step – 1: Design and Print the Image
First, you have to use a sublimation printer to print your preferred design on a sublimation paper. Make sure you are using high-quality sublimation inks. The design should be mirrored prior to printing.
Step – 2: Prepare the Substrate
In the next step, you have to dust off any dirt from the sublimation blank. Now, place the printed sublimation paper on the substrate.
Secure the paper with heat-resistant Teflon tapes. Make sure to place the design exactly on the area you want to sublimate.
After that, put a shrinkwrap around the item and use a heat gun to make it snug and tight.
Step – 3: Set the Toaster Oven
Then, you have to change the settings of the toaster oven. Check the manufacturer's label for sublimation inks, paper, and blank for the required temperature and time. Let the oven preheat for 10-15 minutes and then you can place the substrate inside.
Step – 4: Cool the Sublimated Item Properly
As soon as the timer goes off, you have to carefully take out the sublimated item. At this time, you must wear kitchen gloves to avoid any scalding.
Also, make sure to place the hot, sublimated item on a heat-resistant countertop. Avoid keeping any plastic items nearby. You should let the sublimated item rest and cool down properly.
Step – 5: Reveal the Sublimation Print
After the sublimated item has cooled down, you have to remove the shrinkwrap slowly. You'll notice the vibrant prints on your item and that's how you use a toaster oven for sublimation!
Step – 6: Clean Ink Residues in the Oven
Finally, you still have one final step to complete. After sublimation, you need to clean the toaster oven thoroughly.
There can be ink residues that will produce harmful fumes if you sublimate next time. Moreover, these residues can also affect your food when placed in the oven.
Can I Sublimate A Tumbler In A Toaster Oven?
Yes, you can sublimate a tumbler in a toaster oven. It supports the size perfectly as a toaster oven can fit a maximum of 9×13 inches.
Again, toaster ovens don't interfere with the material of a tumbler. However, in the case of plastic tumblers, you have to ensure it's made of thermal plastic material.
Processes of Sublimating a Tumbler on an Oven
So, now let's hop on to the step-by-step process of sublimating a tumbler in an oven. Before beginning, check out the list of materials you'll need.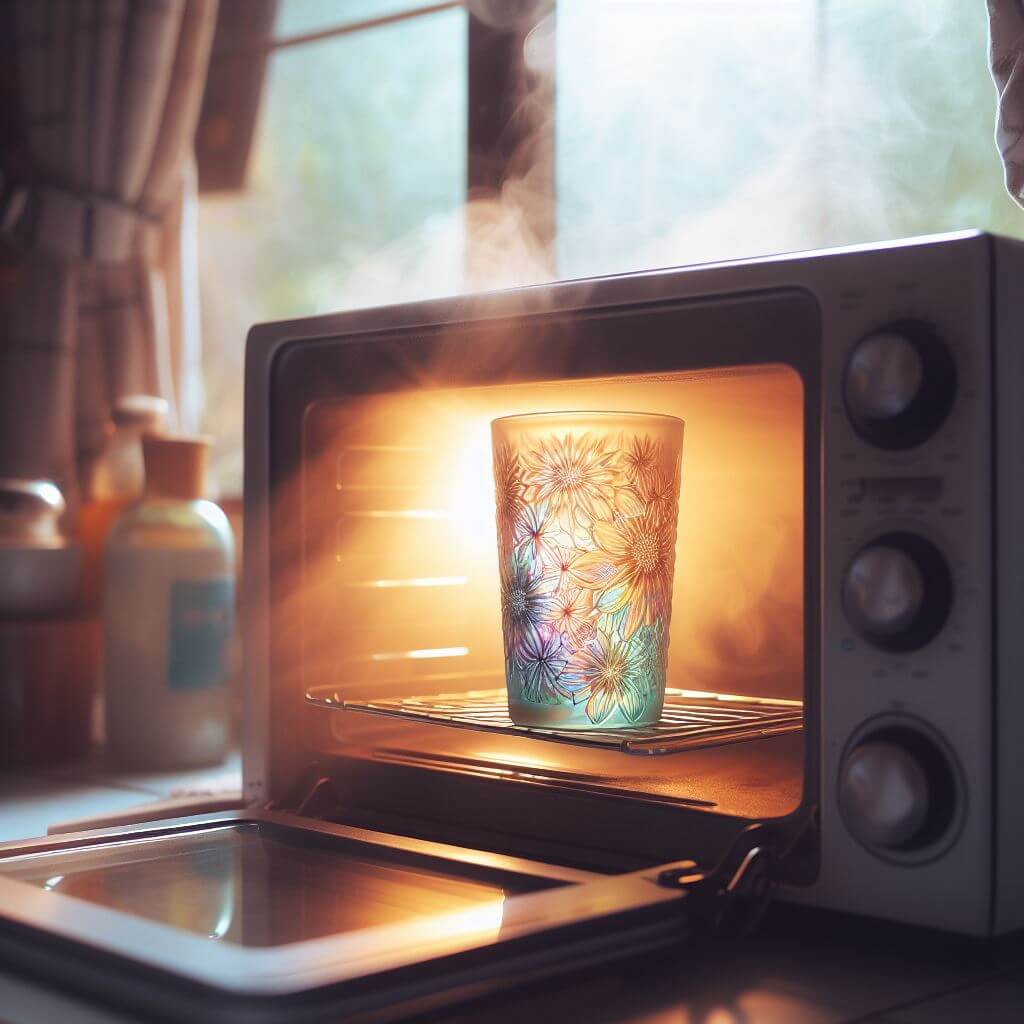 Equipment
Sublimation blank tumbler with a specialized poly coating
Toaster oven with convection setting
Clean cloth or alcohol wipes
Sublimation ink and paper
Scissors or cutting tool
Heat-resistant gloves
Shrink wrap tube
Heat gun
Now, that you have all the equipment in hand, let's start sublimating!
Step – 1: Print the Design and Preheat the Oven
First, you must print the design using a sublimation printer. Make sure the sublimation ink and paper are compatible with your sublimation printer. You should adjust the printer settings to get the maximum output.
Then, cut the edges of the print using a pair of scissors. You can also use any cutting tool in this case. To save time, you can preheat the oven simultaneously as you prepare the print.
So, to preheat the toaster oven, you need to set the oven at the recommended temperature. Usually, it's within 380 to 400 degrees Fahrenheit. Then, set the timer between 80-100 seconds as your sublimation blank requires.
Step – 2: Prepare the Tumbler for Sublimation
Now, clean the tumbler with a clean cloth. You can also use alcohol wipes so that there are no dust particles left behind.
Then, take the printed sublimation paper cutout and place it on the tumbler. Ensure the position of the paper is correct.
Otherwise, you'll have the sublimation print on the wrong part of the tumbler. Secure the print on the tumbler using heat-resistant tapes.
After that, you need to cover the entire tumbler with a shrink-wrap tube. Apply a heat gun to make the wrap tight. It should conform to the shape of the tumbler.
You can also use butcher paper around the tumbler if you don't have shrink-wrap at home. However, make sure to remove all the wrinkles before, or else, the print will be compromised.
Step – 3: Heat the Tumbler Evenly
The next step is to place the tumbler on the rack inside the toaster oven. Wear protective kitchen gloves so that you don't burn your hands with the heated elements.
You have to keep the tumbler's printed side facing the surface of the toaster oven. This will help the print get heated fast and permanently embed into the material.
Now, set the timer for the required time settings for tumbler sublimation. Usually, it's around 6 minutes. However, the time can vary depending on the material of the tumbler and the toaster power.
In case you're sublimating the entire tumbler, you should rotate the tumbler at a 180-degree angle halfway. This will ensure even heat distribution among the designs.
Step – 4: Rest and Reveal the Sublimation Print
Finally, as the timer starts beeping, you'll know the tumbler is ready! Wear your kitchen gloves again and carefully remove the tumbler from the oven.
Get a heat-resistant surface or rack and place the tumbler on it. Let the tumbler rest until it cools down fully. The resting phase also helps the ink to adhere better to the substrate.
So, after the tumbler reaches a normal room temperature, slowly remove the shrink wraps. Take out the tapes and peel the sublimation paper carefully1. That's it! You'll see a beautiful sublimation print on your tumbler.  
Also Read: Best Sublimation Spray for Cotton
How Long To Sublimate A Tumbler In Toaster Oven?
It takes around 3-8 minutes to sublimate a tumbler in a toaster oven. The time varies depending on the material and size of the tumbler, design complexity, and toaster oven power capacity.
Large tumblers like 64 ounces take more time to sublimate than small tumblers. Again, when you have less design, it's possible to sublimate the tumbler within 3-5 minutes.
But if you want to print all over the tumbler, you need to keep the tumbler for 2-3 minutes longer in the oven.
Again, each toaster oven can reach the desired temperature at different times. It actually depends on the power capacity of the tumbler.
Now, you're probably wondering, can I sublimate in my oven? It's a common question that can cross your mind if you have a regular home oven at home. To know the answer, scroll down to the next segment.
Also Read: Can Printer Ink Dry Up?
Can I Use a Regular Home Oven for Sublimation?
No, you can't use a regular home oven for sublimation. Regular ovens aren't safe for conducting the sublimation process. It's because there aren't necessary ventilation systems to release harmful ink fumes.
To elaborate, when the sublimated ink comes in contact with heat, the ink turns into gas. The gaseous form helps to penetrate the polymer-coated material easily.
In regular ovens, there's no way the excess gas can ventilate like a convection or toaster oven. So, there remains a risk of explosion or internal component damage.
Some ovens can't even reach the required temperature for sublimation. So, it's best not to use a regular oven for sublimation printing.
Sublimation Toaster Oven Time And Temp Guide
Now, sublimation toaster oven time and temp vary depending on various factors. You can't use the same time and temperature for a mug press and in a toaster oven.
Most of the manufacturers include time and temperature guides for convection ovens but not toaster ovens.
But you'll notice that toaster ovens are almost 30% slower in action than convection ovens. So, you need to be careful while changing the settings.
As much as it differs depending on the type of oven you're using, the difference also relies on the substrate you're using. 
So, this means items made of ceramics, metal, stainless steel, wood, and glass of them will have separate times and temperatures.
Here's a table on the time and temperature you need to set for different materials for toaster oven sublimation-
| | | |
| --- | --- | --- |
| Materials | Time | Temperature |
| Ceramics | 16.5-19.5 minutes | 370-400℉ |
| Metals / Stainless Steel / Aluminum | 1.5 minutes | 400℉ |
| Glass | 10.5-12.5 minutes | 400℉ |
| MDF / UNISUB/ Plastics | 1.5 minutes | 400℉ |
| Neoprene | 1-1.5 minutes | 380-400℉ |
Now, the size of the item also matters. For example, a keychain will take less time to sublimate than a tumbler. Here's a table on the time and temperature for different kinds of items-
| | | |
| --- | --- | --- |
| Items | Time | Temperature |
| Tumblers | 6-8 minutes | 375°F |
| Mugs | 6-8 minutes | 375°F |
| Coasters | 4-5 minutes | 375°F |
| Keychains | 3-4 minutes | 375°F |
| Ornaments | 4-5 minutes | 375°F |
| Phone cases | 4-5 minutes | 375°F |
| Mousepads | 4-5 minutes | 375°F |
Remember that the numbers can vary depending on the power capacity of the toaster oven. So, you need to check the manufacturer's guide in this case.
3 Toaster Oven You Can Use For Your Sublimation Project
Using any toaster oven won't guarantee the highest output always. Every toaster oven has different settings and capacities.
After all, they are specifically made for food; not sublimation projects. So, you need to buy a toaster oven that has the capability to act efficiently as a sublimation oven.
For your ease, we have jotted down the 3 most useful toaster ovens that are perfect for sublimation projects. Check out the details below to find your favorite one.
The best toaster oven for sublimation is the Oster Convection Oven. With a 20.15″D x 23.8″ W x 15.1″H dimension, it's perfect for batch sublimation.
You can easily fit 4-5 30-oz tumblers and 3-4 20-oz tumblers together. For small-sized cups, there remains more space to fit at least 7-8 cups. You can place them either side-by-side or vertically standing on the rack.
Moreover, it's capable of producing temperatures up to 450°F. So, the sublimation inks will get enough time and temperature to embed into the substrate. You can adjust the time and temperature by setting it through the digital display.
Again, the toaster oven has a stainless steel body inside and out. So, you won't have to face much trouble cleaning the oven after sublimation.
The French door also makes it easier to handle and rotate the hot sublimated items. On top of that, the interior light makes it convenient to check from the outside.
Now, are you worrying about the uniformity of the heat? Don't worry, The Oster oven is actually a convection toaster oven.
It has Turbo Convection Baking Technology that helps to circulate the hot air faster and evenly on every part of the item inside.
Overall, the Oster Convection Oven is bliss for sublimation business owners who need to sublimate multiple items at a time.
Next, we have the 1800 Watt Elite Gourmet ETO-4510M. The reason it made it to our list is the budget-friendly price it has. It's almost $80 cheaper than the Oster Convection Oven.
Well, it does a stunning job as a toaster oven when it comes to sublimation projects. It has enough space to fit 5-6 20-oz tumblers in upright positions. The oven is also capable of holding up to 20 pounds.
This toaster oven also has a French door opening so that it doesn't take up too much space on the counter.
Moreover, the 4-rack design is convenient for one-sided design heating. You can ensure that a particular part of the sublimated area is getting enough heat.
Along with heating convenience, the oven also reduces the time for sublimation projects.
However, there's a small drawback of this oven. There are dial knobs for temperature control and timer settings.
It would have been best if the time and temperature could be set digitally. But overall, it's a decent toaster oven for sublimating at home.
Finally, here's an energy-saving toaster oven – the Kalorik® MAXX® Digital Air Fryer Oven. It negates the flaw of the previously reviewed oven. It has both buttons and a dial control knob to set accurate times and temperatures.
It also has a wide display screen where you can easily navigate the settings. The 1700 watts power speeds up the sublimation printing time and saves energy.
Moreover, this toaster oven also comes with a baking tray, air rack, and rack handle which is useful for placing sublimation items. So, you can use the toaster oven safely.
Being a stainless steel body, any ink residue comes off easily from the Kalorik® MAXX® Digital Air Fryer Oven. You can use it for sublimating multiple items like tumblers, mugs, cups, coasters, keychains, etc.
Just like the toaster ovens above, you can also use a Black and Decker toaster oven for sublimation.
Also Read: Best Sawgrass Sublimation Printer
Potential Limitations and Challenges
Though toaster ovens are great for sublimation projects, they also have numerous limitations.
You'll also find some difficulties conducting sublimation projects in an oven instead of a heat press. So, it's better to be aware before you run into any trouble.
Here are the potential limitations and challenges you can face while sublimating in a toaster oven-
Safety Issues: When sublimation inks turn into gas in the process, they need proper ventilation. Some toaster ovens don't have enough ventilation system which could impose serious health risks.
Time Efficiency: Toaster ovens generally take a longer time to sublimate than sublimation presses. So, if you have strict deadlines with bulk orders, the toaster oven can't support it.
Limited Versatility: You can't cook food in the toaster oven once you've used it for sublimation. So, the toaster oven loses its original purpose if you start sublimation in it.
Uneven Heat Distribution: Some toaster ovens have limited functionality. So, the heat may not be evenly distributed which is essential for sublimation. As a result, the sublimation prints can look less vibrant in some spots.
Temperature Control Limitation: Well, not all toaster ovens come with digital control. In case your oven has a control knob system, it'll be hard for you to set the accurate time and temperature for sublimation.
Cleaning Issues: If you're using a toaster oven for sublimation, you need to keep it clean every time you use it. It becomes an annoying task when the ink residue doesn't come off with a wipe from a stubborn metal body.
Limited Space: As toaster ovens are made for cooking, it doesn't support all kinds of sublimation items. For example, you won't be able to sublimate large tumblers or plates in a toaster oven.
So, considering all these limitations, you must decide whether sublimating in a toaster oven is the best option for you.
Final Words
Finally, we tried to clear out all your queries related to "Can I use a toaster oven for sublimation?". Hopefully, you've gained all the necessary insights from this article.
You must remember to choose a toaster oven for sublimation only if it's appropriate for you. If it doesn't speed up your process or fulfill your requirements, you don't have to use a toaster oven for sublimation.
Was this article helpful?